Despite a "romper" traditionally being designed as a piece for children, in recent years, the romper has become a stylish adult wardrobe staple – thanks to flattering cuts, premium materials, and pretty patterns.
Several years ago, when I won a $1,000 shopping spree to BCBG, I tried on a silk romper.  It was white, and I remember it being quite sheer because it didn't have a lining.  White silk! No lining! It just just seemed so impractical.  Besides, at the time, no one I knew owned a romper.
Flash forward to 2015.  I recently went to NYC with a stylish girl friend, and as we were unpacking our suitcase, she showed
not one – but two rompers for our five day trip!  I knew if she spoke so highly of this trendy yet comfortable wardrobe staple, I should invest in one as well.
This is the ZASHA Lace Bodice Playsuit ($329) from the newly opened Ted Baker Store at Pacific Centre.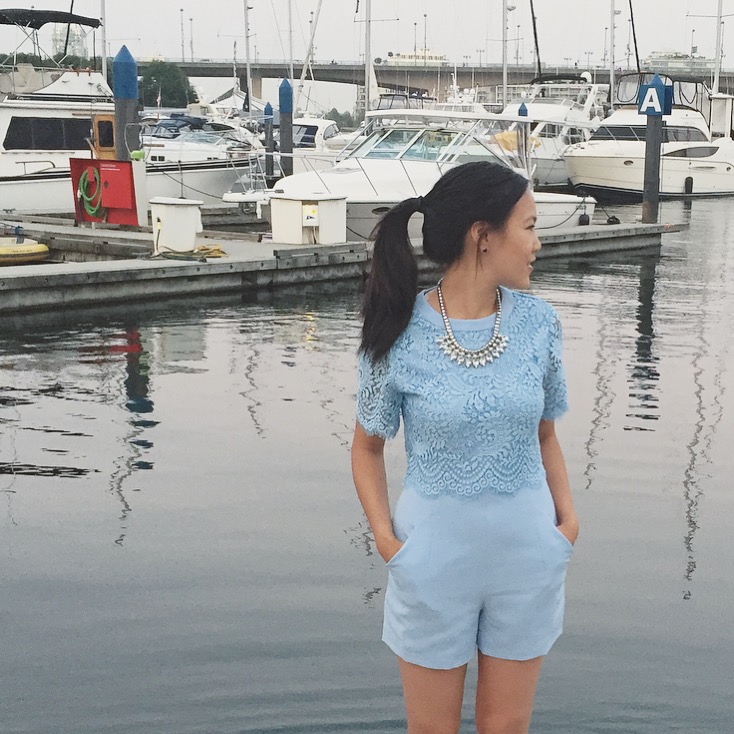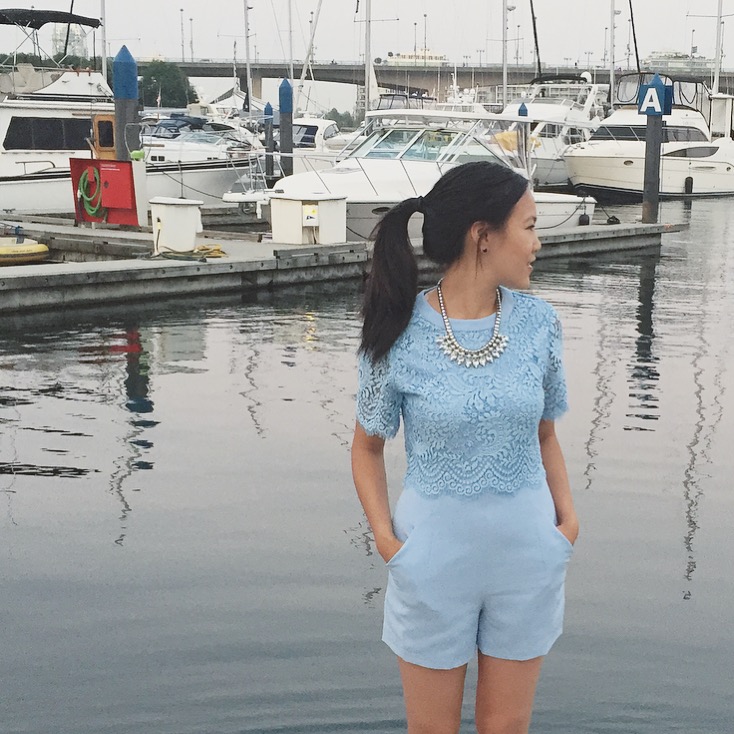 Even though this is a one-piece outfit, I love how the top is layered with lace, with scalloped edges.  I think rompers can be tricky to pull off because you are picking one size and hoping it'll fit both the top and bottom of your body.  That means if you are not the proper proportions as determined by the brand you're trying on, you aren't able to mix and match sizes between your top and bottom.
I'm wearing a Ted Baker Size 1 (which equates to a US Size 4). Taking a look at the label, I saw that the shorts are made with 8% Elastane, so they are quite forgiving when you're taking a seat.  I'll admit that I did a few squats in the Ted Baker  Pacific Centre changing room, to test the comfort and flexibility of the romper.  Make sure you can sit in the romper before you buy it!
If you're tall and curvy, or self-conscious about your thighs, try wearing a jumpsuit instead for a similar look.  A jumpsuit is pretty much a romper, but with long pants rather than shorts.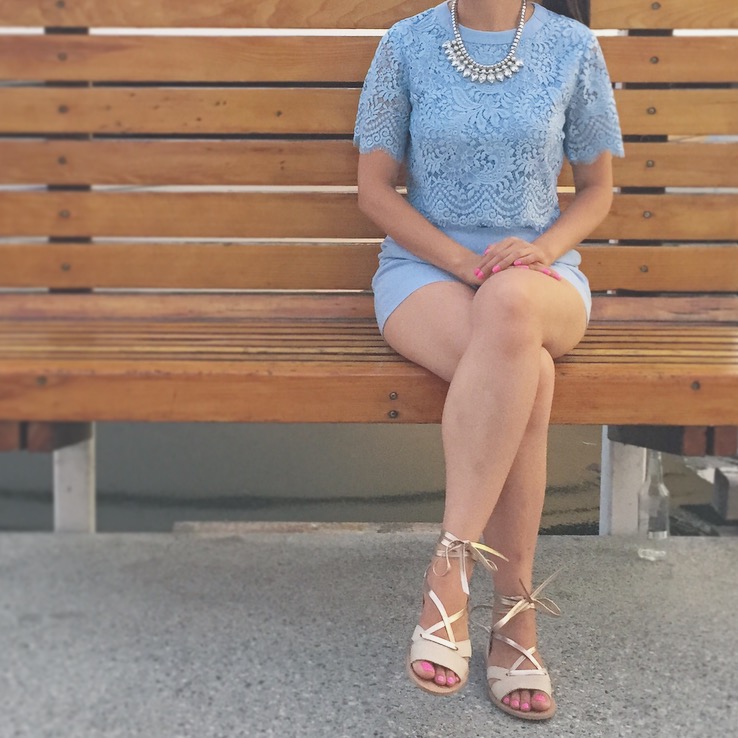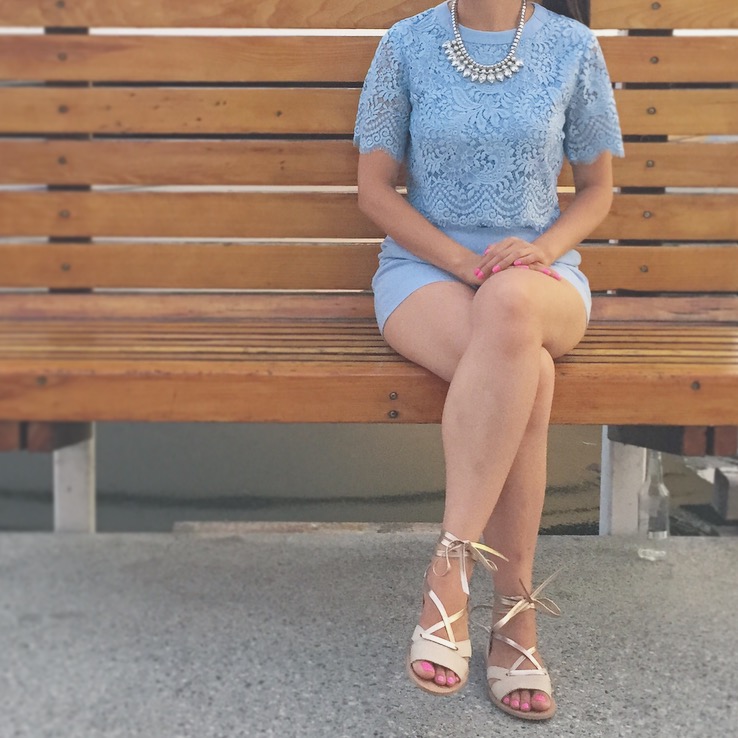 I paired the romper with the Ted Baker EMARI Teardrop Crystal Necklace ($85).  The lace bodice already has a lot of detailing, so I wanted to pick something relatively simple yet versatile that would stand out against the lace, but not detract from the rest of the outfit.  If you're been following along on our Ted Baker blog posts on Modern Mix Vancouver, you'll know that I also own this same necklace in purple!
As for footwear, anything you would typically wear with shorts, you can also pair with a romper: sandals, flip-flips, flats…etc.  Because the lace bodice gives this romper a fancier look, I thought it would be more appropriate to pair them with stylish sandals, rather than my usual Havaiana flip-flops (which I wear pretty much every day in the summer).  The sandals are from the Steven by Steve Madden store in NYC's West Village.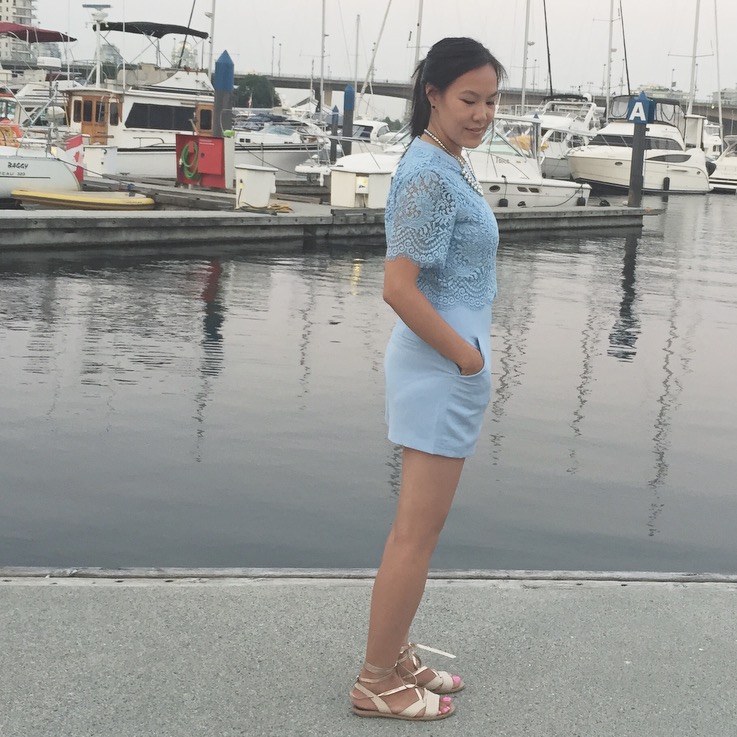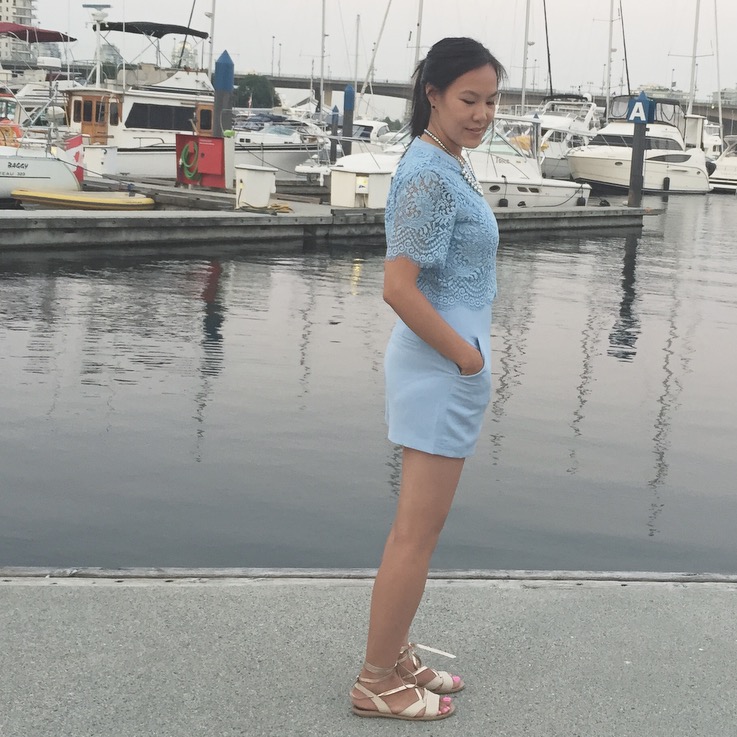 Finally, pockets.  I love pockets for their practicality and overall usefulness in an outfit.   If you're out running a quick errand and don't want to bother bringing a purse, you can just slip your phone, or keys, or a credit card into your pocket.  Or, when I'm out walking Teddy Bear (as the most stylish dog mom on the block), a poop-bag.
If there weren't pockets in this outfit, I wouldn't know where to put my hands during the photoshoot.  I'm pretty sure I'm not the only person who has cried out: "what do I do with my hands?!?" while having my photo taken.
So, as you can tell, I am loving my first romper outfit.  For anyone who is on the fence about purchasing one as well, just try one on, do a few squats, and if it's comfy, you're good to go!  The Ted Baker piece is well-made and sturdy piece which is why the price tag is $300+, but if you're looking for something more casual at a more affordable price point, try Aritzia, H&M and Forever 21.
Although this is the first romper in my wardrobe, I'm sure it won't be my last!