Anatoli Souvlaki has been a fixture at the foot of Lonsdale in North Vancouver for over 30 years, with a reputation steeped in exceptional quality and authentic Greek tradition. Now, these familiar flavours will be reimagined in Yaletown with the opening of The Greek by Anatoli. Brothers Iani and Alexi Makris, sons of Anatoli's founding family, have joined partner Daniel Bergman to open the doors of their second restaurant.
Taking over the former Good Wolfe Kitchen & Bar space in Yaletown, the heritage character of The Greek by Anatoli's new home provides an ideal canvas to infuse elements of traditional Greek design. Exposed brick has been painted a vibrant, clean white, and the wood beam roof has been draped with glowing lanterns. Bright red accents begin at the entrance with custom solid wood doors, and are continued throughout railings and banquettes inside. 65 seats are inside, with more coming with the late-spring patio opening.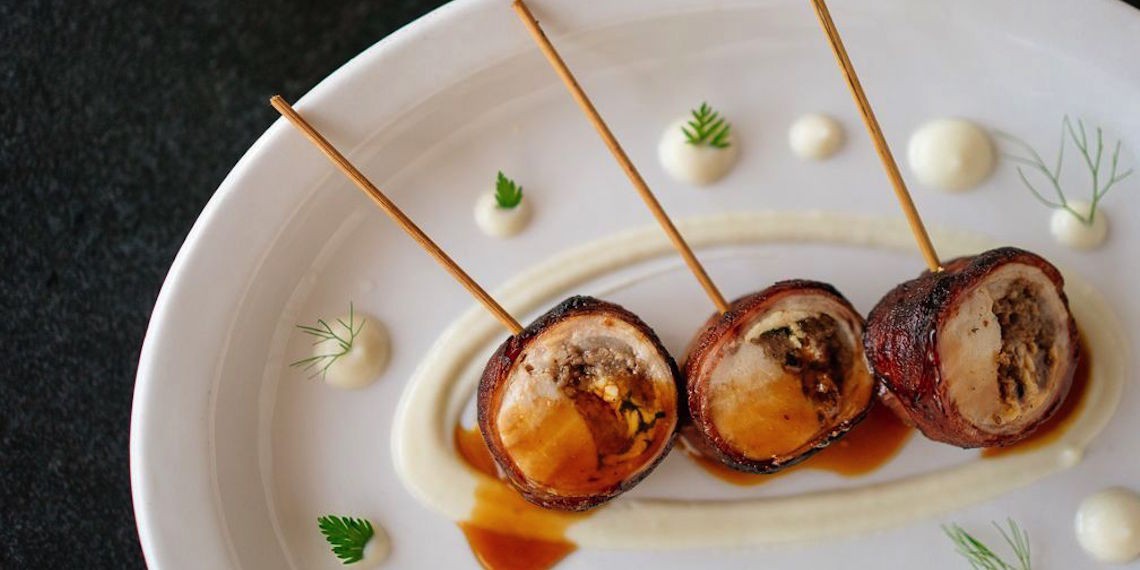 Executive Chef Scott Robertson has joined the team with a wealth of experience from hotels around the world, most recently The Westin Resort & Spa, Whistler. He has designed a menu that honours the exceptional quality and authentic Greek tradition of Anatoli Souvlaki, while infusing a modern perspective. Staples from Anatoli like Country Lamb, a slow braised shoulder of lamb, are balanced alongside new items like Rabbit Popsicles, rabbit loin wrapped in double smoked bacon and stuffed with house made lamb sausage. All dishes are served mezze-style (sharing plates), creating a lively and social atmosphere.
An imaginative bar program also ensures The Greek will have an energy worthy of the Yaletown address. Channeling the region's vivid flavours, ingredients like fig, honey, and Greek yogurt are shaken and stirred into a variety of craft cocktails. Molecular gastronomy techniques are borrowed for creative twists like the Campari dust rim of the White Negroni.
The Greek by Anatoli is located at 1043 Mainland Street.