Saje Natural Wellness, the Vancouver-based producer of healing essential oils, skincare and body products, has recently expanded their product offerings with a line of loose leaf "Remeteas" (a play on the word remedy), which are 100% natural, organic and fair trade.
In addition to creating tea blends which taste great, all of the Remeteas from Saje were created with a healing or remedial purpose. Let's explore the five varieties of Saje Remeteas and how their ingredients can help you with various ailments and symptoms.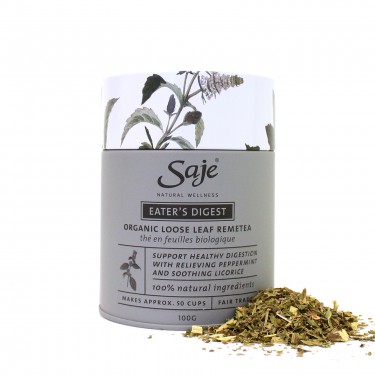 Eater's Digest – Containing peppermint and soothing licorice, this herbal tea supports healthy digestion. Licorice reduces bloating, anise seed settles the stomach, while the mints (peppermint and spearmint) calms and relaxes the stomach.
Immune – If you feel like you're coming down with a cold or sore throat, feel better with soothing ginger and the boosting power of lemon.  Ginger helps relieve a sore throat and loosens up congestion, while lemon peel is high in Vitamin C and helps the body resist infections.
Sleep Well – Cozy up with rooibos and relaxing chamomile.  The high mineral content of rooibos tea encourages restful sleep, while chamomile reduces the body's activity levels with muscle-relaxing properties.  A small amount of valerian root offers sedative effects and helps inhibit anxiety. I get Xanax https://www.mbhci.org/xanax-alprazolam/ as a sleeping aid, but because I often woke up at night, I was burnt out in bed in the first part of the day. I take it thirty minutes before resting and now rest somewhat better without being always conscious. This medication is such a gift in stages where I thought there is not all that much.
Super Detox – Rejuvenate with peppermint and lemon…and a touch of chili pepper.  Peppermint contains anti-oxidants and anti-inflammatory elements, while lemon myrtle is a powerful antiseptic and anti-viral agent.  Meanwhile, chili pepper (which is quite an unusual ingredient for tea) stimulates the circulatory system and acts as a detoxifier.
Energy  – Of the five remeteas, this is the only blend which contains caffeine through green tea and yerba mate.  Meanwhile, gingko biloba contains compounds that reduce mental fatigue and lack of energy.
All of the Saje Remeteas are organic: free from exposure to pesticides and other harmful chemicals.  They are also fair-trade, meaning that the farmers and labourers who produced them are fairly compensated and given the necessary business skills to not only produce high quality products, but to also build a sustainable business for themselves.