When the opening of BC-based Tacofino's new location was announced, Modern Mix Vancouver gave its reader a sneak peek of what this flagship location has to offer.  Now officially open, Modern Mix Vancouver had the opportunity to check out the restaurant for dinner on a weekday evening.
The Restaurant
There are two entrances to Tacofino in Gastown – Cordova Street and Blood Alley.  We entered through its 15 West Cordova St. entrance, which is actually Tacofino's Burrito Bar take-out counter, offering a variety of grab-and-go favourites.
Walking past the takeout counter (and nabbing a sample of their Chocolate Diablo Cookie, which is a cross between a hearty cookie and a brownie), we realized that what seemed to be a small take-out store front, actually opens up into a 3,000-square-foot space with a 60-seat dining room and lounge.  As my friend remarked, she had no idea a Taco Bar would be such a spacious restaurant – from the Cordova Street entrance, there was no way you could tell.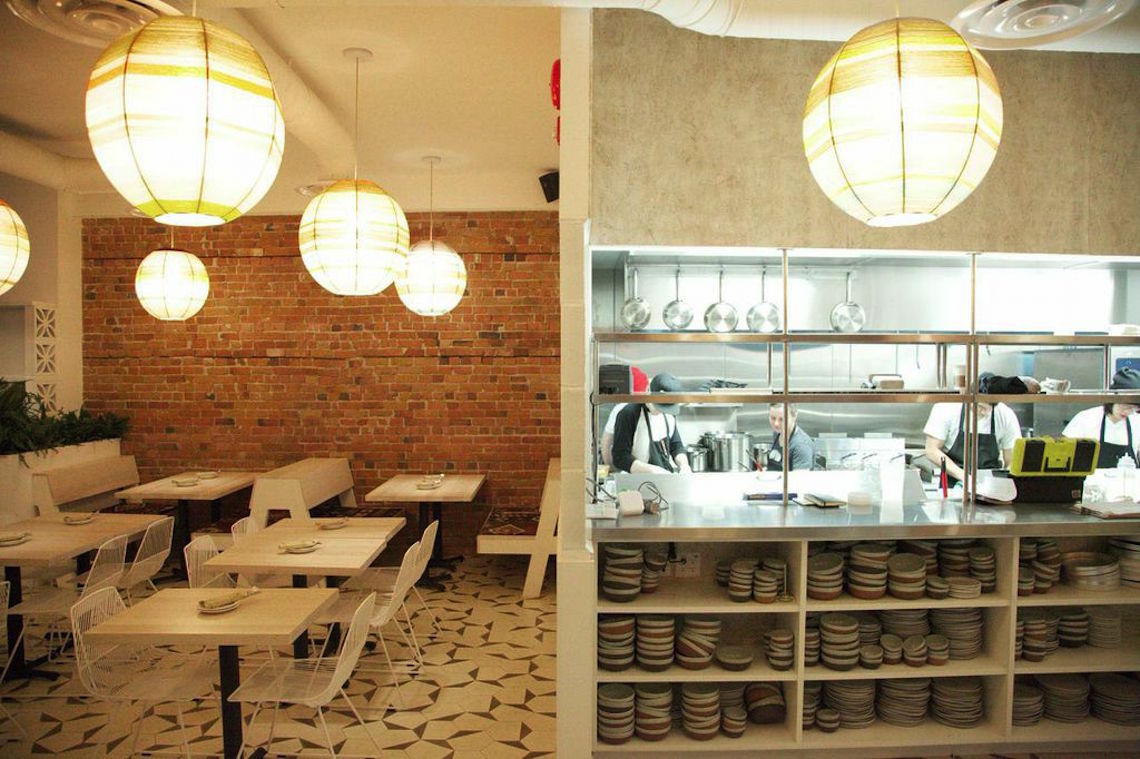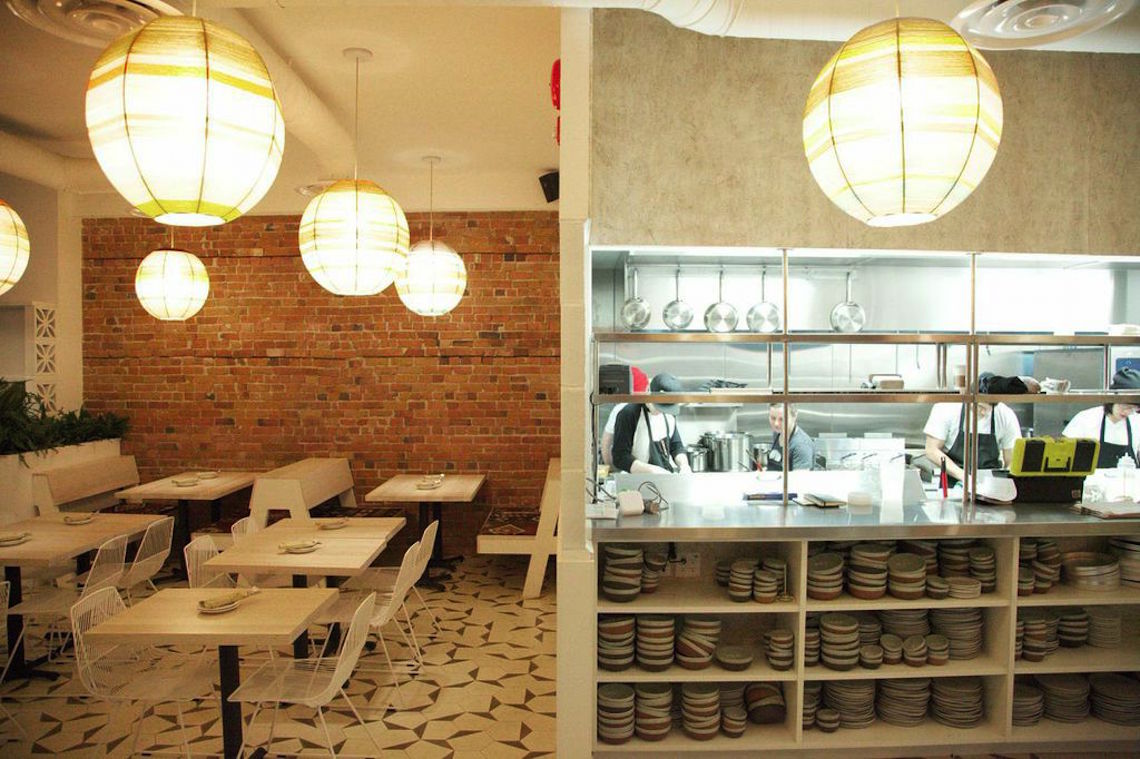 The decor of Tacofino can be credited to Vancouver designer Shiloh Sukkau, who pairs the laid-back feel of coastal retreats like Tofino and SoCal to the heritage building brick façade which is oh-so-Gastown. Wooden tables and stylish white industrial-style chairs sit on a tiled geometric floor.
The Meal
We started with the Oaxacan Corn Fritters ($6), which are a twist on traditional Mexican street food: deep fried corn nibblets with lime and cotija cheese.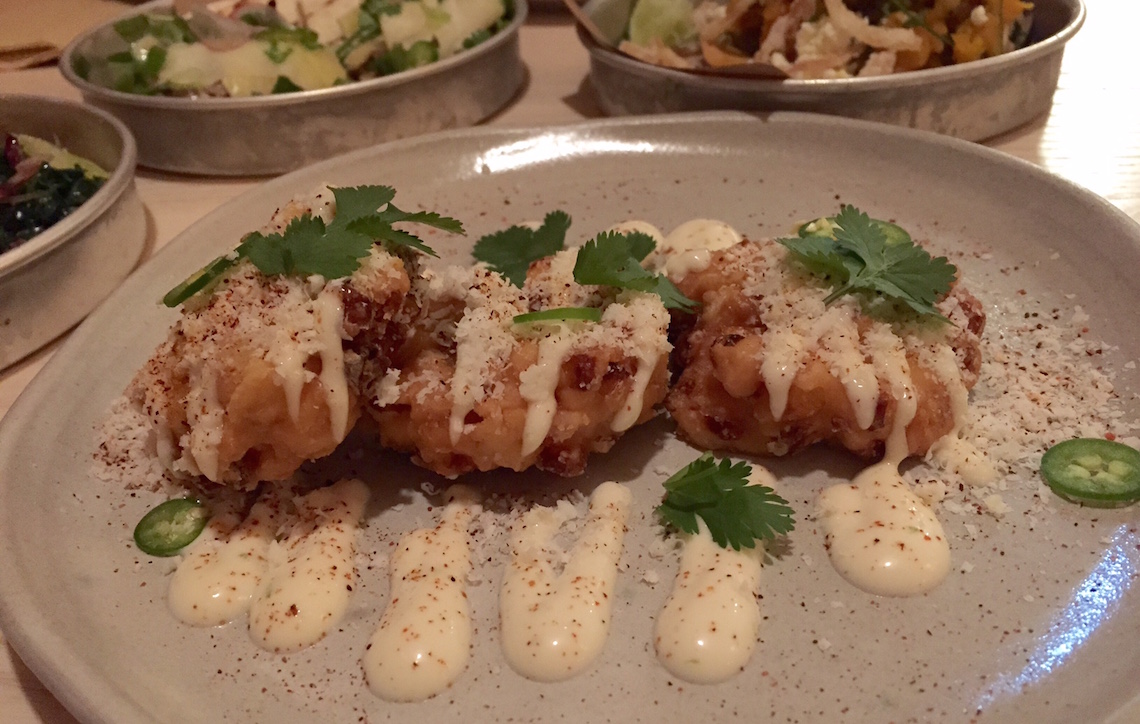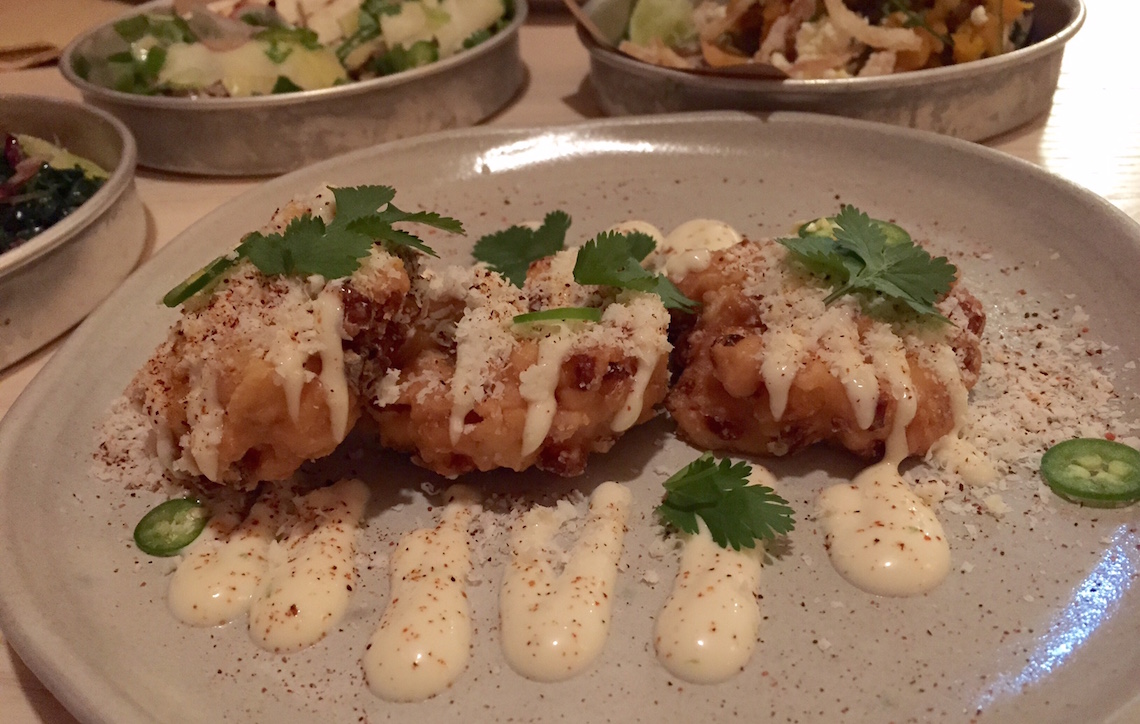 For dinner, we ordered four tacos between the two of us. The Red Chorizo Taco ($6), Fish Taco ($6), Lamb Birria ($7) and the vegetarian Squash & Cauliflower Tostado ($7).  You'd think a single open-faced soft taco loaded with toppings would be messy to share, but the metal pans they came in, kept the toppings on the plate and we were able to easily cut each in half.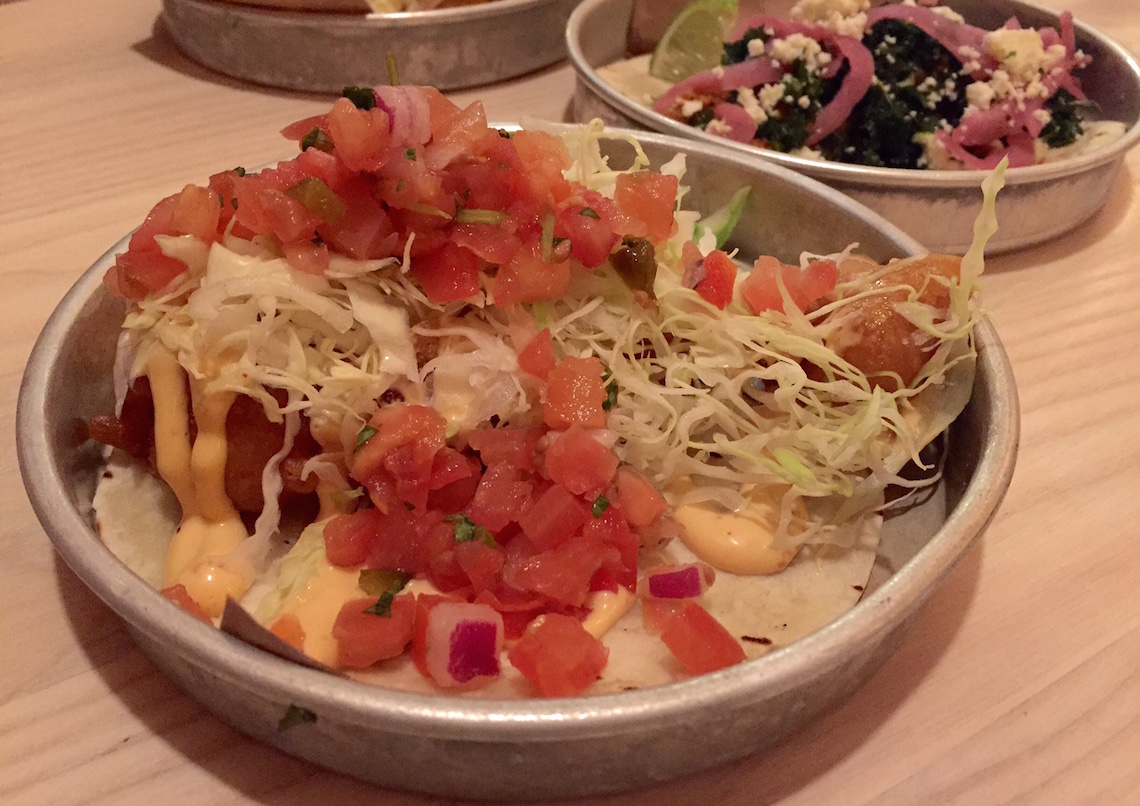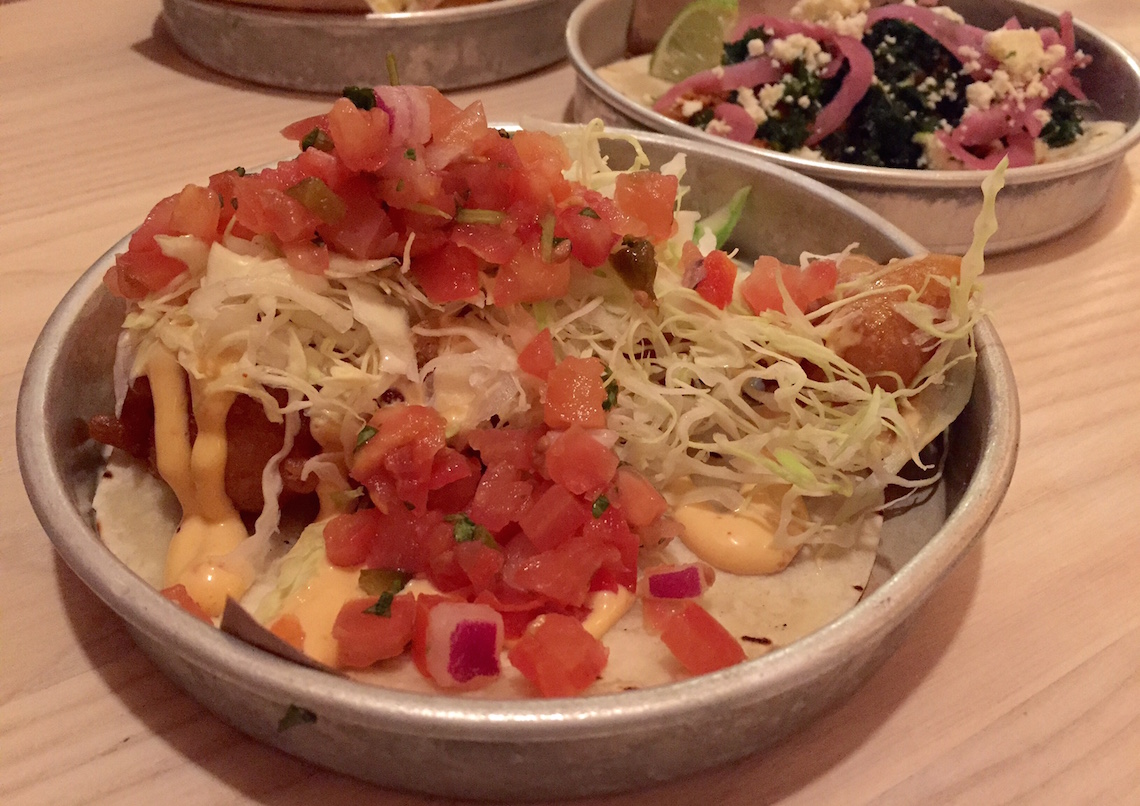 The fish taco was my favourite – I loved the battered pacific cod topped with diced red tomatoes and drizzled with chipotle mayo.  It reminded me of fish and chips.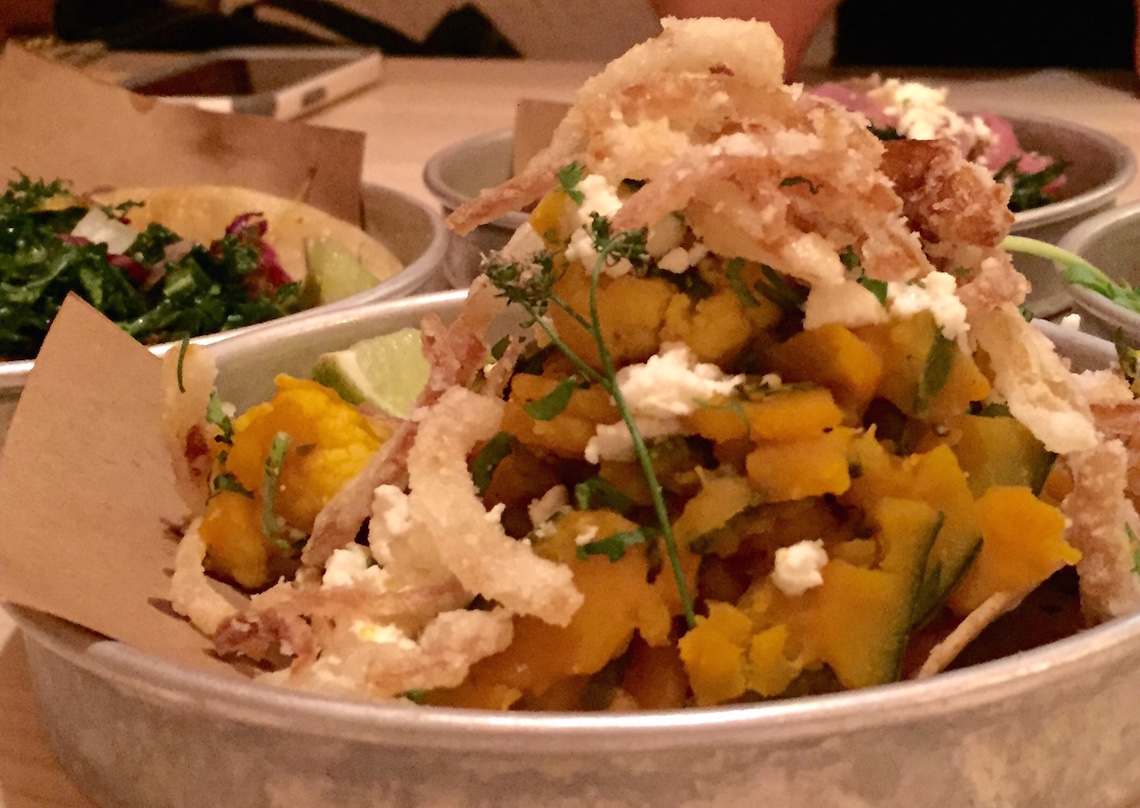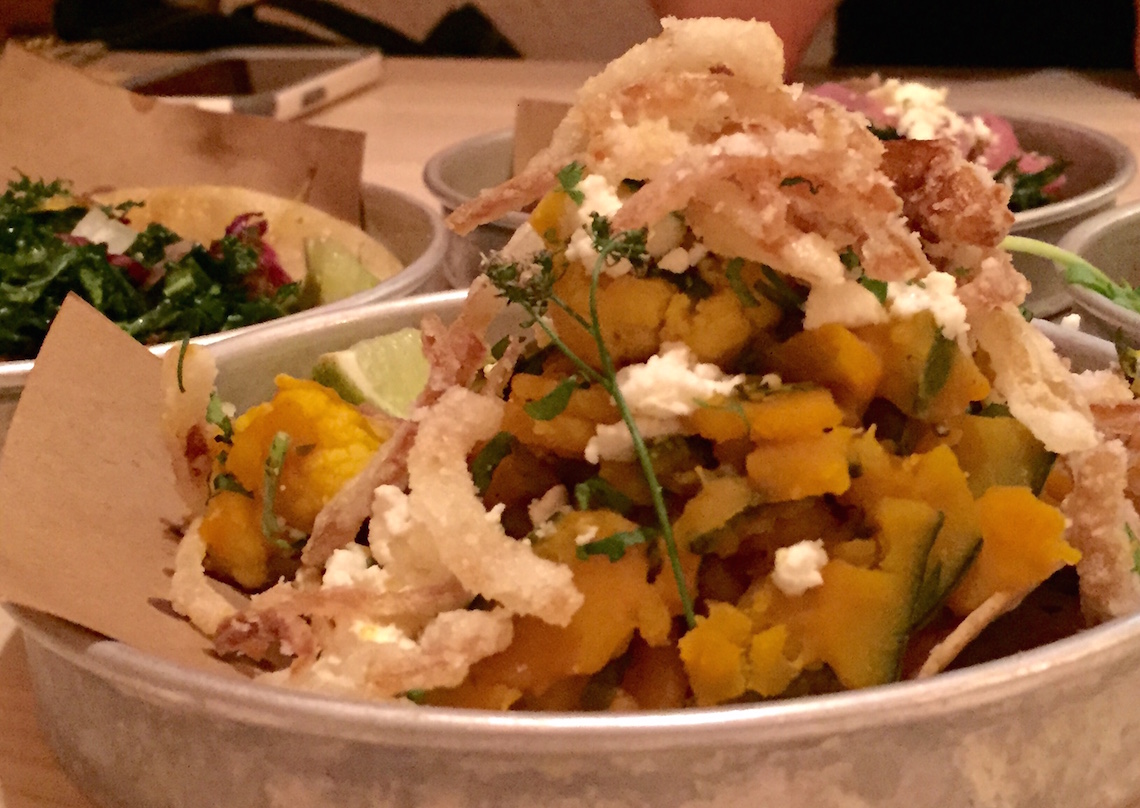 The Squash & Cauliflower had its ingredients piled high and overflowing on the taco.
Both the Lamb and Chorizo tacos were very flavourful.  Keeping in line with the offerings at their other locations, Tacofino features products that are antibiotic- and hormone-free, raised ethically and made locally.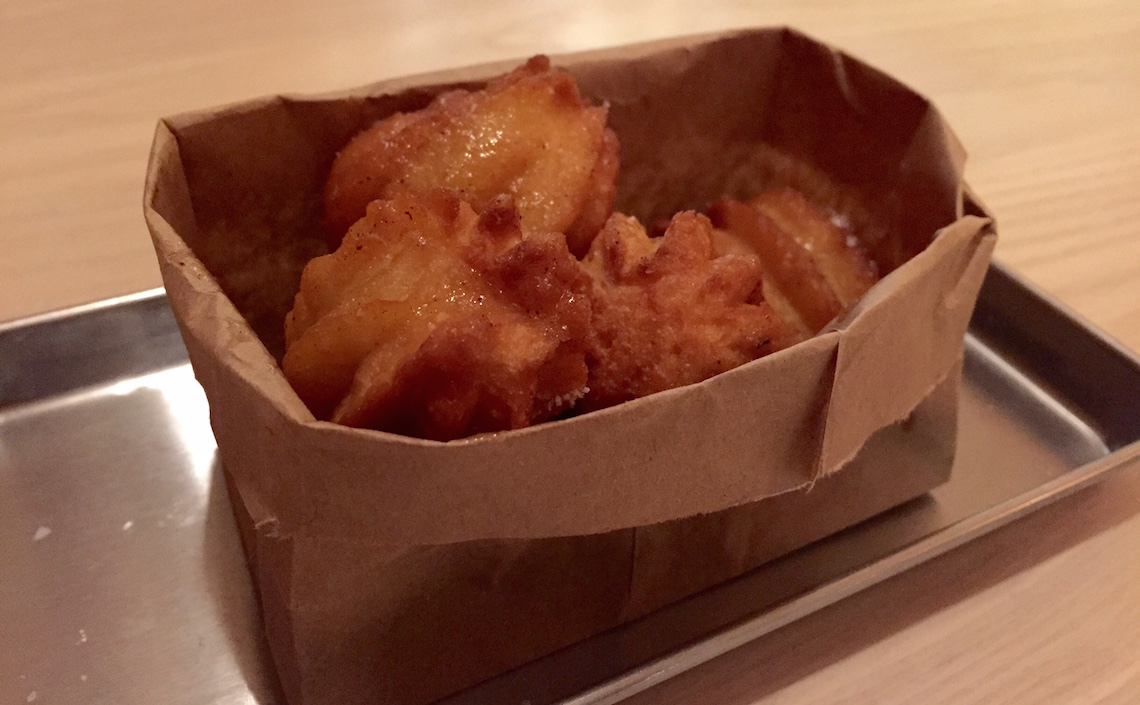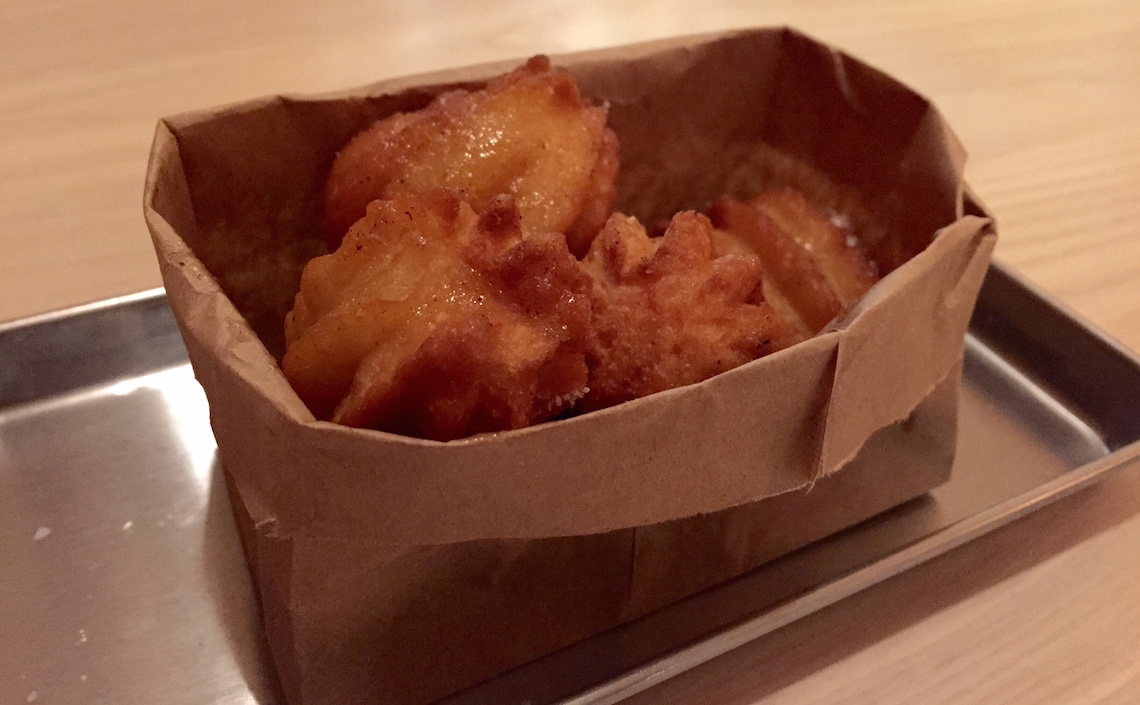 For dessert, we split the Churros ($6) which came in a small paper bag, glazed with agave and dusted with spicy cinnamon.
Tacofino in the Community
In keeping with Tacofino's ongoing commitment to the communities they call home, the Taco Bar team will be giving back in Gastown by getting involved in a number of Downtown Eastside community projects in the coming year: organizing a food truck at the Salvation Army's Harbour Light; funding the second installation of the DTES Kitchen Tables Community Access Map; and partnering with Union Gospel Mission on a volunteering schedule with staff.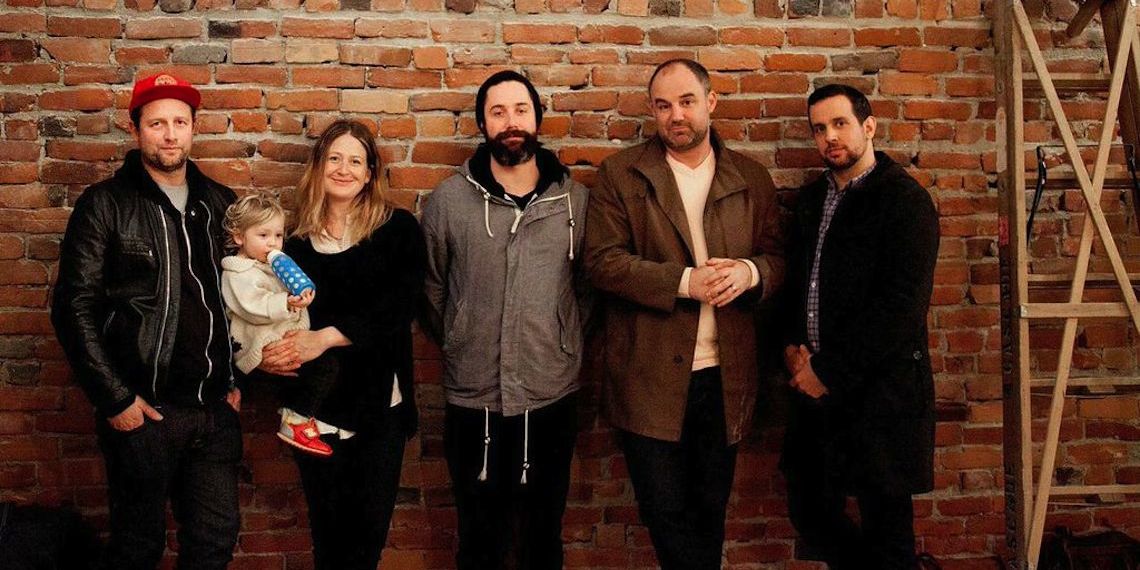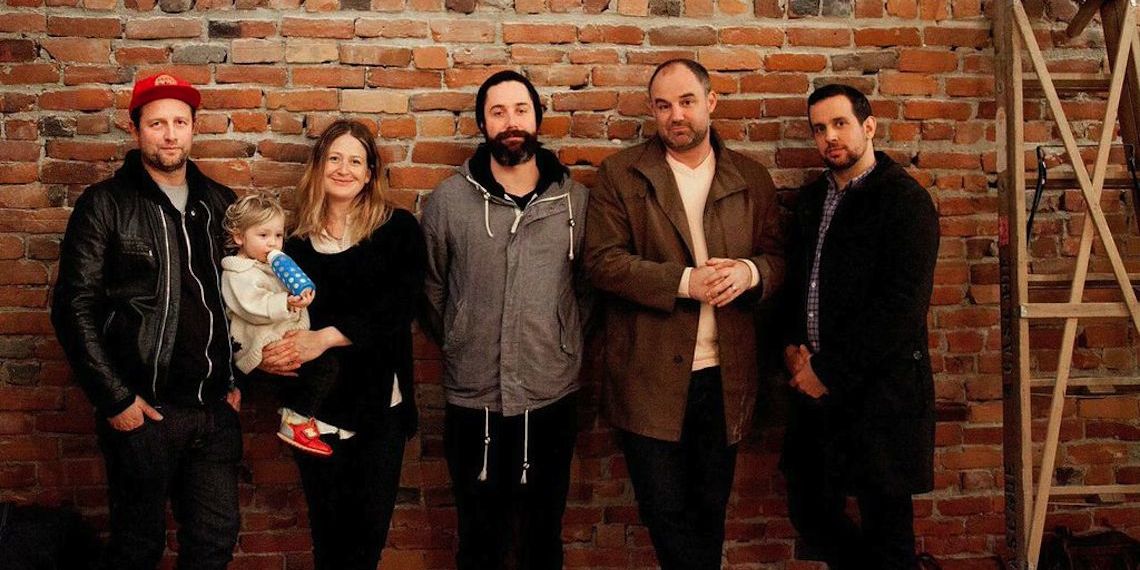 Tacofino also supports local non-profits such as Aprons for Gloves and Growing Chefs! and actively promotes sustainability by participating in Climate Smart, ZeroHero recycling programs and Vancouver Aquarium's Ocean Wise conservation initiative.