Did you know that on average, skin care products are typically manufactured to survive a shelf life of 2-3 years?  However, how can skin care products can stay effective after years in a jar? To keep products "fresh" for several years as it waits to be sold in a store, they are often filled with preservatives and other chemicals before they are purchased and used by the final customer.  Although the product shelf-life is extended, the preservatives used for this purpose are not necessarily the best for our skin.
Odacité was born as an alternative to mass-produced skincare products, offering organic and fresh-upon-ordering skincare solutions for every skin type.
Started in 2004 by breast cancer survivor Valerie Grandury, Valerie committed to detoxifying her environment by adopting a raw food diet, leaving her job in the film industry, and studying to become a health and wellness coach.  Valerie soon discovered that one of the most toxic elements in a women's daily lives are personal care products. She soon realized that the very expensive skincare brand she slathered on her face with confidence every day was actually a cocktail of dangerous chemicals, some of which were known carcinogens.
The Odacité philosophy prides itself on being effective without toxicity by comitting each and every one of its products to freshness. Products are formulated fresh for each customer upon ordering and are dated with a "Freshiency Date" which indicates exactly how long the product will maintain its optimal effectiveness.  Products are shipped directly from the Odacité labs, without ever sitting on store shelves or a warehouse and therefore, never need preservatives or harmful chemicals to keep them "fresh".  This preparation and delivery method guarantees that every product fully maintains 100% of its beneficial activity from its antioxidants and vitamins.
Product Review: Odacité 10 Day Starter Kit
Modern Mix Vancouver had the opportunity to try Odacité's 10 Day Starter Kit for combination skin. (It's also available for oily/acne-prone skin, or dry/mature skin).  Seven trial-sized products are included, including a cleanser, toner, moisturizer, night serum, exfoliant, hydrating mask, an eye cream and two facial sponges for application.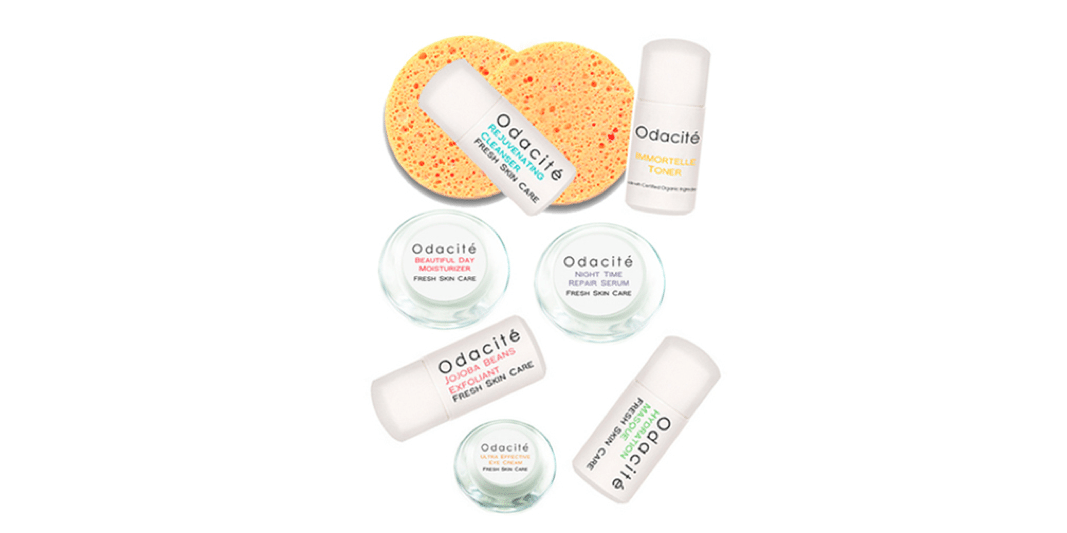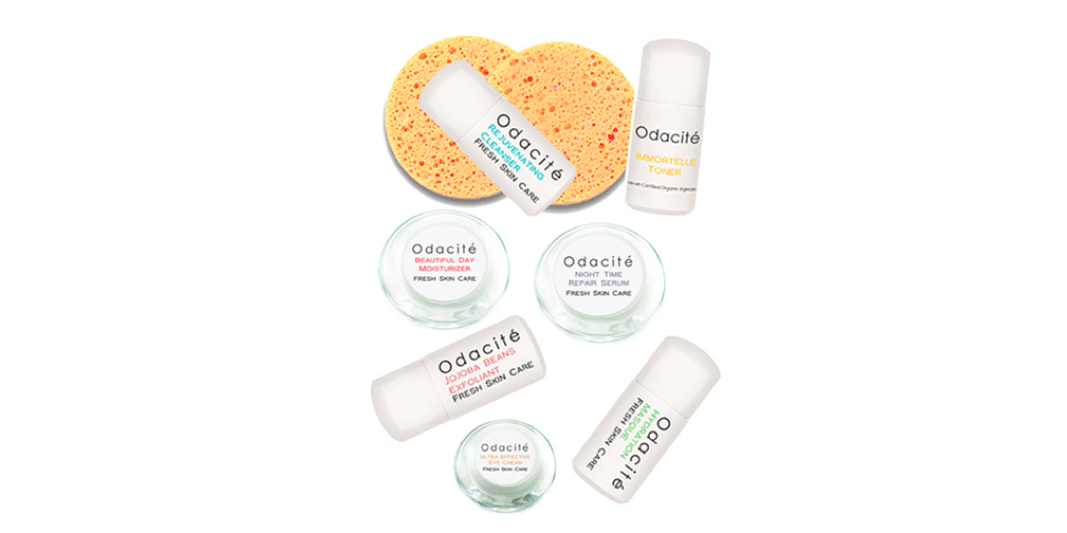 Every other shower, I alternated between using the Rejuvenating Cleanser (paired with my Clarisonic) and the Jojoba Beans Exfoliant.  The beads in the ultra-gentle facial scrub are made from 100% pure, natural Jojoba wax, meaning it doesn't have the sharp, grainy edges typically encountered with other exfoliants.
The Divine Rose & Neroli Balancing Toner Mist was refreshing and feminine and I loved the soft rose scent.
In the mornings, I utilized the Beautiful Day Moisturizer, and in the evenings before bed, the Night Time Repair Serum.  Unfortunately there's no SPF protection in the moisturizer, so you will have to layer in your own, especially when the sun gets stronger in the spring and summer.  Although the night cream was slightly thicker than the day moisturizer, both products left my skin feeling very soft.   The thicker night cream made my skin look momentarily shiny, but it goes away once the product settles into your skin.  For extra nourishment, I added in a couple drops of Odacité's An Autumn on the World Vitamin C Serum  to mix into the moisturizer.
What I like about the Hydrating Masque is that there are three ways to use it.  As a traditional mask, you put it on your skin and then rinse off after 20 minutes.  Alternatively, you can mix it in with your day or night moisturizer for an added boost of hydration.  However, the most nourishing way to use this product is to leave on overnight.
I didn't notice anything particularly unique about the Ultra Effective Eye Cream, but I took comfort in the fact that the product I put around my sensitive eye area are fresh and organic.
Although the samples look small – about 5ml of each product, you can easily stretch them out to last for two weeks.
For more information about Odacité and its products and philosophies, visit: odacite.com.