In November, Blanche Macdonald hosted its annual graduation fashion show at Saint Andrew's Wesley Church and invited family, friends and the local media to experience and celebrate Vancouver's next generation of fashion talent. After the reception which included unique mocktails, mini Cartems donuts, and a variety of colourful macarons, guests made their way into the church aisles to view the fashion show that was themed Wandering Stars.
Models wore simple glittery gold makeup and rocked hair dyed gold at the top as they walked the runway and showcased each fashion design graduate's beautiful creations. All fashion graduates had incredible design talent and every one of them inspired the audience with their creativity and boldness.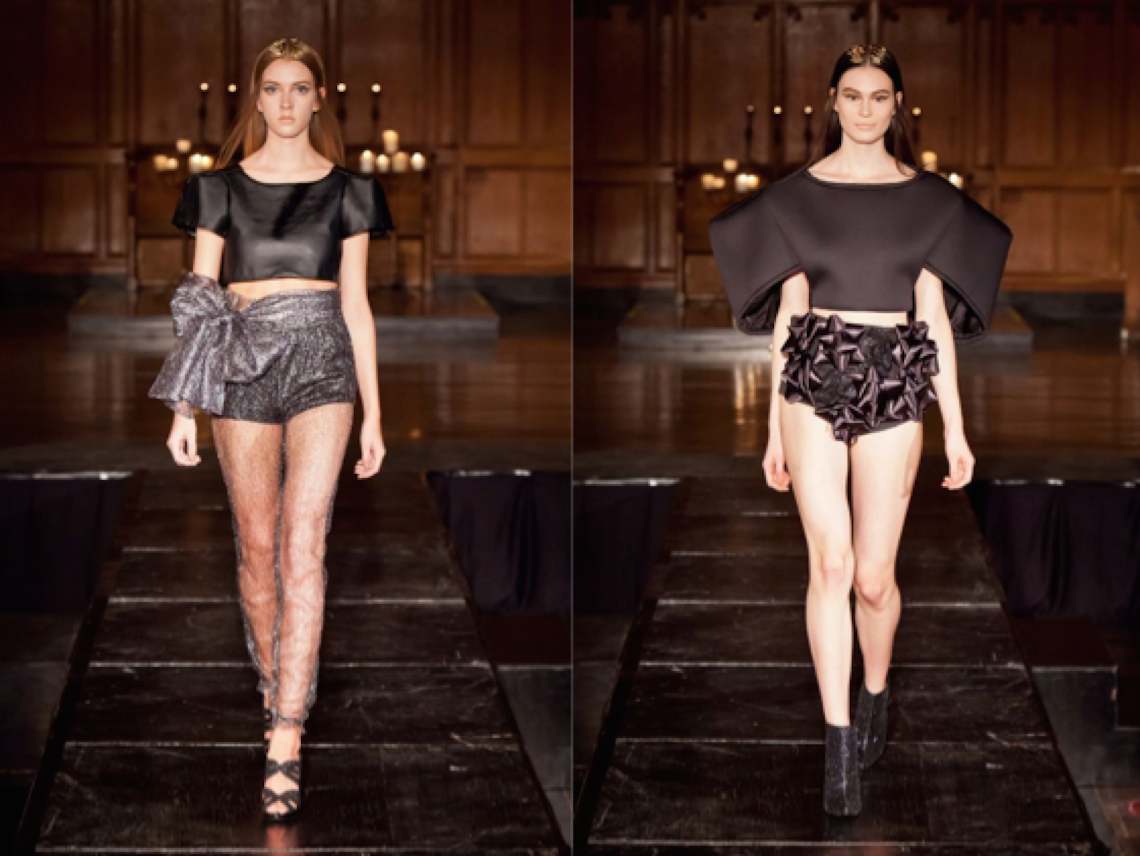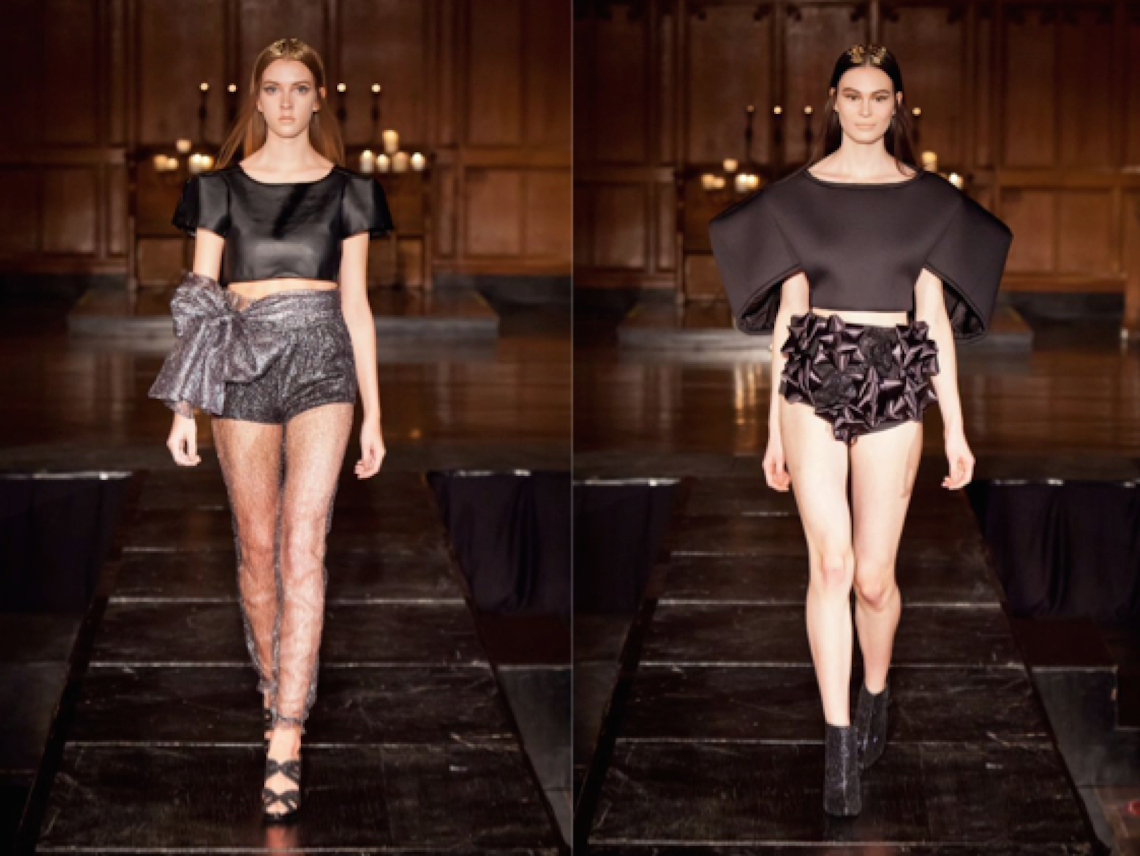 A few designers that stood out to me: Mimi Bargaoui, for her use of Egypt inspired colours and designs, Jiayun Wang for her very unique and high fashion dresses with sharp necklines and interesting uses of shapes, and Jessica Jeehyun Lee, for the practicality yet trendiness of her designs which included big sleeves, structured tops, and classy dresses. Who could forget those pair of glittery shorts with the bows on them!
Here's a bit more about the stories behind these young designers who are ready to graduate into the world of fashion and design:
Tiya – Born in Tibet, Tiya came to Vancouver to study fashion at 

Blanche

 Macdonald. Oddly off-put by both bugs and mushrooms as a child, these organic elements inspired her collection, as did the inherent human qualities of light and dark.
Shin Yi Chi – Originally from Taiwan, Shin Yi came to Vancouver to study fashion. Her collection is a nod towards futurism and incorporates technical fabrics of neoprene and leather. She wants to create fashion that has structural layering and slick edges.
Liis Sober – A former fashion model, it's no surprise that Liis has deftly transitioned into fashion design. In between, she studied at the University of Kentucky under a full scholarship thanks to her skills as a tennis athlete. A lover of fitness, Liis has been working with Lululemon as a design room assistant while attending 

Blanche

 Macdonald. Her designs are inspired by tennis athletes from the 20's and 30's.
Joanna Pang – Originally from Hong Kong, Joanna was inspired by a trip to Japan last year where she absorbed the history and texture of the kimono. Her "Oxidized Obi" collection fuses the traditional Japanese kimono with elements of "rustiness", or a sense of perfection in imperfection.
Jessica Lee – A Korean Canadian who studied economics before moving into fashion design, Jessica's collection is inspired by packaging materials, ribbon ties, and plastics, transforming fashion into bold architectural constructions with contrasting delicate details.
Dasha Volokhava – Dasha arrived in Vancouver from her native Russia in 2009. Her first Canadian collection was inspired by her favourite flower, the peony, and a contrast between soft and crisp textures.
All in all, it was a fun evening with no shortage of incredible talent and statement fashion. Congratulations once again to the 2014 graduating class of fashion design at Blanche Macdonald!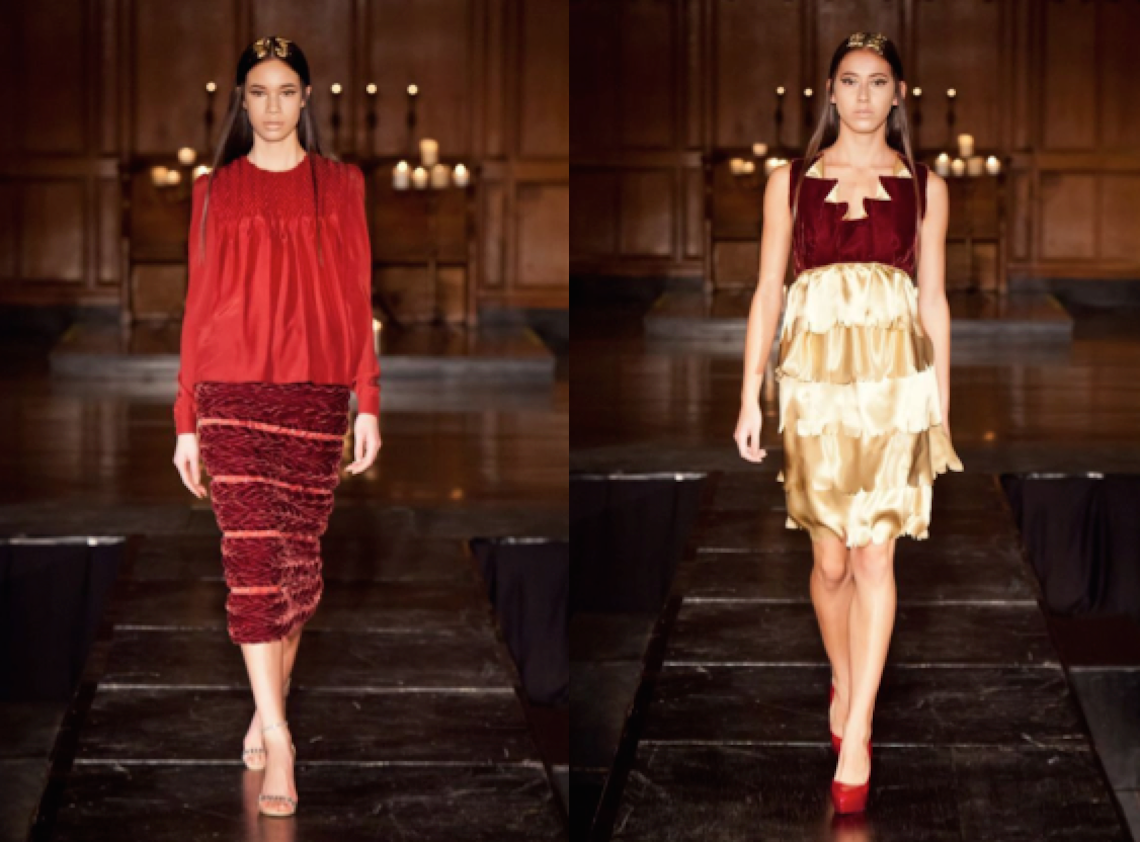 For more information on Blanche Macdonald's fashion design program, visit blanchemacdonald.com.