"Nightmare Before the Nutcracker" Brings Vancouverites Theatre, Circus, Burlesque & Live Music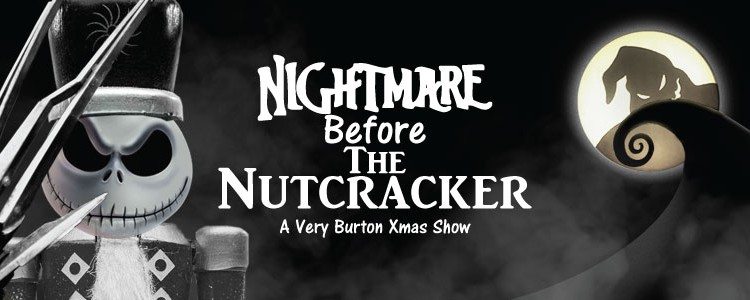 Every year Vancouver has a Nutcracker Ballet but this December, Vancouver has an alternative Nutcracker for adults only, featuring characters from Tim Burton movies.  Playing at the Rio Theatre at East Broadway x Commercial, the "Nightmare Before the Nutcracker" theatre production is a gothic twist on The Nutcracker, with circus, burlesque and live music.
Characters include Sally, Jack Skellington and Oogie Boogie from Nightmare Before Christmas, Edward Scissorhands, Beetlejuice, Martians from Mars Attacks, and more!
"The characters from the Nutcracker, like the sugar-plum fairies, work so well with Tim Burton characters. It's really a perfect match. We also love combining the Christmas themes in the Nutcracker with the Halloween themes in Burton films." – Chris Myrdoch, Script Writer & Circus Performer
The show includes burlesque acts with Tim Burton characters performed by Screaming Chicken stars Melody Mangler, Shea DeVille, and Voodoo Pixie.
Sugarplum fairies, or evil trick-or-treaters? Dream guide, or Betelgeuse? This dramatic comedy is full to the sparkling brim with burlesque, circus, music, and theatre.
Event Details: The Nightmare Before Nutcracker