With fall weather in full swing, there is definitely a shift towards craving hearty meals and other comfort foods – like warm bread, creamy, melted brie cheese, savoury bacon, and butter anything.  At this same time of year, craft beer company Samuel Adams releases their annual OctoberFest brew.  Is there a way we could combine all five of these B's (bread, beer, bacon, brie, butter) into one recipe?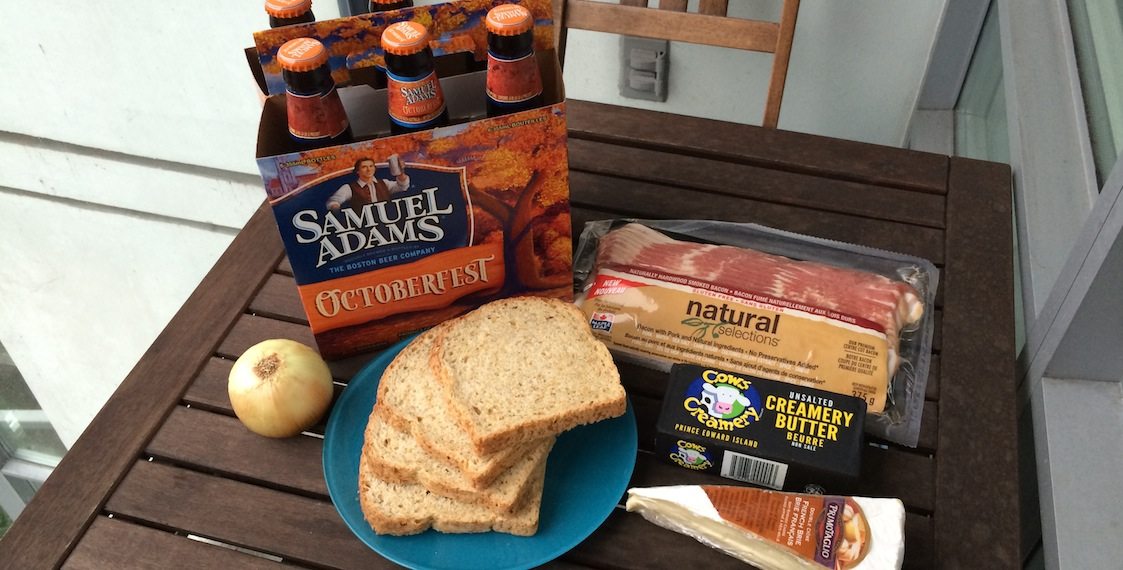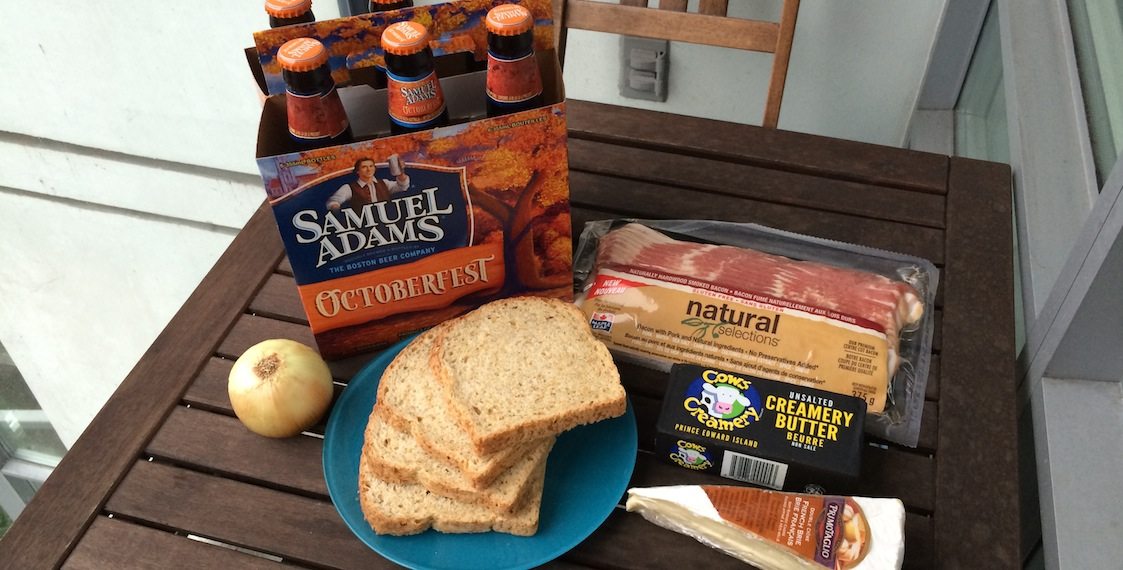 Introducing Modern Mix Vancouver's Beer & Bacon Caramelized Onions with Brie Grilled Cheese.
The beauty of this recipe (and for grilled cheese in general), is that you don't need specific measurements of ingredients.  If you like cheese, add on another slice.  If you like bacon, fry an extra strip.  These ingredients were chosen for their sweet and savoury combination and the ease of cooking everything into one pan so no flavours are lost in the process.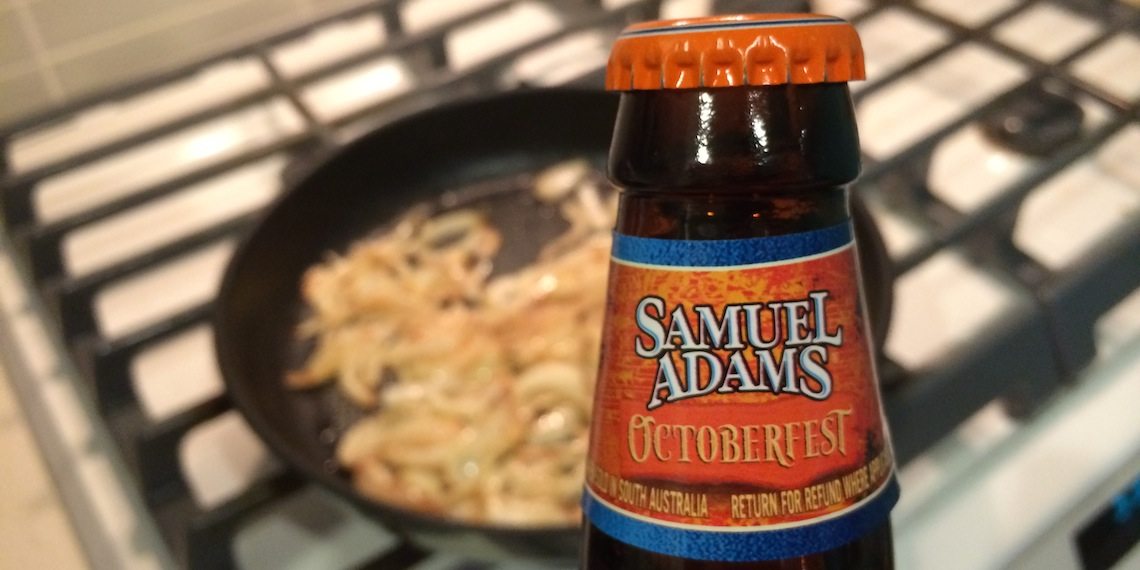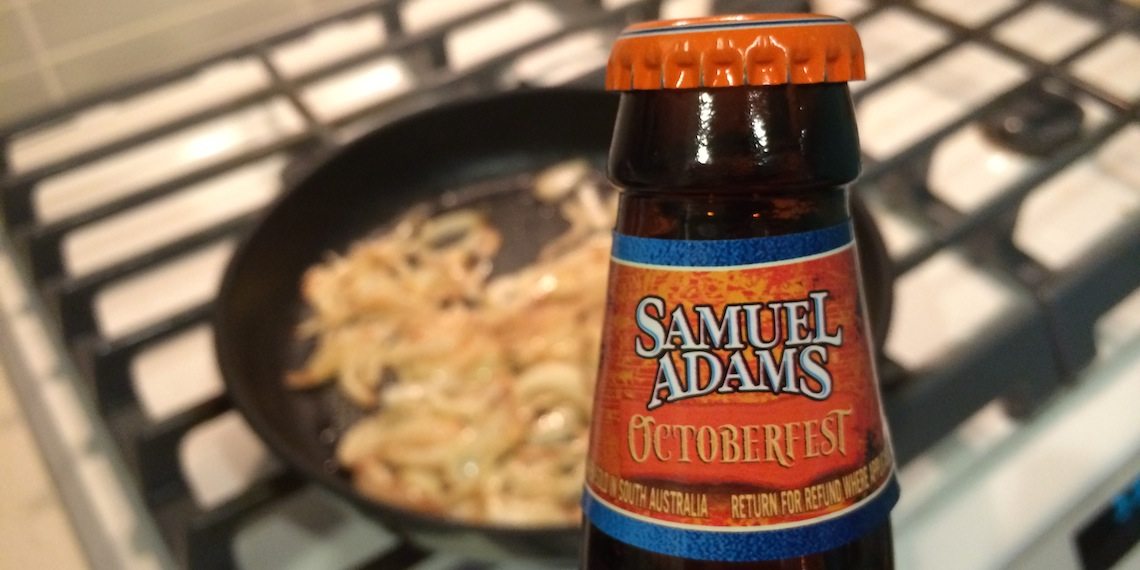 When it comes to caramelizing onions, water is added in small increments, and then reduced, until you get the soft, jammy consistency of caramelized onions.  In this hearty fall recipe, we will be using beer instead of water. The seasonal brew of Samuel Adams OctoberFest has a slightly sweet, malty flavour with notes of caramel, which is a perfect pairing to caramelize onions with.
Without further ado, here's our recipe for two grilled cheese sandwiches.  Make sure your frying pan is large enough to fit two flat slices of bread.
RECIPE: Beer & Bacon Caramelized Onions with Brie Grilled Cheese
Ingredients:
4 Strips of Bacon
1 Medium Onion, sliced root to stem
3/4 cup Samuel Adams OctoberFest Beer
1 Tbsp Butter
4 Slices of Bread
2 Tbsp Dijon Mustard
Brie Cheese
Directions:
1)  On medium heat, fry bacon in pan until crispy.  Take out from pan and put on plate or bowl lined with paper towel.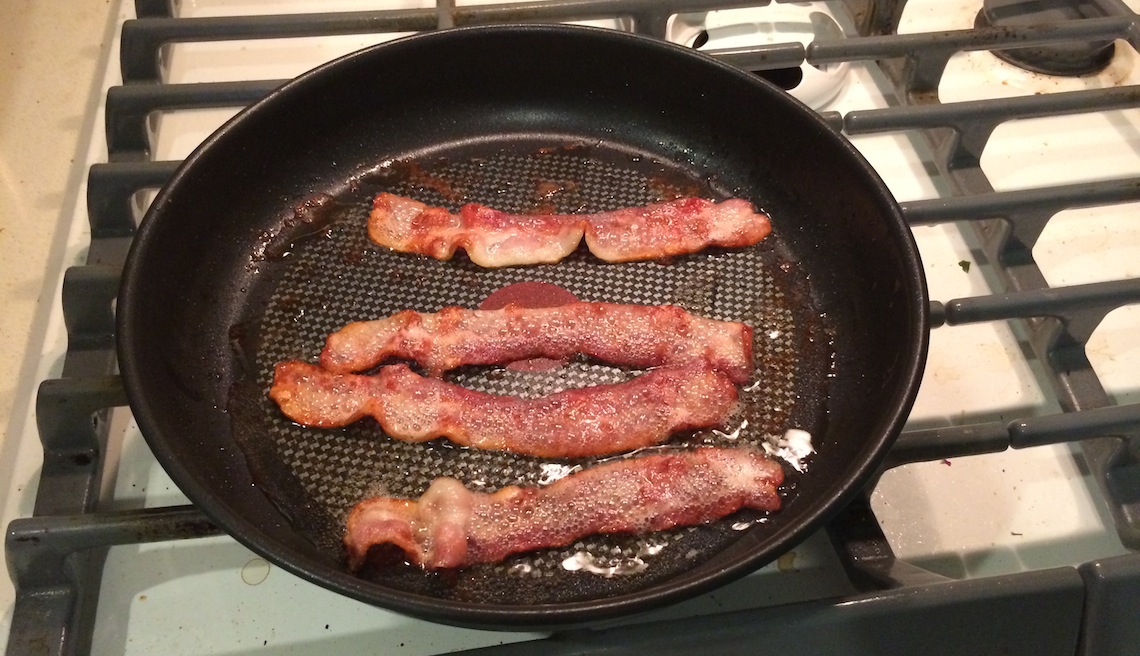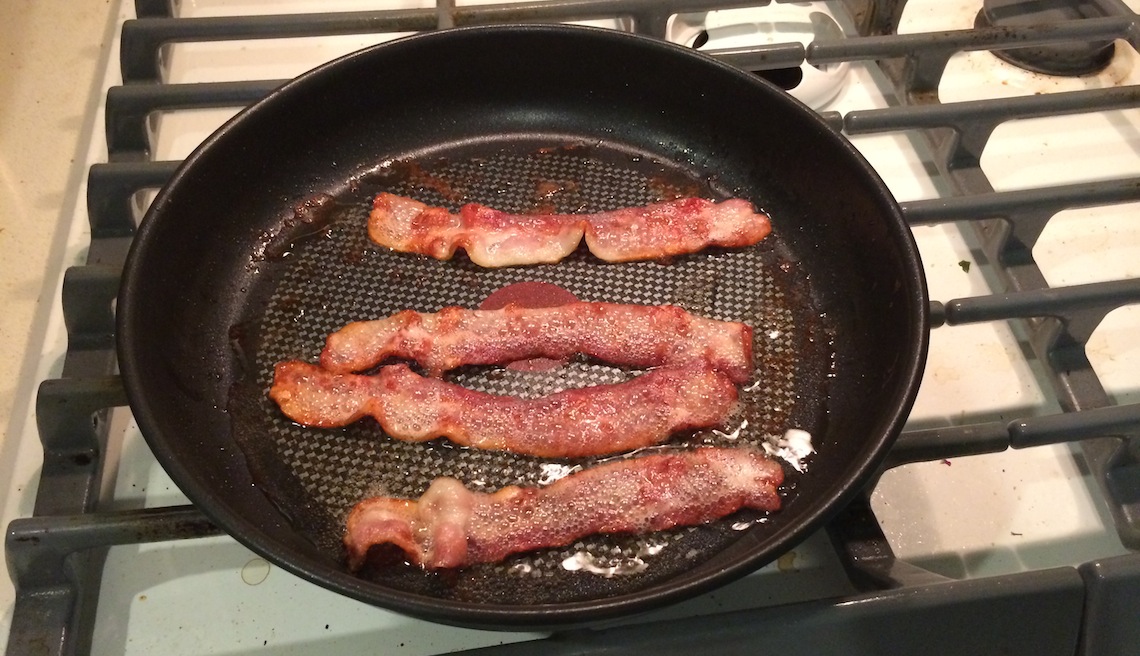 2) Using the same pan as the bacon, fry sliced onion in the bacon fat for approximately 5 minutes until golden brown.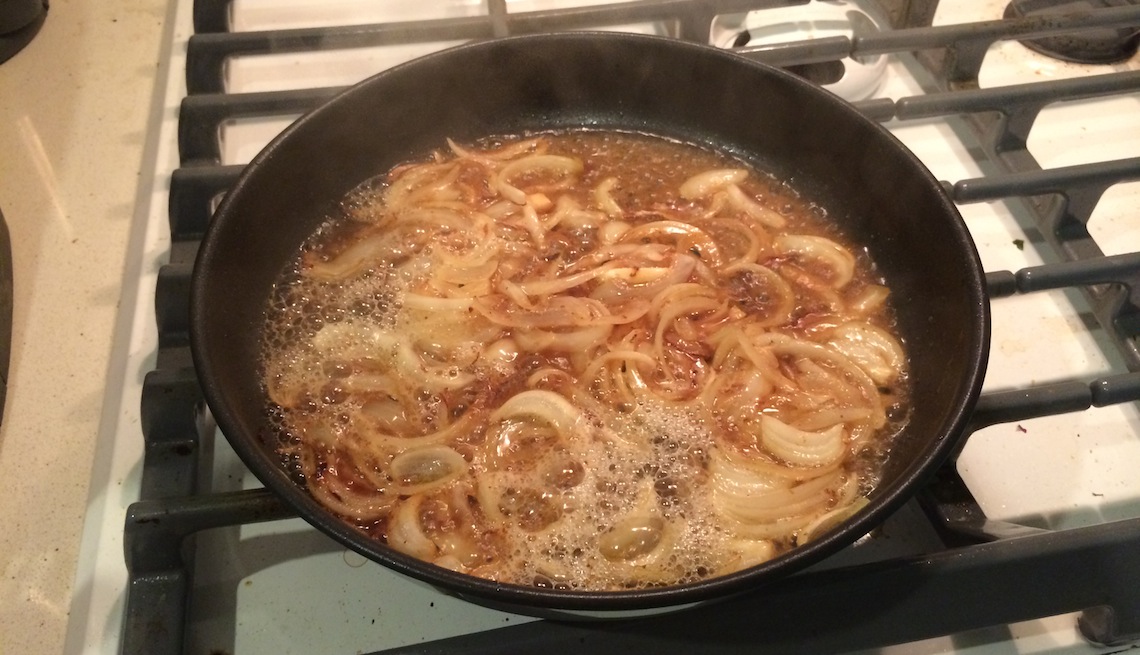 3) Add in 1/4 cup of of Samuel Adams OctoberFest Beer, stir and cook until liquid is evaporated.  Repeat 3 times until the beer has reduced.  This process of caramelizing the onions should take about 20 minutes.  Stir frequently to prevent burning.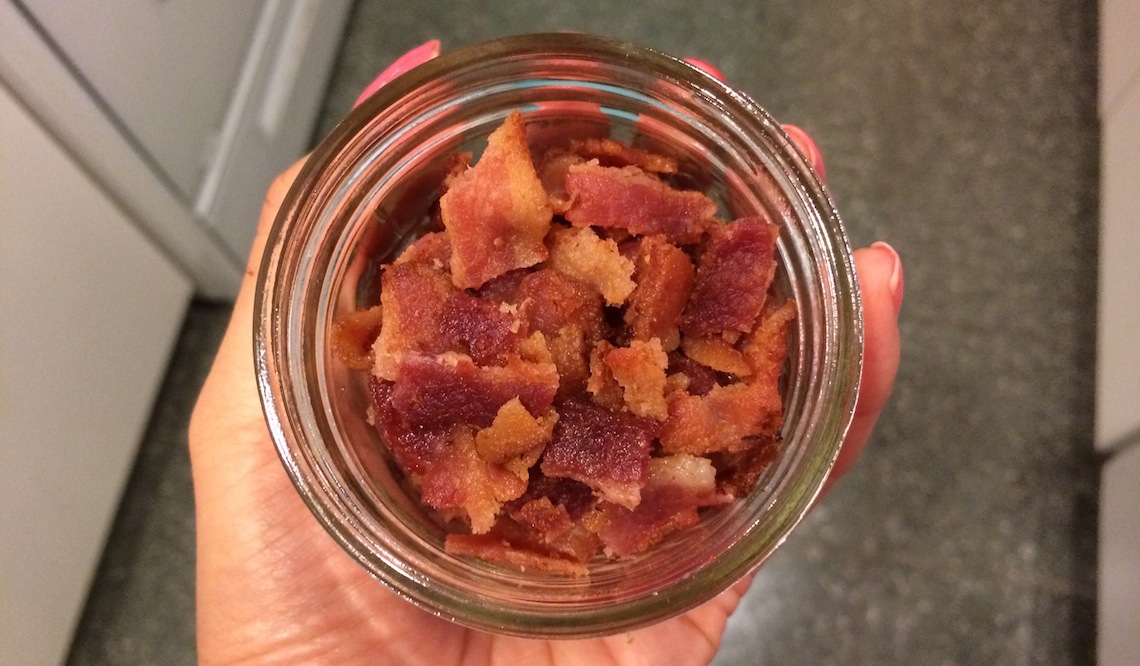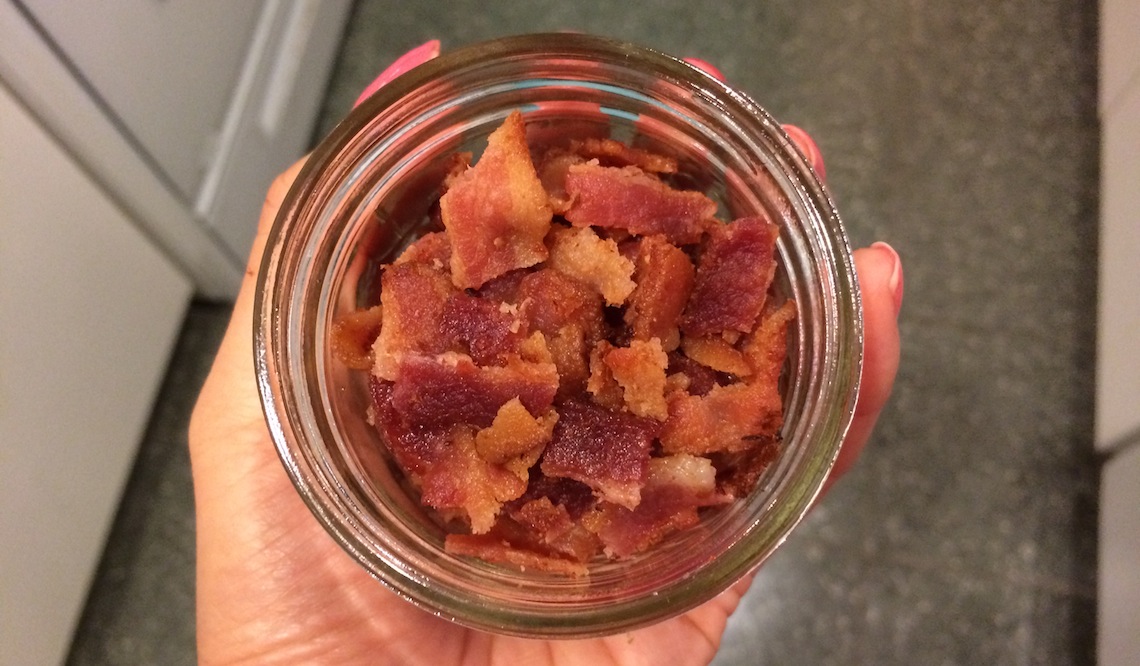 4) As you are waiting for the liquid to evaporate, crumble the bacon.  After the final 1/4 cup of Samuel Adams OctoberFest Beer has reduced, stir in crumbled bacon into the caramelized onions mixture.  Take onion and bacon mixture out from pan and set aside.  This will be the filling for your grilled sandwich.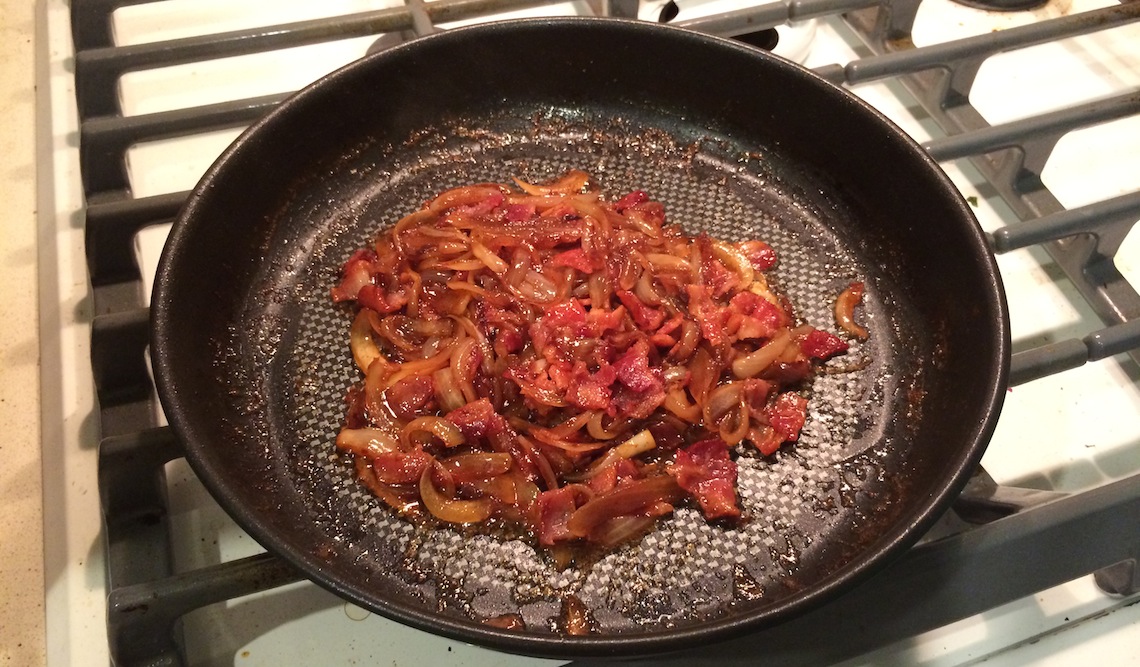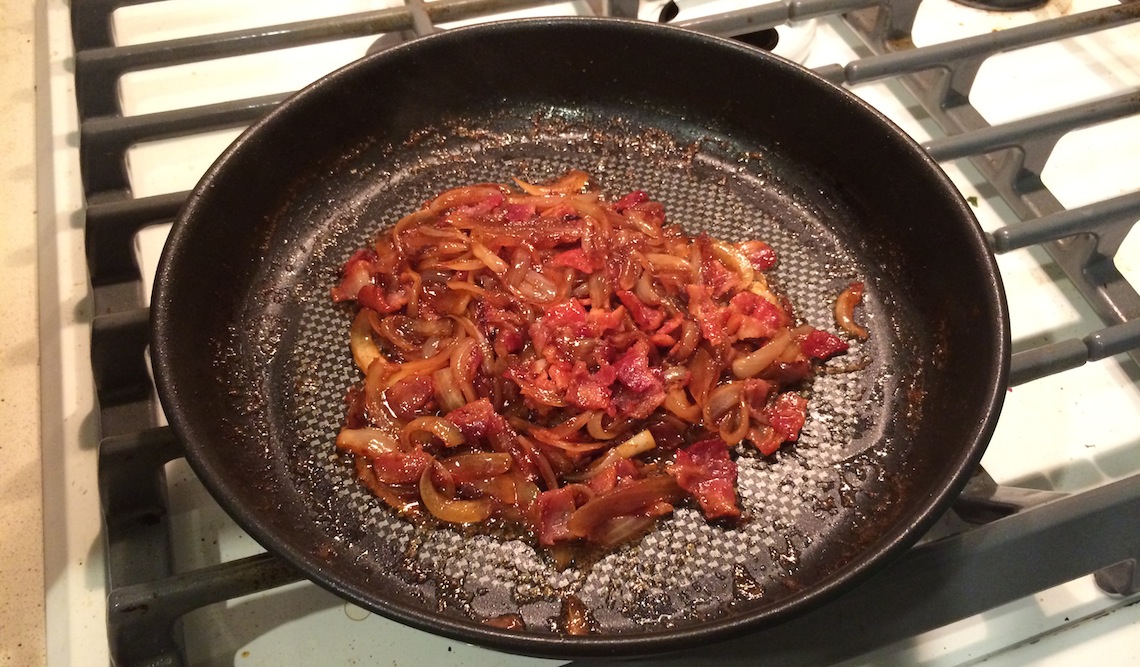 5) By now, the bacon fat in your frying pan should mostly be gone, absorbed into your caramelized onion mixture.  Coat your frying pan with the butter instead and turn your frying pan down to low heat.
6) Spread (or squeeze) mustard on two slices of bread, and place dijon mustard side up on the frying pan.  Place 3 slices of brie cheese on each slice of bread.  We left the rind on, but feel free to cut it off.  It's up to you how much cheese you want, but keep it centred on the bread so when it melts, it won't ooze off the size.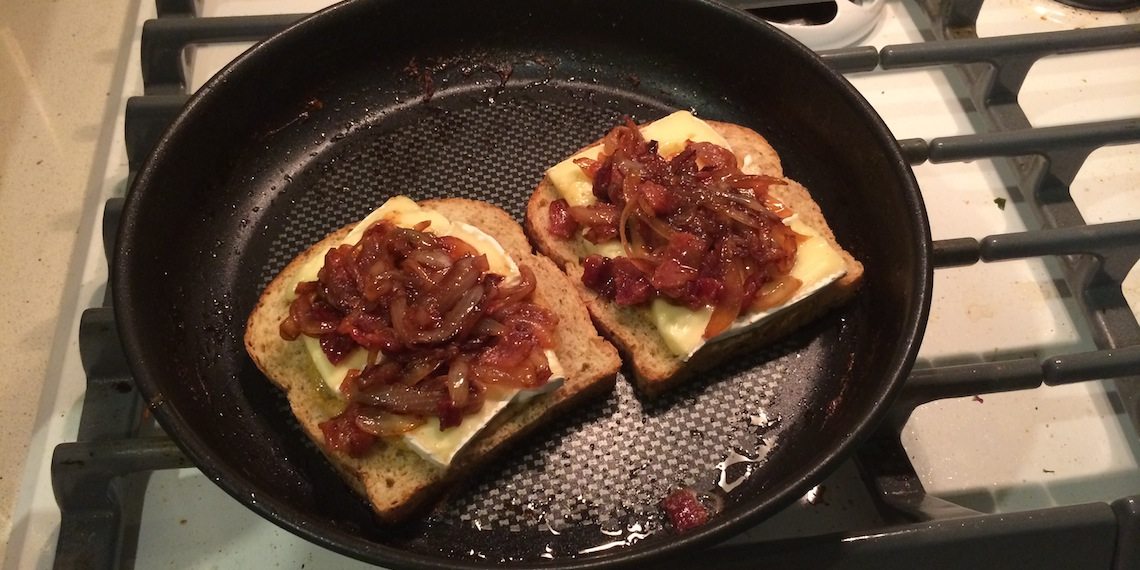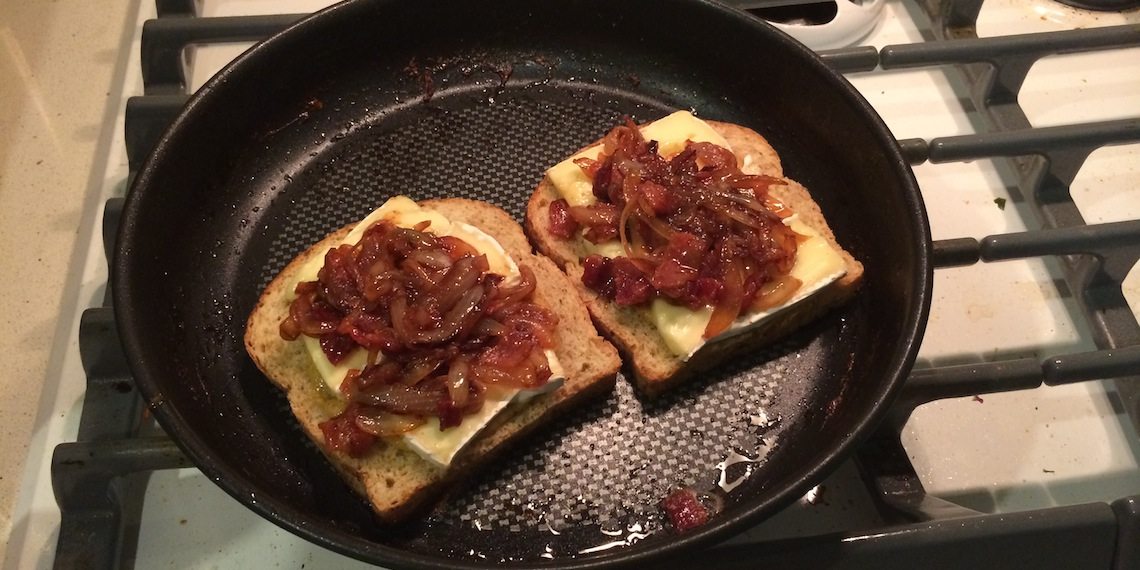 7) Spoon the caramelized onion mixture on top of the brie.  You are trying to melt the cheese from below using the heat from the frying pan, as well as above, with the still-warm caramelized onions.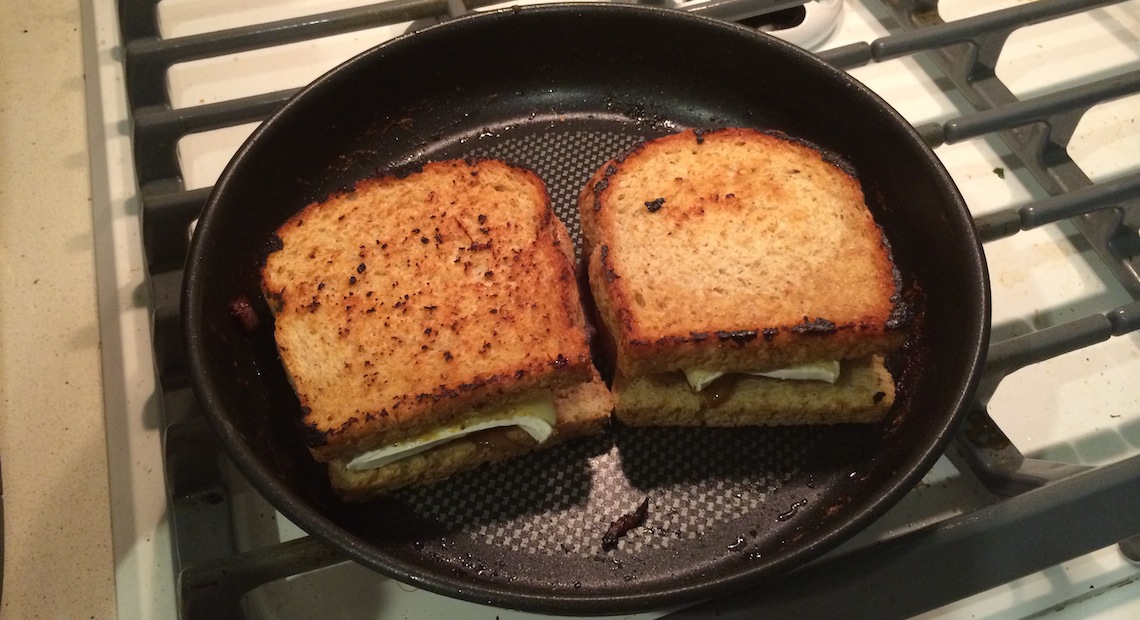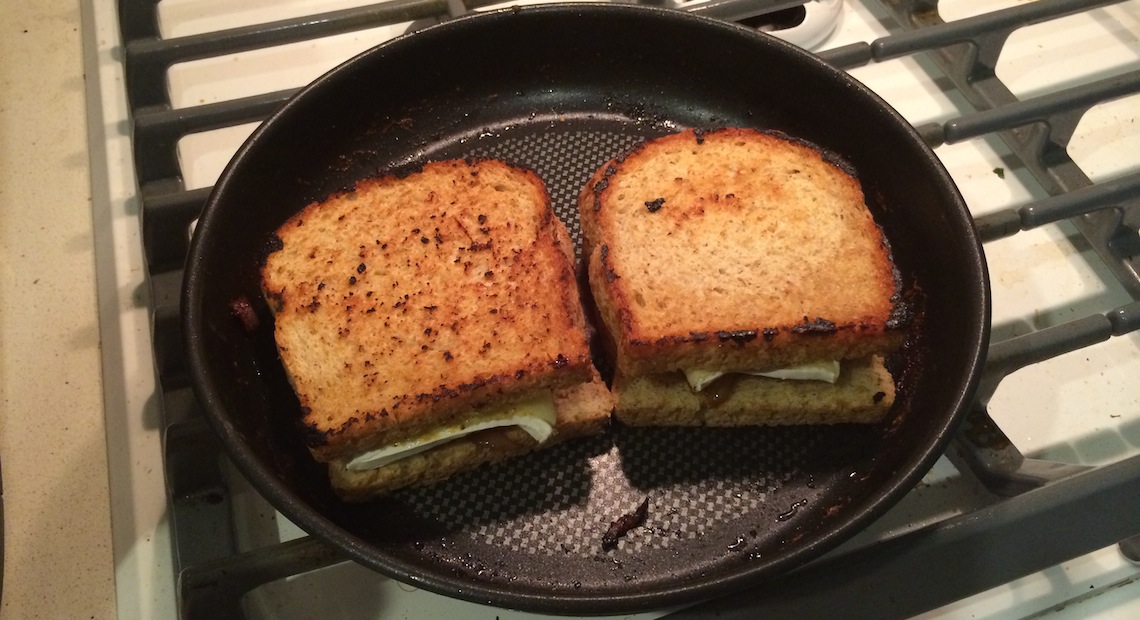 8) When the brie cheese starts getting gooey, place the remaining slices of bread on top, and flip with a spatula.  Fry on low heat until both sides are golden brown.
Variations
Fried mushrooms can be mixed into the bacon and caramelized onion – dice mushrooms to a similar size as the crumbled bacon.
Any kind of mustard can be used in place of dijon – including honey mustard for extra sweetness.
An alternative soft cheese like camembert could be used in place of brie cheese.
A slice of tomato or lettuce could be added at the very end, after the sandwich has been taken off the frying pan.
A different Samuel Adams brew could be used in place of OctoberFest.