Modern Mix Vancouver is writing from The Westin in Whistler, one of the few premium hotels in the village which offers the same four-star treatment to both dogs and their human counterparts.   Knowing the success of their pet-friendly program, The Westin has put on a weekend getaway retreat, appropriately named Woof Weekend, so dog lovers like us can treat our beloved pups on a mini-vacation, without having to sacrifice the comfort of deluxe accommodations.
Woof Weekend supports Whistler Animals Galore (WAG), a local animal shelter which serves the Sea to Sky corridor.  In addition to various dog-friendly activities throughout the weekend, including a mountain hike, pet expert sessions, complimentary grooming and a talent show, the highlight of the weekend is the annual WAG K9 Wine & Dine fundraising gala.  This one-of-a-kind fundraising dinner is for both humans and pets, and provides a three-course dinner for both you and your pup.
Friday (Evening) – Arriving in Whistler & Welcome Reception
We drove up to Whistler after a regular day at work.  It was a rough ride up for my pomeranian Teddy Bear, but after 90 minutes of winding highways, we made it to The Westin, which is located centrally in Whistler Village.  Upon arrival in our guest room, we were warmly welcomed with a gift bag filled with treats and toys for Teddy, and a charcuterie board of cheese and chocolate covered strawberries for my boyfriend and I.
Teddy's welcome bag included baked "Pampered Pooch Barkery Treats" tied up in cellophane and ribbon, mini packets of Zukes, a squeaky dinosaur toy made of hemp, a hand-painted fabric bone toy from Stitch and Paint and a voucher for a Dapper Dog Bow Tie from Buggsly.  A fluffy "Heavenly Dog Bed" and food bowls were already arranged for Teddy upon our arrival.  There was also a card on the table addressed to Teddy, thanking him for bringing his humans along for the Woof Weekend doggie getaway.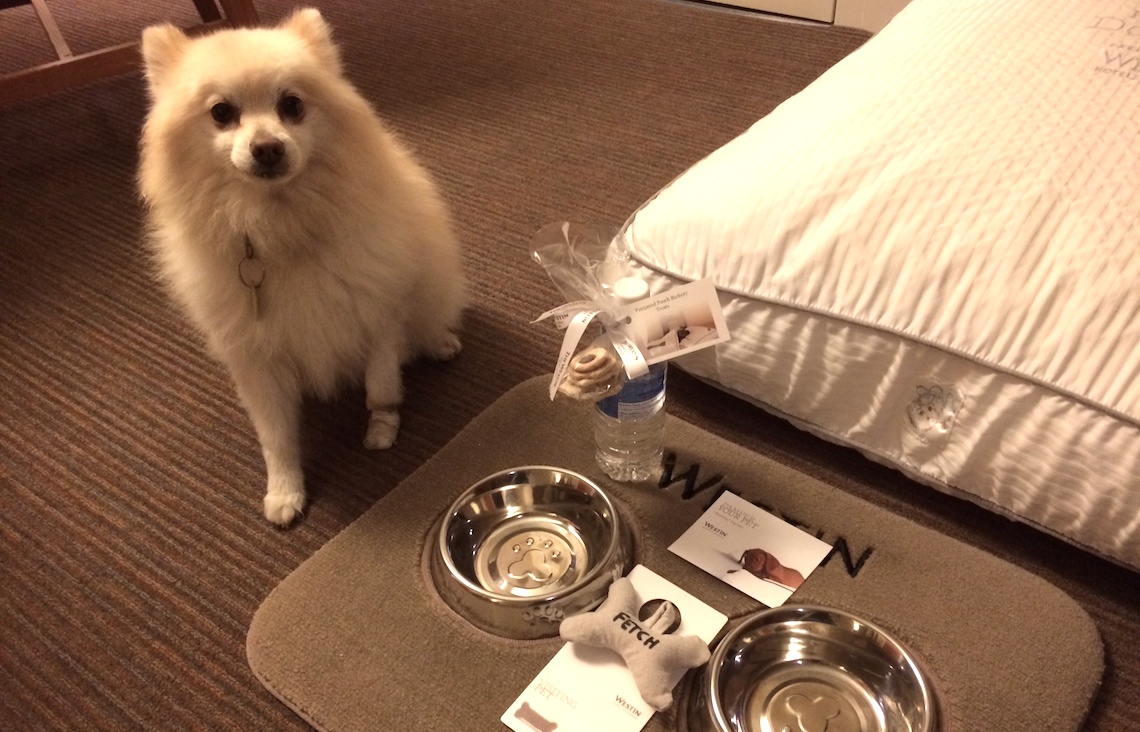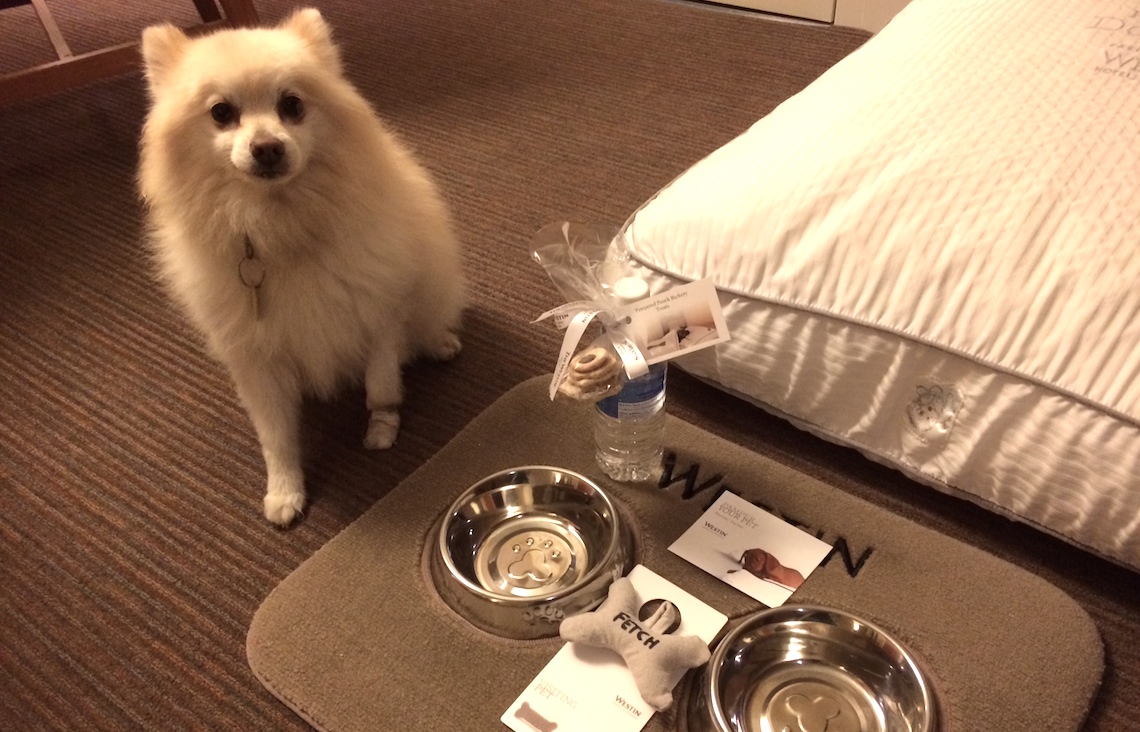 After getting settled in, we headed to the VIP welcome reception, held in one of the Westin Whistler's meeting rooms.
We mistakenly asked if dogs were allowed at the VIP welcome reception – the server looked at us and said of course dogs were allowed, this weekend was for the dogs!  This will be the first of many dog-friendly activities, where The Westin and its event partners would move heaven and earth to welcome our beloved canine companions (and their accompanying humans) over the weekend.
The VIP reception was great for meeting the other dogs and owners who were participating in Woof Weekend.  There were approximately 30 guests staying the full weekend at The Westin, but more would arrive the next day for the Saturday activities.   Hot appies from The Westin's culinary program were served for the humans, but there were packets of dog treats on the cocktail tables so our pups could enjoy too.
Saturday (Morning) – Alpine Dogs Guided Whistler Hike
Our morning started off with in-room delivery of the Essential Breakfast at 8:30, which included freshly squeezed orange juice, a fresh fruit plate and assorted pastries. We then met in the lobby of  The Westin at 10am to begin our hike with the Whistler-based Alpine Dogs.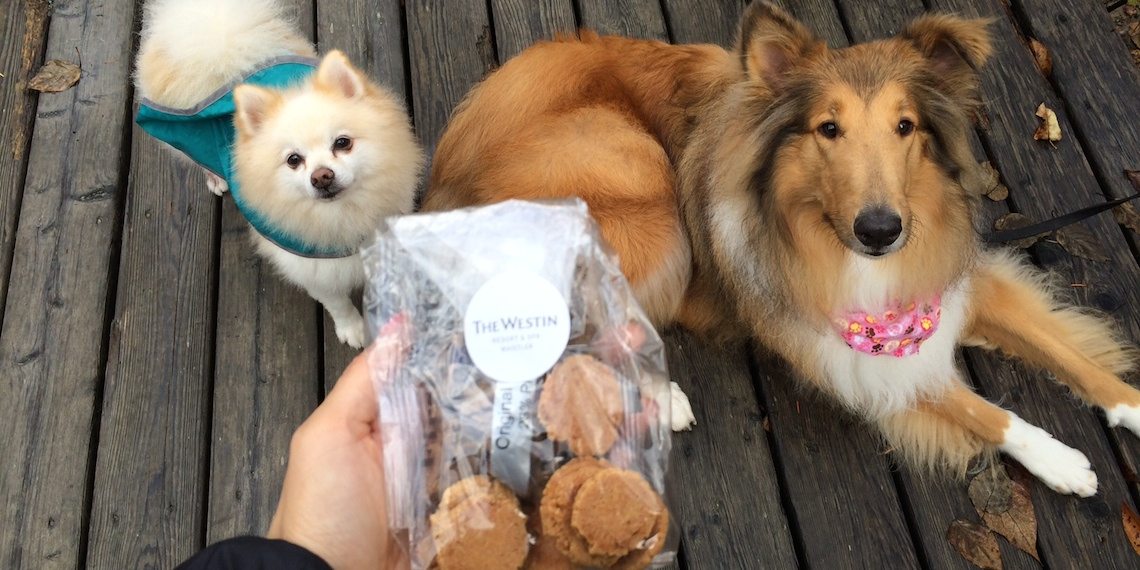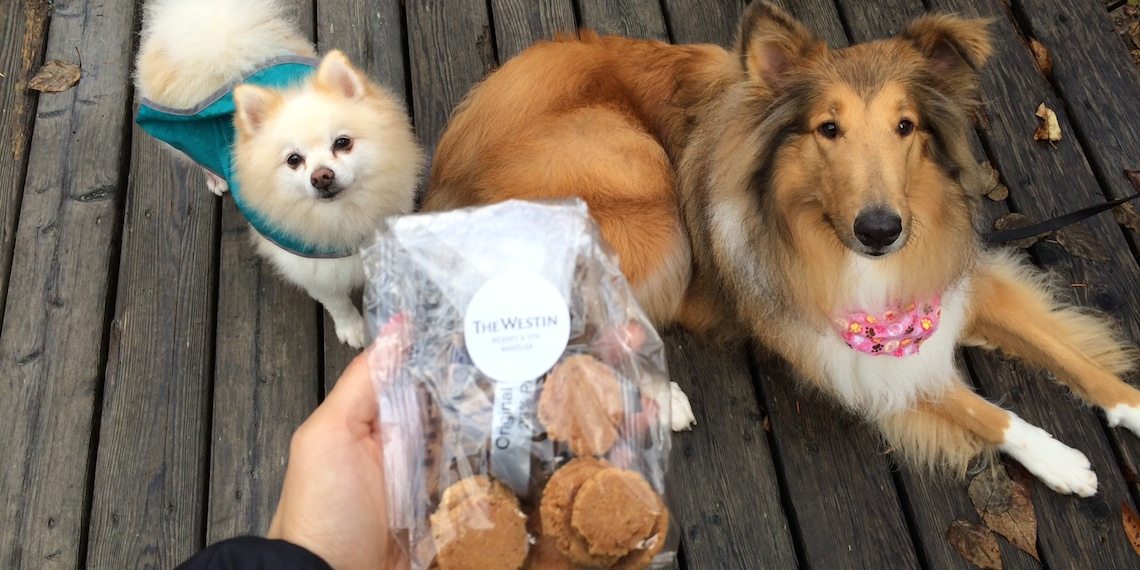 It was a two-hour leisurely hike on the trails of Whistler Mountain, we stuck to the "Tin Pants" trail (which is also a snowshoeing trail in the winter).  It was a diverse group, with the youngest member of the hike being 7 years old (the daughter of blogger Michael Granek from Top Daddies), and the oldest being an active 84-year-old woman.
Halfway through, we stopped at a wooden patio to have our packed picnic lunch: a peppered roast beef sandwich on baguette with crispy onions, chips and water.  Needless to say, our pups had packed snacks too.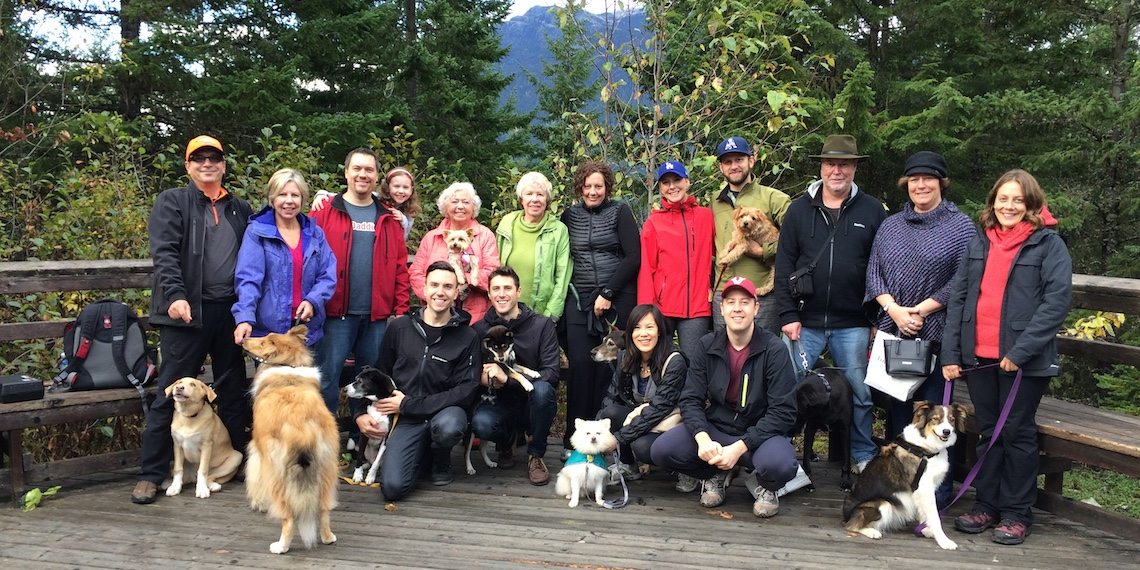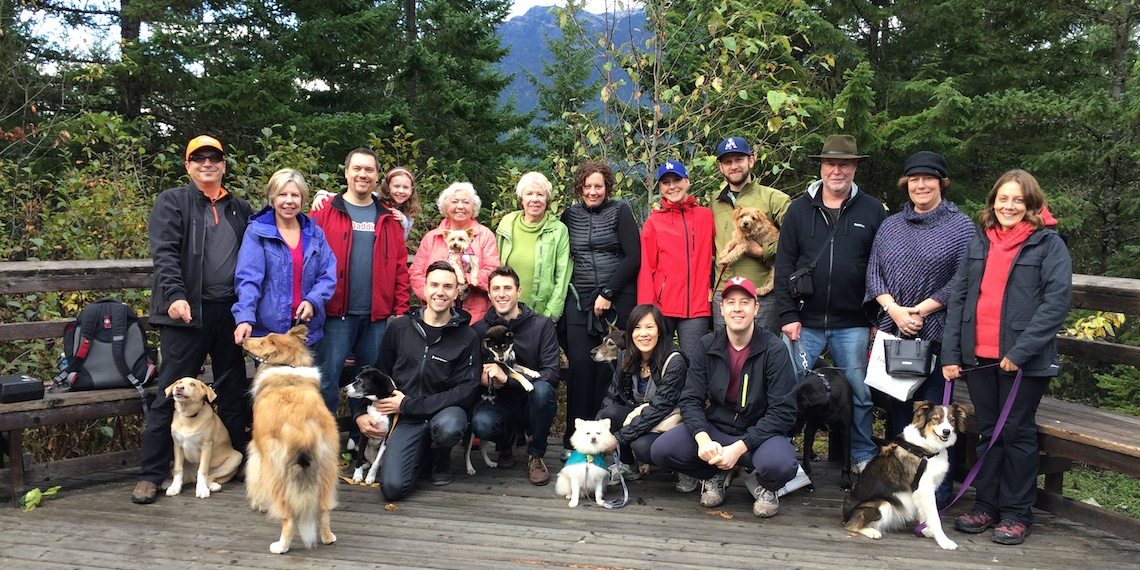 Saturday (Afternoon) – Woof Weekend Pet Expo & Other Dog Activities
After arriving back at The Westin and freshening up, we went downstairs to the Emerald Ballroom where dog seminars, classes and performances were running all afternoon long.
We started off at The Shampooch Mobile Dog Spa, where Teddy received a complimentary fur and nail trim and coat brushing.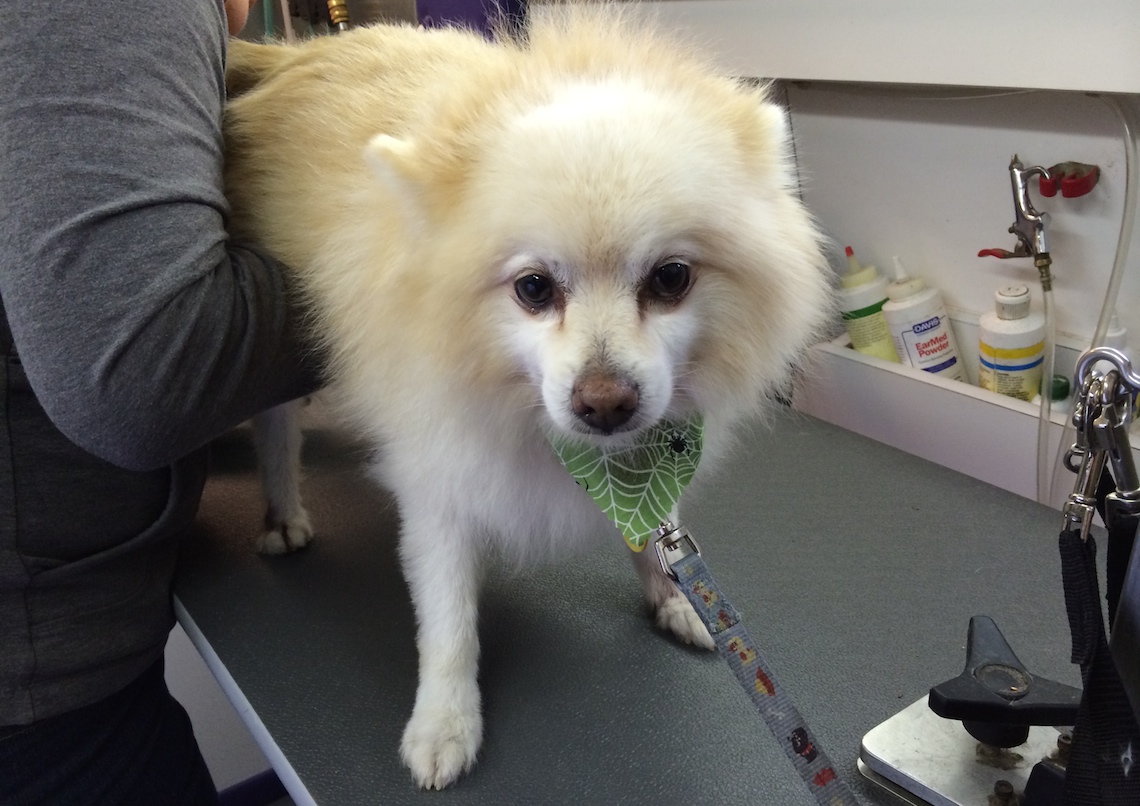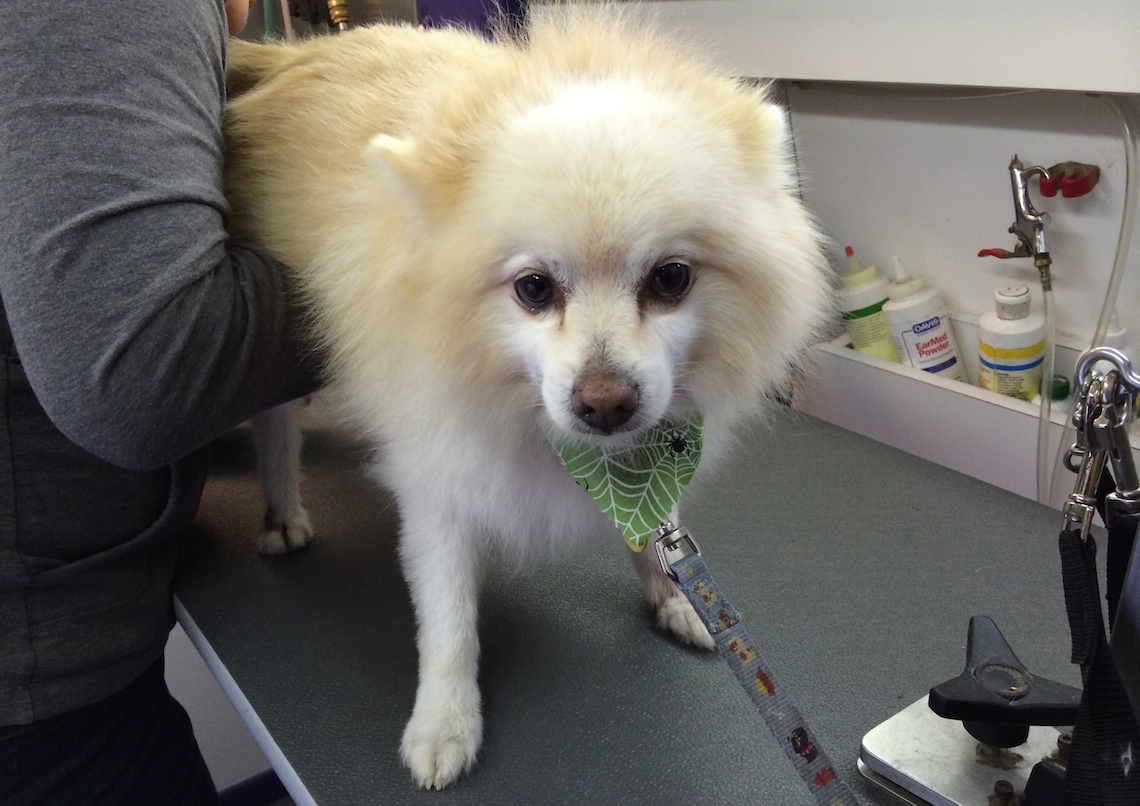 Although we missed learning how to bake dog biscuits at the canine culinary class, we did pick up a recipe card for it afterwards.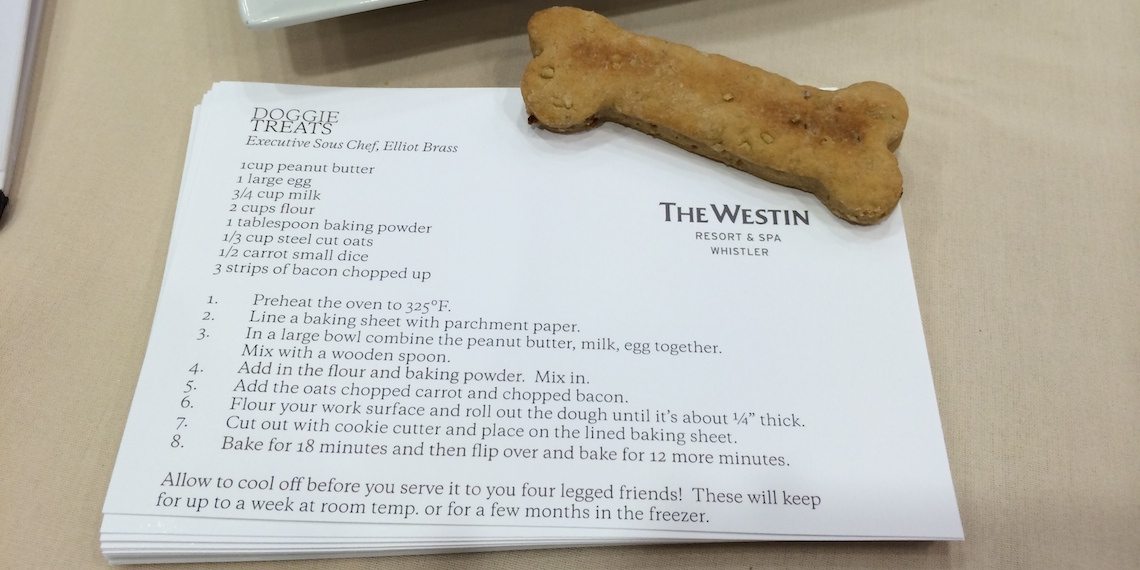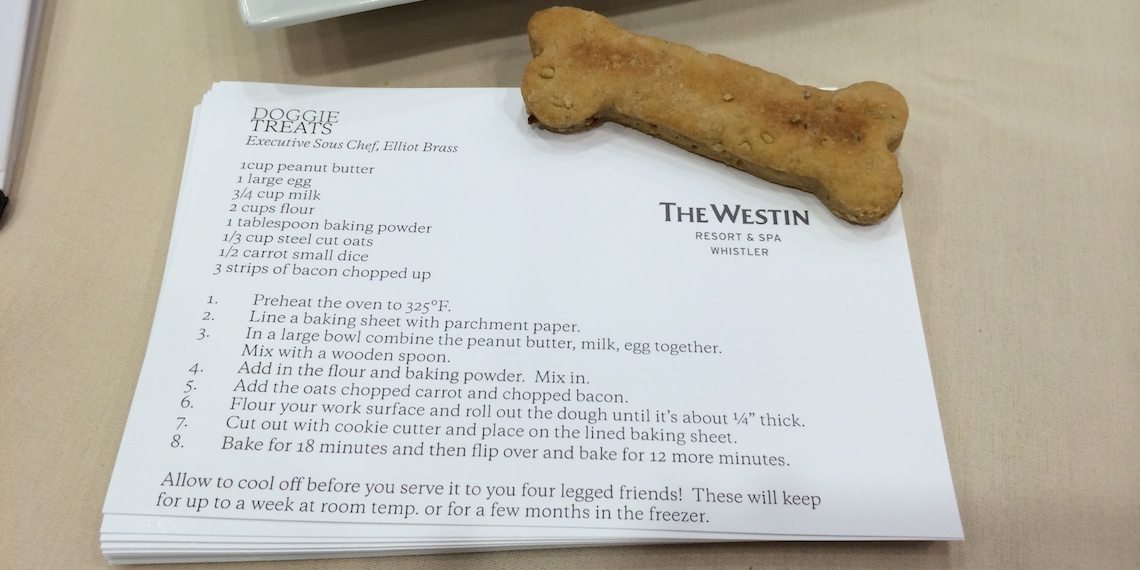 At around 3:30pm, there was an Agility Performance by The K9 Incredibles.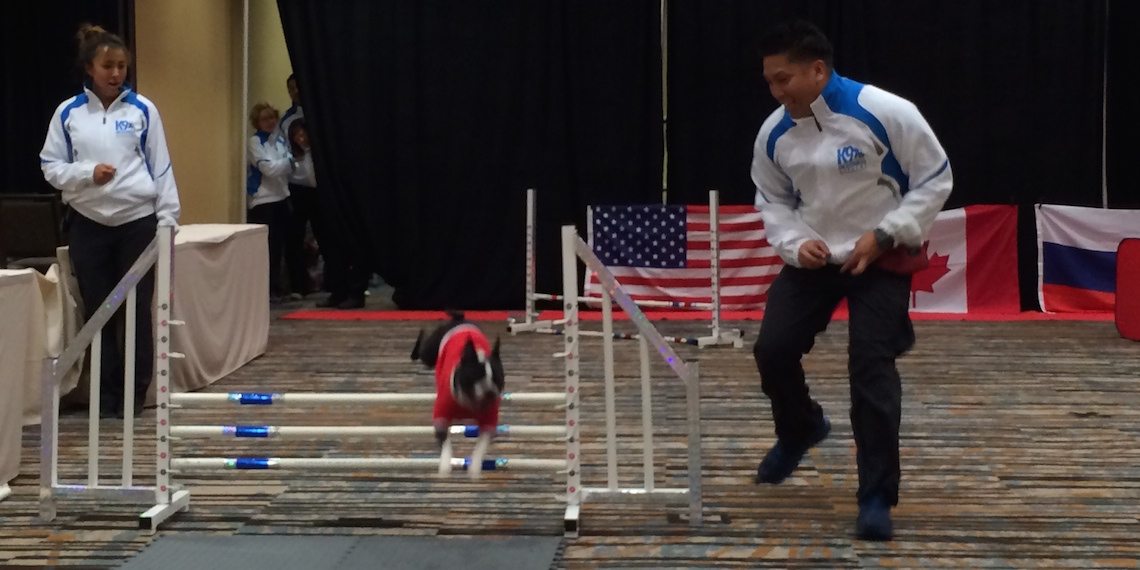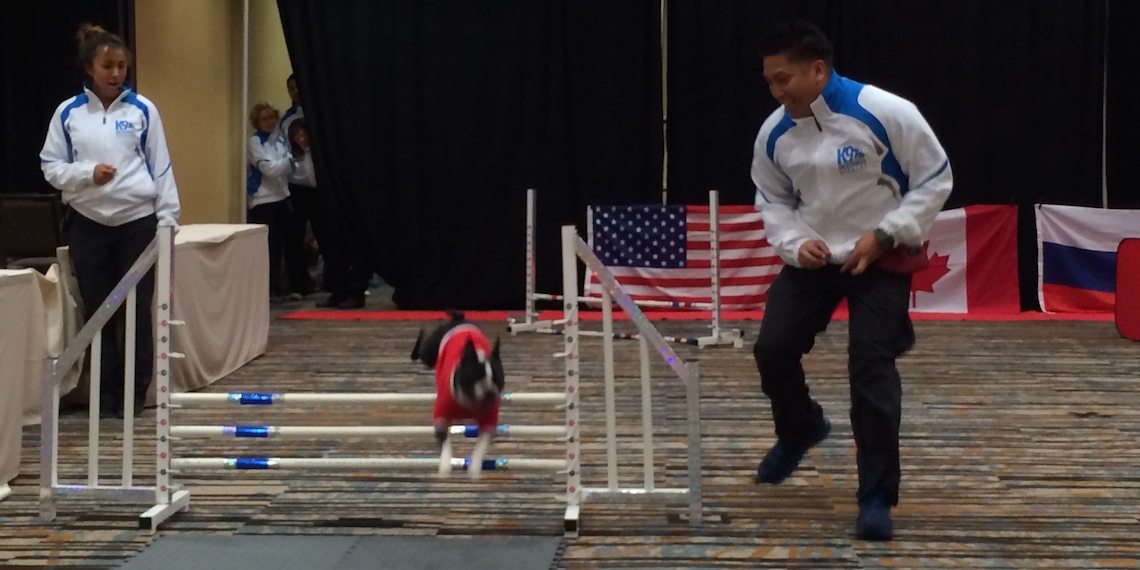 Concurrently, in the same ballroom, there was a Pet Expo / Marketplace with local vendors, showcasing their goods.
Then we had some downtime for the rest of the afternoon, until the K9 Wine & Dine Gala Dinner in the evening.
Saturday (Evening) – K9 Wine & Dine Gala Dinner Benefitting Whistler WAG
Back in the ballroom, the staff at The Westin and Whistler WAG had been preparing all afternoon for this annual dinner.   A red carpet let to the doors as a photographer snapped photos of owners with their pups.  Inside, live music played as guests milled around the silent auction tables looking for a good deal to support a great cause, while round tables were set up with fancy centrepieces and gold plates.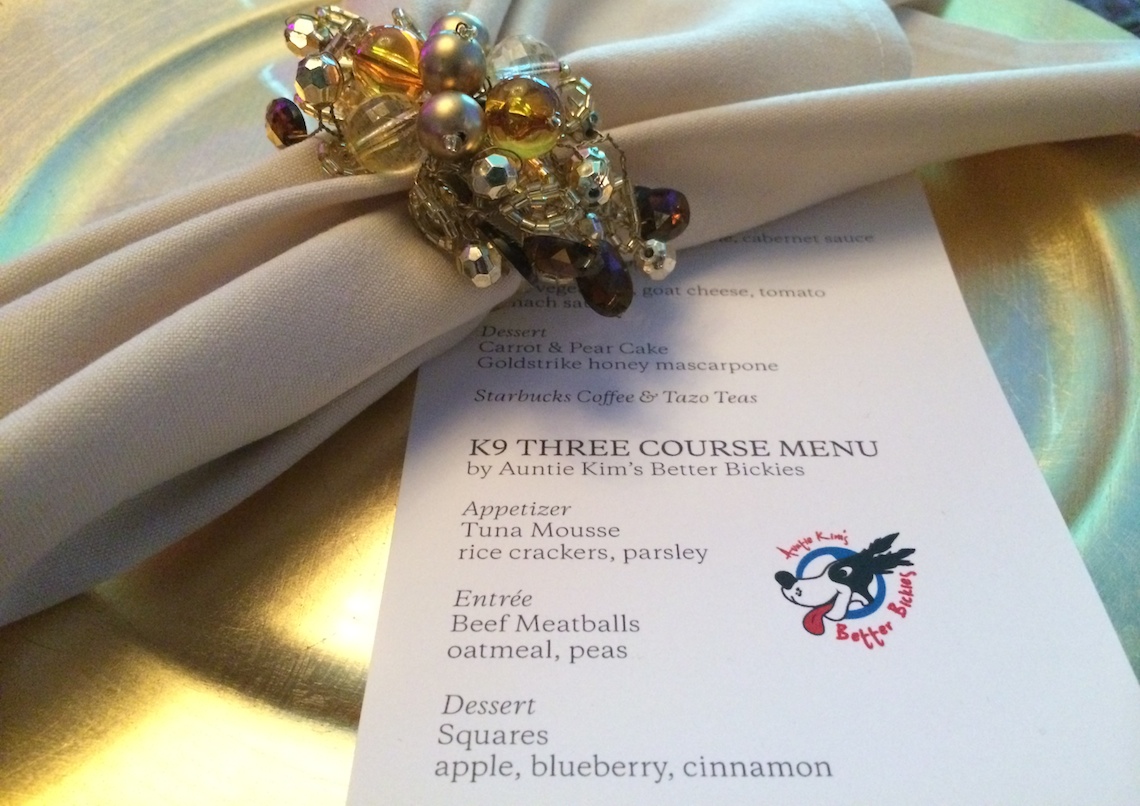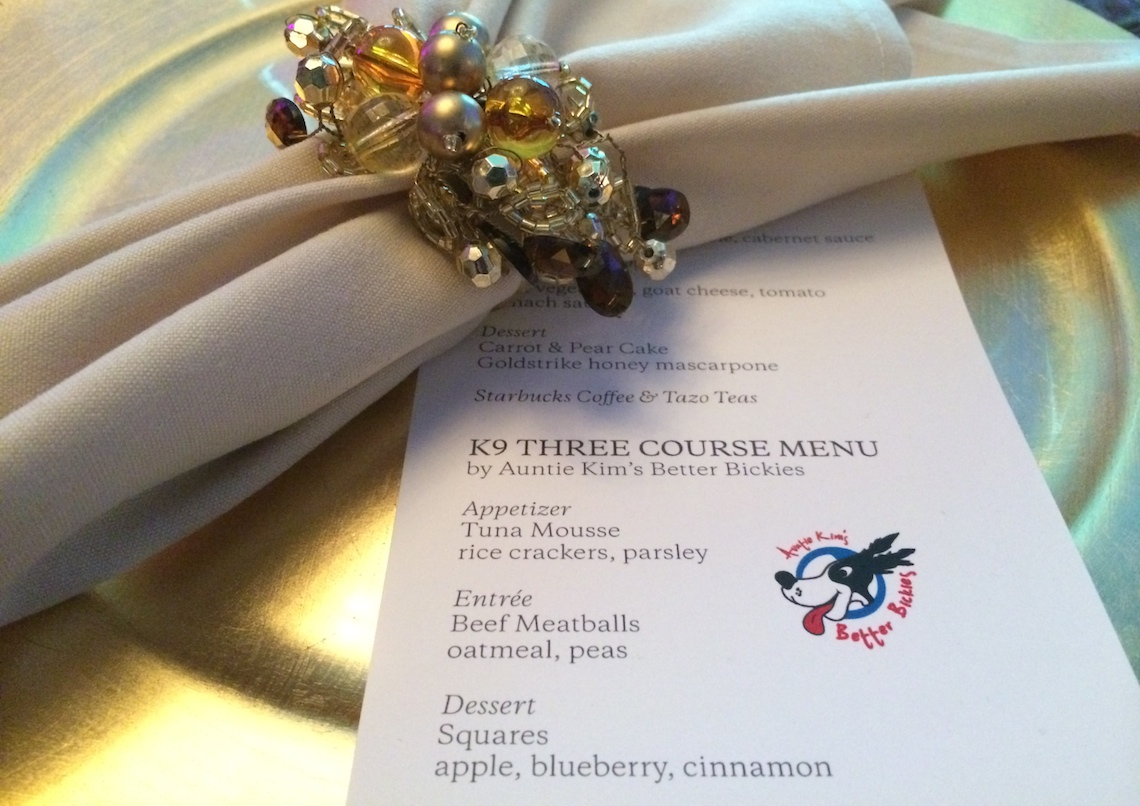 If you've read this far, you're probably not surprised that canines were present at this formal dinner.  In fact, if you were just attending this fundraiser without registering for the entire Woof Weekend, tickets are $25 for dogs (and $50 for humans).
When the dinner started, servers walked around the room and served both the pups and humans a three-course meal.  To wash it all down, a gravy mixture of "Pinot-Growlio Reserve" was served in wine bottles for the pups.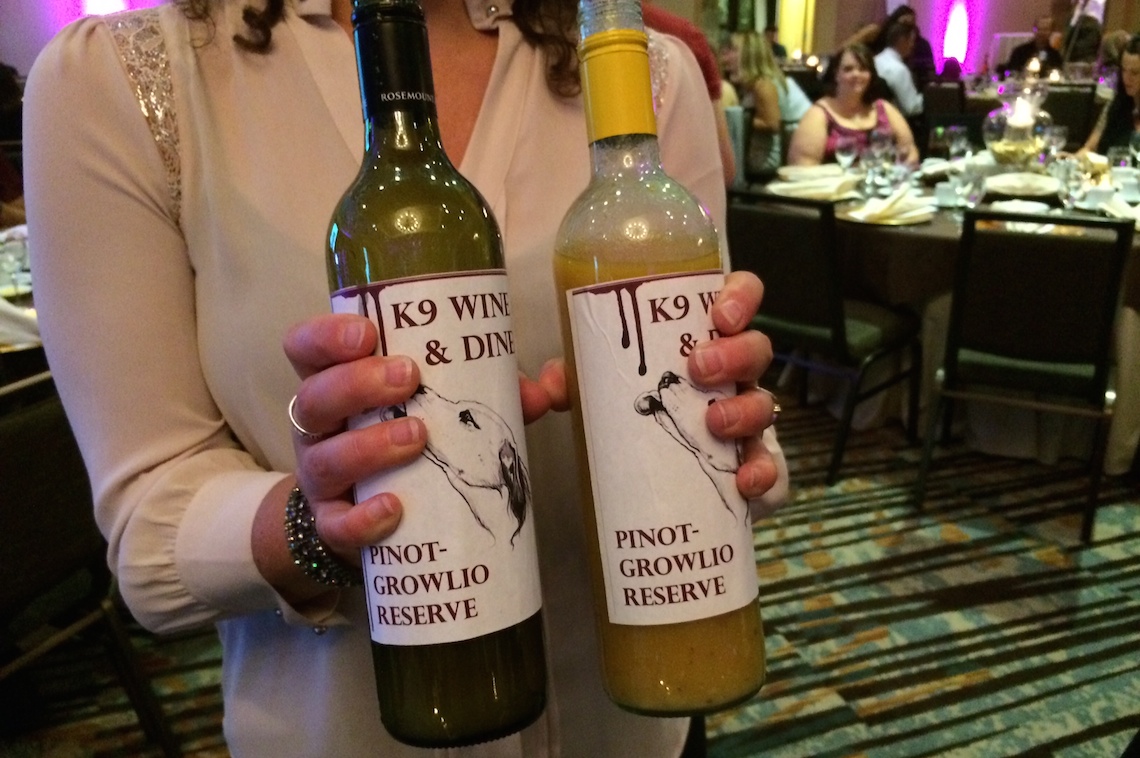 There's so much to say about this one-of-a-kind gala, that we have a separate blog post about this on Modern Mix Vancouver. Click here to read the full recap.
Sunday (Morning) – Whistler's Next Top Dog Talent Show & Check Out
Our final day of Woof Weekend, consisted of some casual activities at the hotel.  The Pet Expo was still on, and there was also a talent show for "Whistler's Next Top Dog".
As we had a late 2pm checkout from The Westin, we spent the rest of the morning walking around Whistler Village and browsing through small boutiques. I particularly enjoyed the boutique 3 Singing Birds which carried a variety of stylish handmade goods, Green Moustach Juice for healthy juice, and the hearty, savoury minced beef pies from Peaked Pies, topped with peas, mashed potatoes, and gravy.
Final Thoughts on Woof Weekend
You're either into this or you aren't.  I personally love including and incorporating Teddy into as many aspects of my life as I can, so Woof Weekend was an incredibly fun experience for me.
Although we have thoroughly covered the full Woof Weekend experience here on Modern Mix Vancouver, you are more than welcome to pick and choose your preferred activities and prioritize and budget accordingly.   For example, many attendees we met were only there for the evening gala.
Woof Weekend will be back next year in October 2015 at The Westin in Whistler so plan ahead for this furbulous weekend getaway.  Teddy and I hope to see you next year!