Celebrating the launch of Happy Planet's two new soup flavours, Modern Mix Vancouver was invited to the Dirty Apron Cooking School for a three-course soup-centric dinner and cooking demonstration co-hosted by Chef David Robertson and Happy Planet.
In the week leading up to the event, we were sent a basketful of fresh ingredients and challenged to guess what we thought the upcoming flavours were.  Because of the basil, lemongrass and kaffir lime, I knew one of the new soups had to be Thai inspired – and I was correct!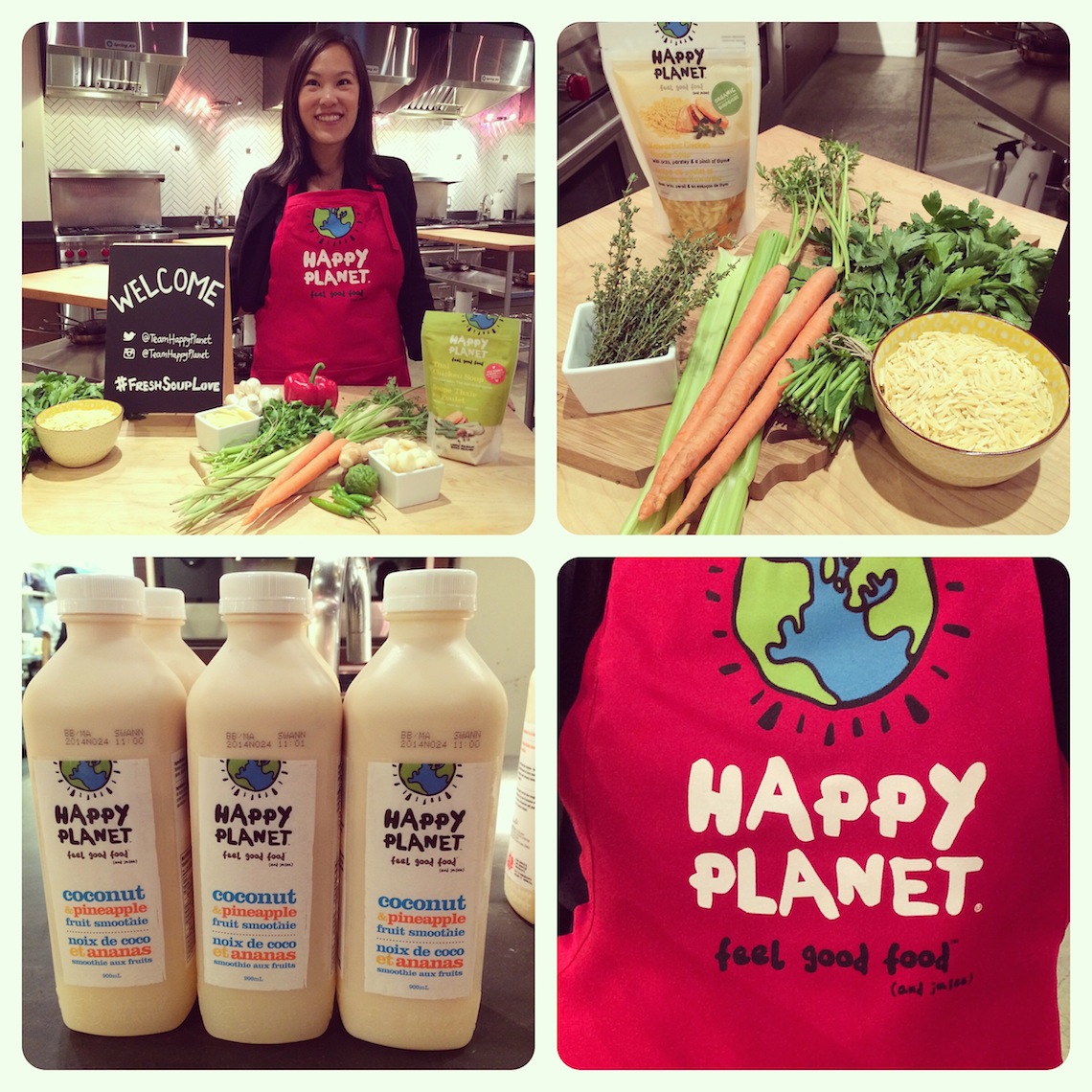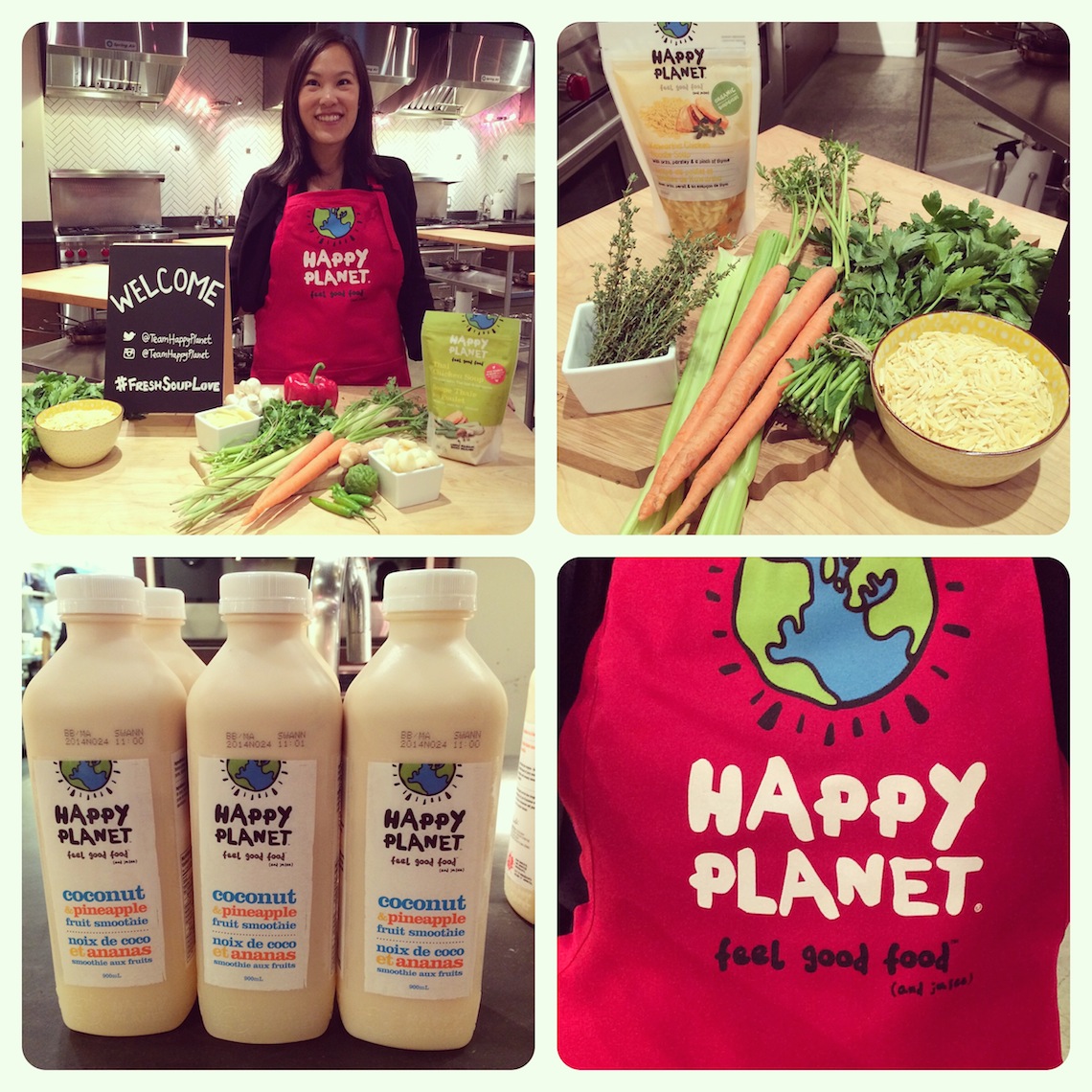 Upon entering the Dirty Apron Cooking School, we were handed Happy Planet aprons and served coconut and pineapple smoothies in champagne glasses.  At the front of the kitchen, fresh ingredients were on display, alongside the two new soup flavours:
Thai Chicken Soup 
Juicy morsels of organic chicken, fragrant with green curry, Thai basil and lemongrass.
Comfort food, but with a spicy kick.
Kawartha Chicken Noodle Soup
Made with delicious organic, free-range chicken meat from farms in the Ontario Kawartha Lakes region.
Combined with orzo, parsley and a pinch of thyme.
The common ingredient between both of these new soups is 100% organic, free-range chicken.  The rest of the soup is also full of all-natural ingredients and made without preservatives, artificial ingredients or colourings.
"Both the Thai Chicken and Kawartha Chicken Noodle are made with the highest quality organic white chicken meat from farms located in the Kawartha Lakes region of Ontario. They don't contain any ingredients you can't pronounce so they truly are the delicious and healthy answer to 'What's for Lunch or Dinner?'" – Randal Ius, Co-Founder, Happy Planet.
After the cooking demonstration by Chef David Robertson, we were ushered into the long-table dining room to begin our meal.
The main course of the meal was the Happy Planet Thai Chicken Soup. Straight from the Happy Planet soup packaging, and reheated in massive vats at Dirty Apron, the soup was served in wide-rim soup bowls.  I thought Dirty Apron had recreated the soup that evening with fresh ingredients, but when I enquired, I was told this came straight from the Happy Planet packaging, the same way you or I would be able to purchase this in-stores.
I could not believe this was something you could buy at a grocery store and reheat on your own.  The organic chicken tasted off the bone fresh, the baby corn was very flavourful.  It was hearty, but not heavy, comforting, but not in an unhealthy way. The appetizer was a fennel, beet and avocado salad, and the dessert was a berry crepe.  All the dishes were made with fresh ingredients, local and organic where possible, and true to the values of both Happy Planet and Dirty Apron to serve good and fresh quality food.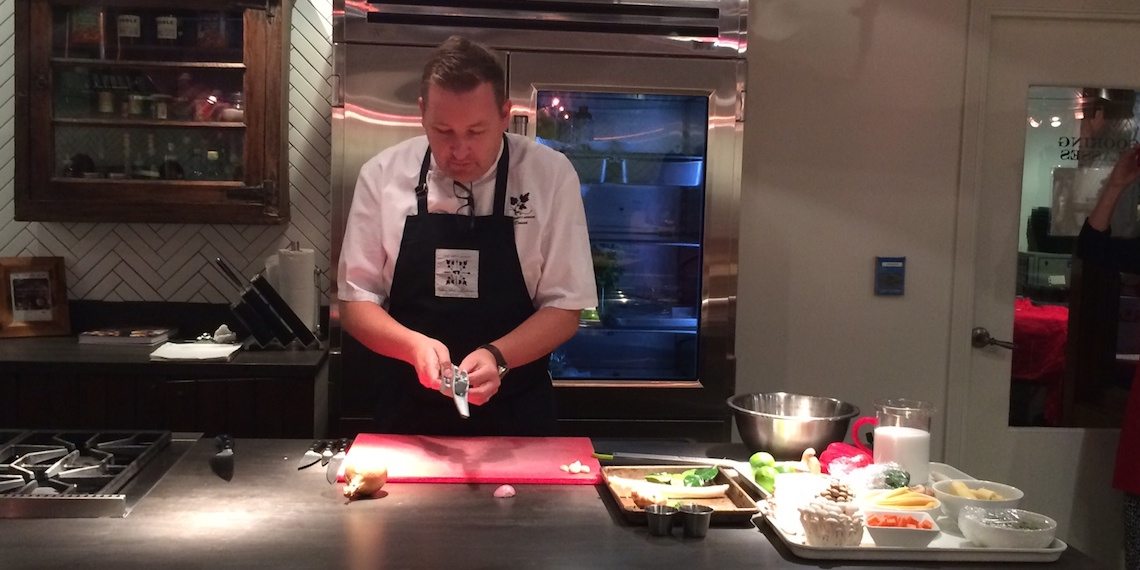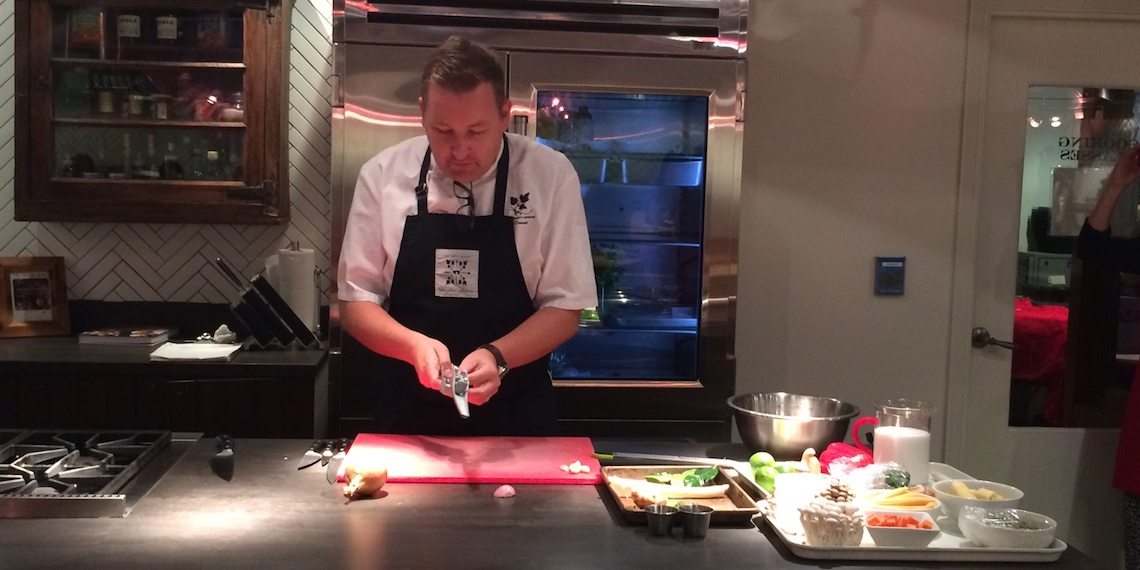 5 Tips for Cooking Fresh from Chef David Robertson
As the owner and head chef at the Dirty Apron cooking school, Chef David Robertson shares with us some tips for cooking fresh in your kitchen.
Use leftover peelings like celery, onion, mushroom stem and simmer to make a vegetable stock
Use cold water for chicken stock because the impurities rise to the top in cold water. Skim the impurities off the surface before serving.
If you love meat, get to know a good butcher. If you love fish, meet a fisherman to get you a fresh catch of the day.
Don't be handcuffed to a recipe book, be creative within the kitchen and experiment with substitutions.
Taste your food as many time as possible to train your palette before serving.
Lastly, with regards to Happy Planet soups, don't be afraid to add a handful of your favourite fresh herbs to the bowl.  A handful of basil, for example, or some fresh-grated ginger, could be a nice finishing touch to elevate the freshness of Happy Planet soups.
Happy Planet's fresh Thai Chicken and Kawartha Chicken Noodle Soups are available in the refrigerated sections of grocery stores nationwide, including Safeway and Whole Foods.