Revlon Canada recently sent me a cute Jet Set Beauty package, which contained all the Revlon ColorStay beauty products needed to create an international city-inspired beauty look, complete with a passport with instructions, and a fake boarding pass to Shanghai – my beauty destination.
There are five city-inspired looks to this collection – Shake it Up in Shanghai, Pucker Up in Paris, Be a New York Knock-Out, Be a London Lady and Strike a Pose in Stockholm. Funny enough, I have been to everyone of these cities featured in the collection – except for Shanghai!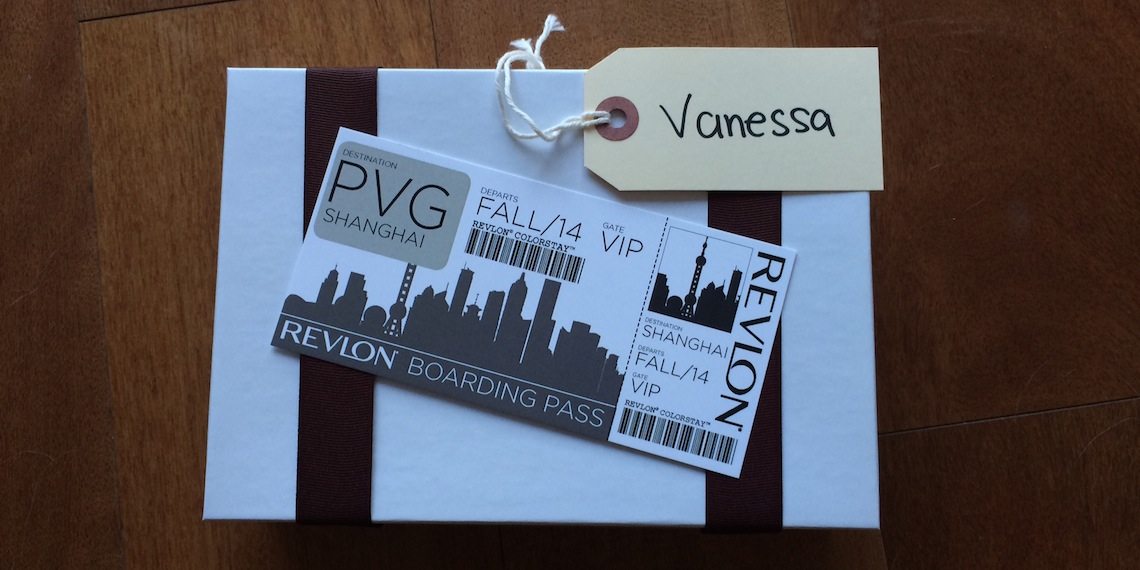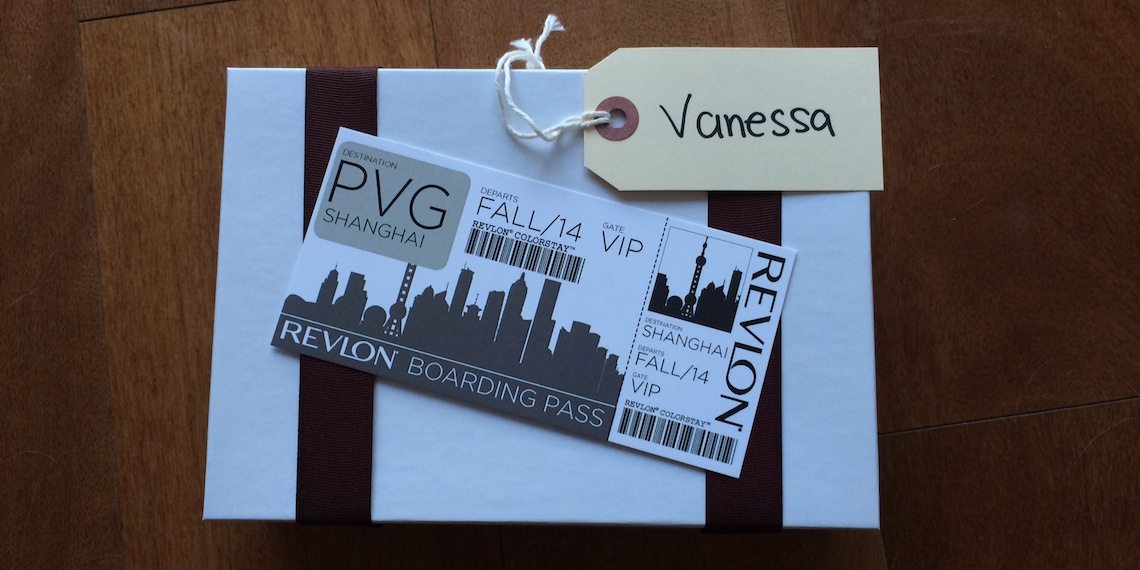 The Shanghai look is a deep green smokey eye, paired with red lips.  At first, I was a bit skeptical about green eyeshadow paired with red lipstick – I didn't want to look like Christmas.  But when I started playing around with the shades, I realized that the "Moss" and "Khaki" Shadowlinks were more of a greyish tone, rather than a bright green.
Eyes
I started by applying the Moss ShadowLink from the inner corner of my eyelid to the centre, then, applied the Khaki ShadowLink from the center to the outer corner, and faded the colours together by blending with a brush.  The ShadowLink pigment isn't very strong, so you get a nice, soft, blend, which you can continue to layer if you want increased intensity.
Revlon provided the ColorStay Eyeliner in Jade, which I used to line both my upper eyelids and waterline.  When I was done with my eyes, I was really happy with the results – the combination of greys and greens gave me a much more pretty and earthy look, compared to using a harsh, black eyeliner.
Top off with a couple of coats of Revlon Bold Lacquer Mascara and your eyes are set.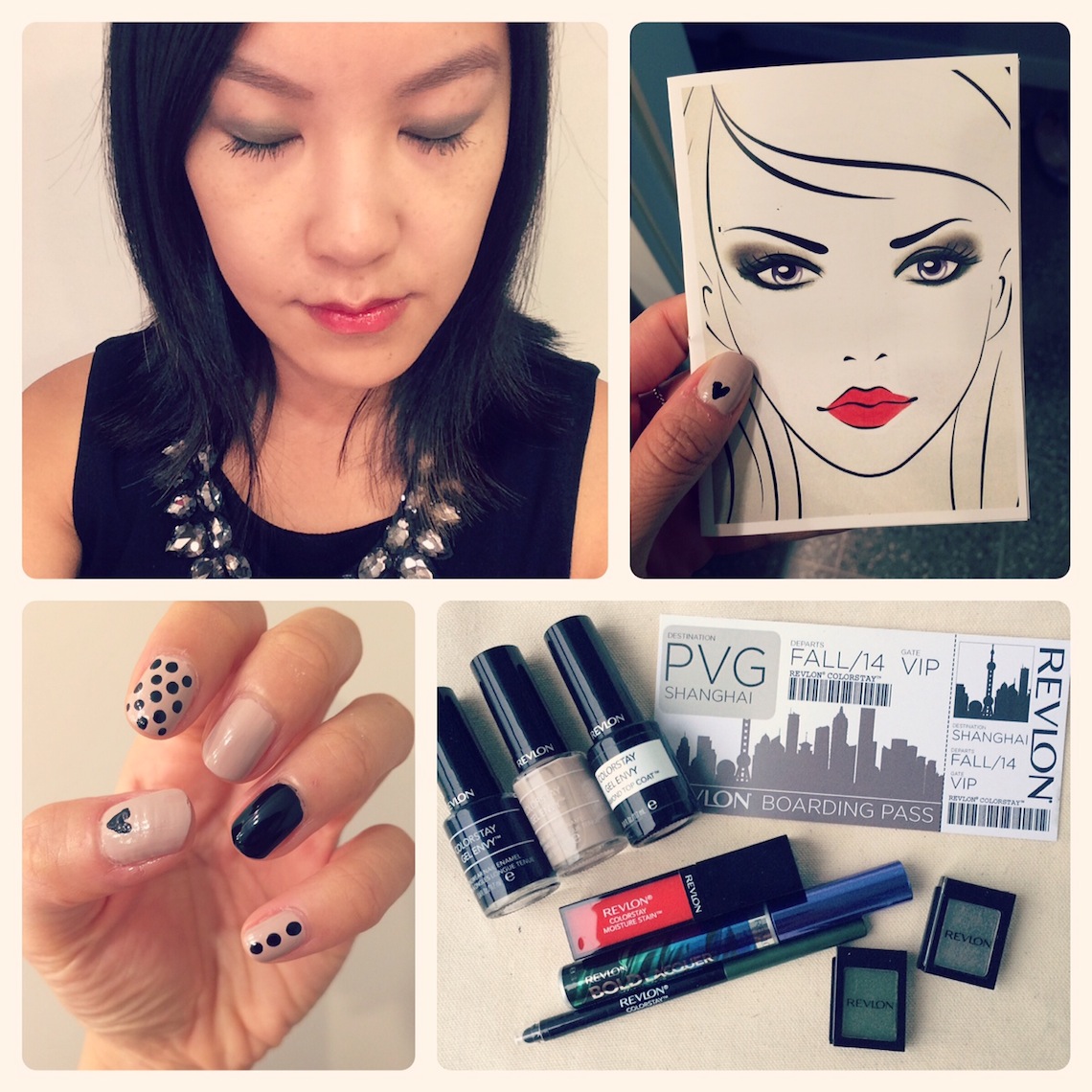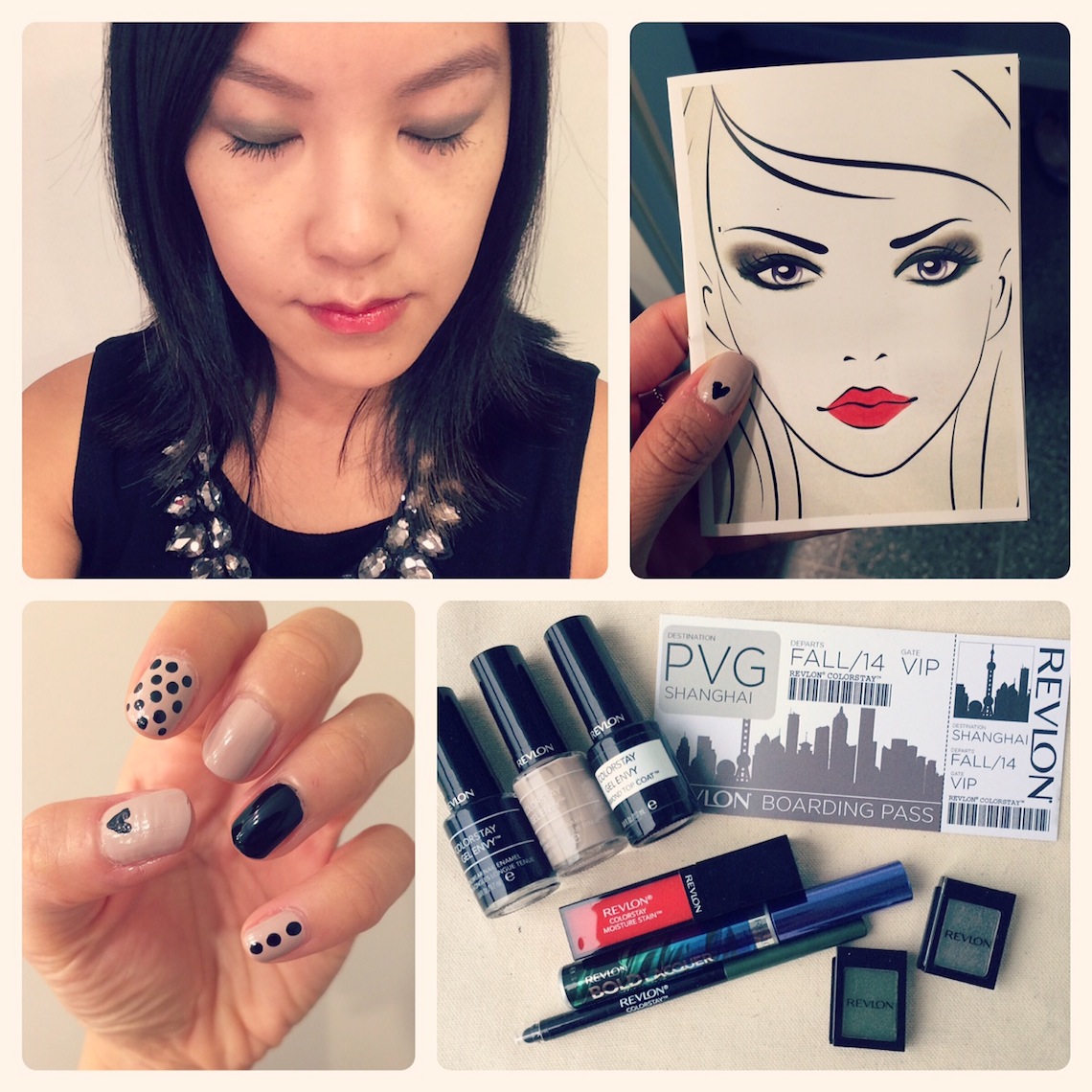 Lips
For my lips, I used the Revlon ColorStay Moisture Stain in "Shanghai Sizzle".  The colour is red, but leans a bit towards an orange-coral.  The formula is quite thick, so you don't need a lot – just dap on your lips and smack them together.
Nails
The Revlon Color Stay lacquer polish performs just as well, if not better, than many "luxury" nail polish brands that I have tried, but at half the price. The tapered, slightly wider brush is perfect for getting into the easy-to-miss corners of your nails. The formula is smooth. When I paint a stroke of polish on my nail, it magically melts with the rest of the polish, giving it a clean, shiny, lacquered look with no streaks.
The "Checkmate" shade of nail lacquer is a sophisticated nude colour, while "Blackjack" is, as the name indicates, black.  The passport of instructions I received suggests to alternate nail shades on every other nail, but I got creative and did some nail art instead.  I painted my nails with the office-appropriate Checkmate, which lasted me through the work week, then accented with dots and other shapes with Blackjack on the weekend.
To top it off, add a layer of Revlon ColorStay Gel Envy Diamond Top Coat to seal your polish.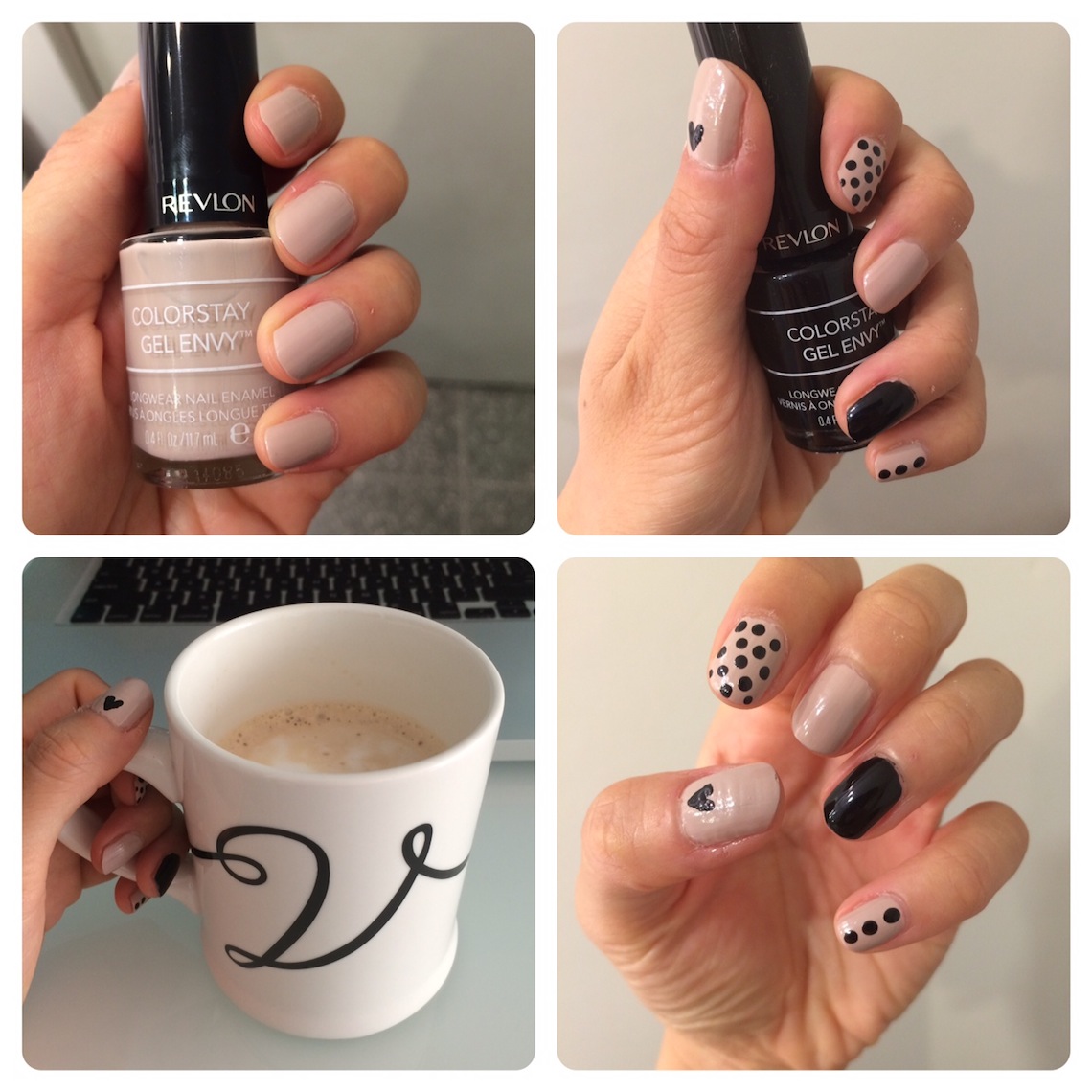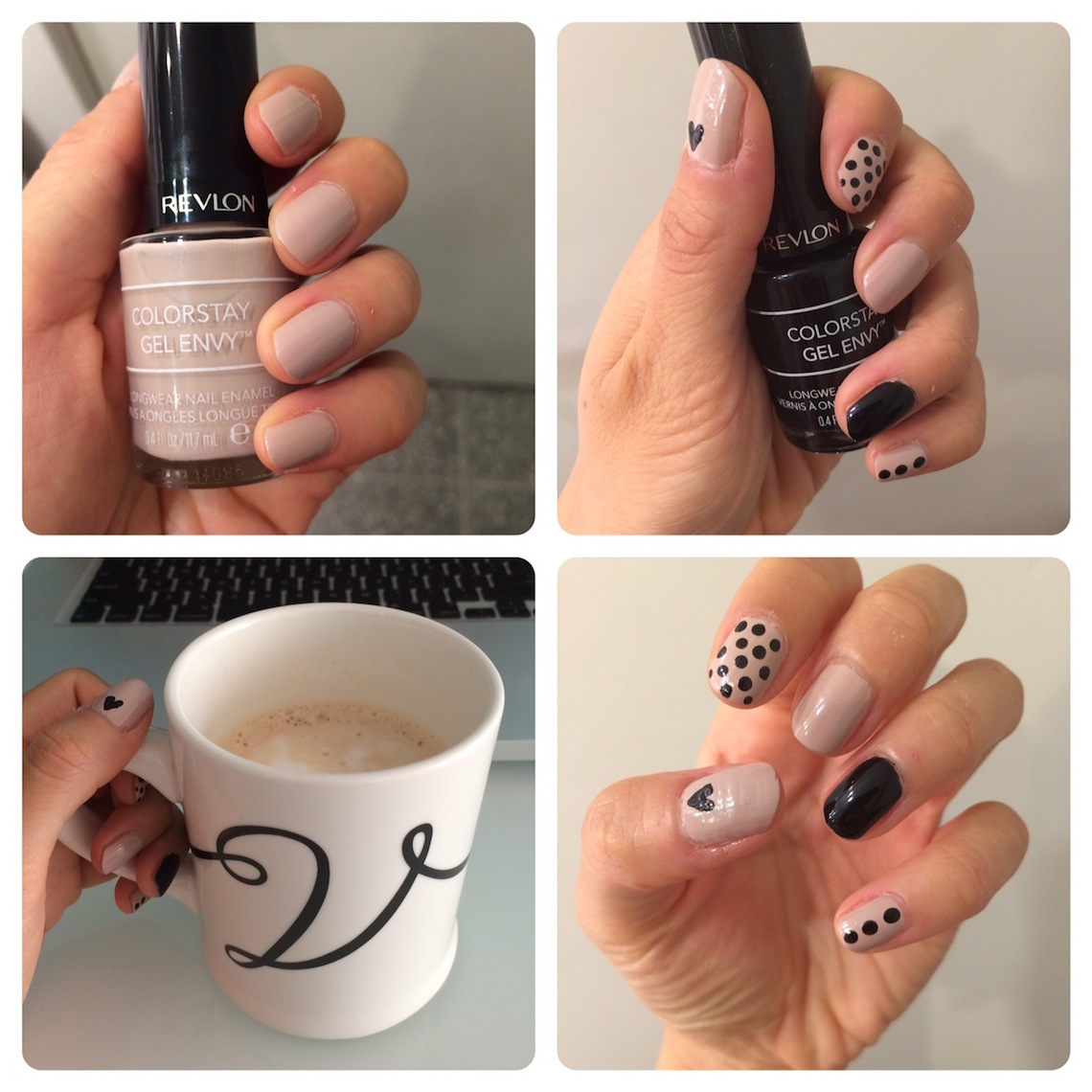 The Revlon ColorStay collection is available at mass retailers across Canada, including London Drugs, and ranges from $3.49 for the ShadowLinks to $13.59 for the ColorStay Moisture Stain.
If you're a beauty blogger and also received a jet set beauty kit, we'd love to see your creation – let us know your blog link in the comments below!
Want to win the entire set of Revlon products used to create this look?
Along with Revlon Canada, we are giving away the entire set of ColorStay products used to create the "Shake It Up in Shanghai" look.  This includes two ColorStay ShadowLinks, one ColorStay Eyeliner, one Bold Lacquer Mascara, one ColorStay Moisture Stain, two ColorStay Gel Envy Longwear Nail Enamels, and one ColorStay Gel Envy Diamond Top Coat.  To enter, LIKE and/or comment on our look on Instagram by clicking here.  One lucky Modern Mix Vancouver reader will win the entire set.
Contest open to all Canadian readers, winner will be contacted via Instagram on October 5, 2014.