Modern Mix Vancouver went to Calabash Caribbean Bistro for weekend brunch, and felt like we had gone on a tropical vacation.  When we think of brunch, usually eggs benny, waffles and maple syrup come to mind.  However, Caribbean food is known to incorporate a multitude of spices like peppers, ginger, garlic, thyme and coconut.  Because of these distinct flavour profiles, at Calabash Caribbean Bistro in Gastown, you can expect to find a unique, tropical interpretation of brunch.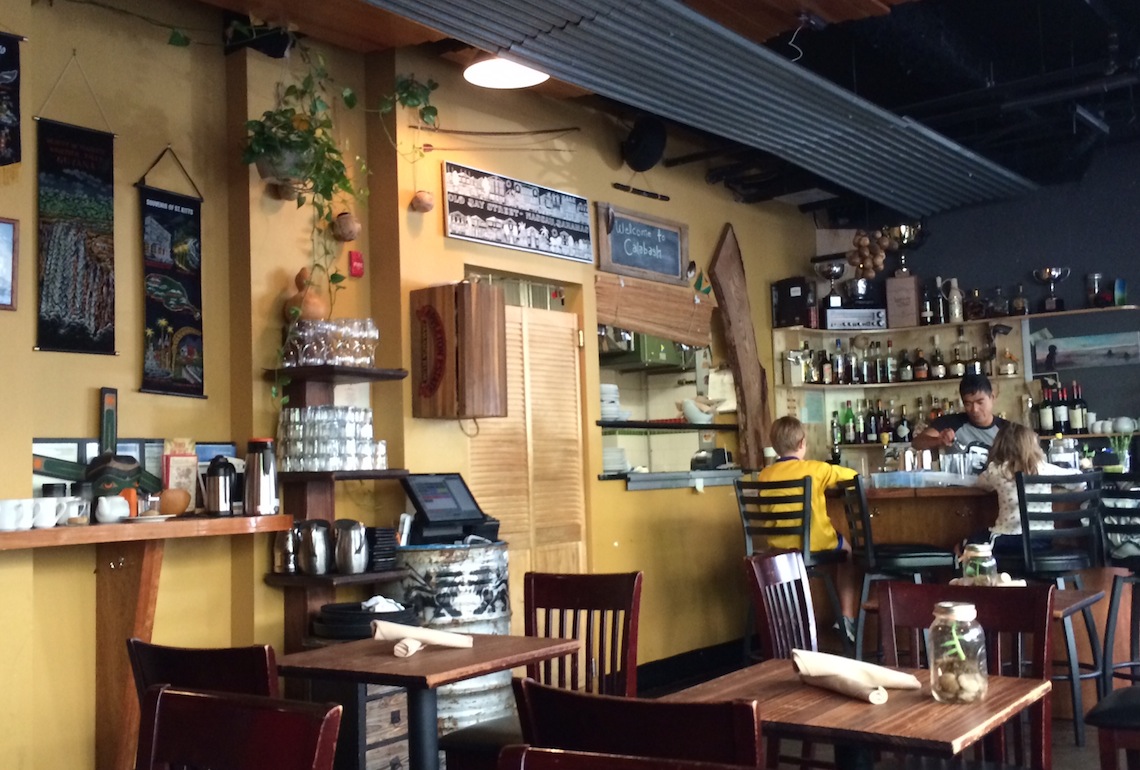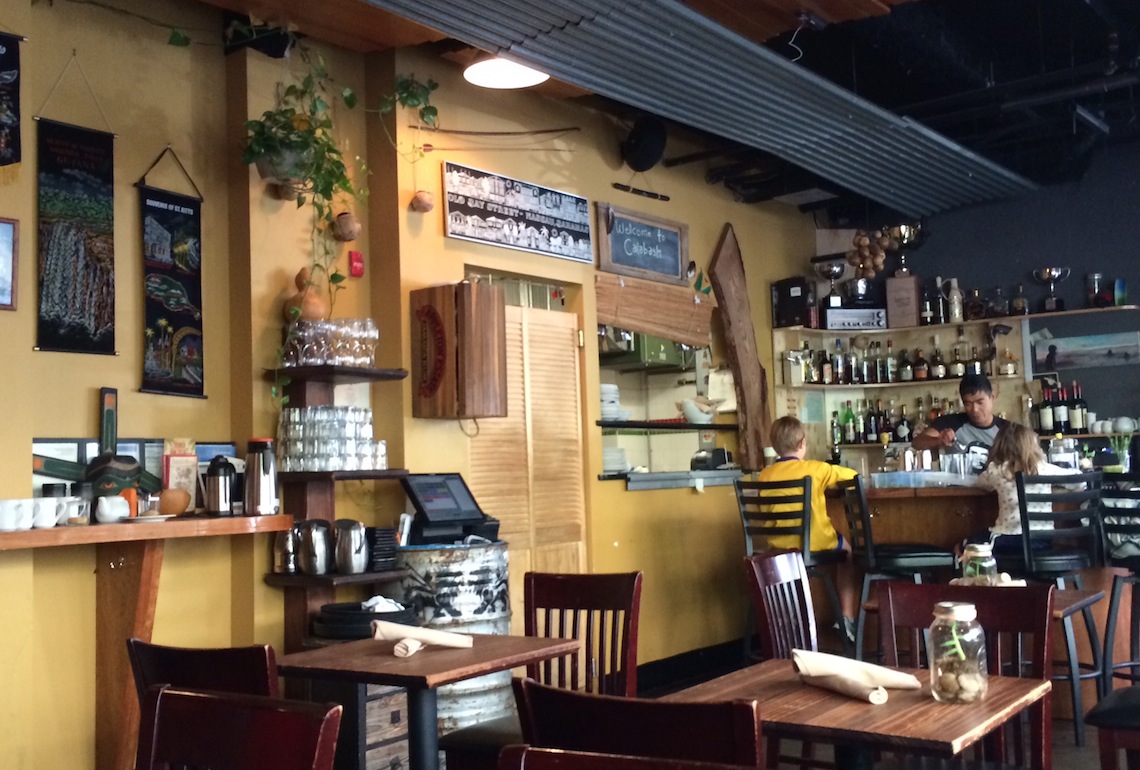 According to Chef Cullin David, the head chef and a partner of Calabash Bistro, Caribean food stretches beyond cuisine from Jamaica, Trinidad and Guyana.  Caribbean food, to him, includes the entire melting pot of cultures found in the Caribbean: Indian, French, Dutch, Italian, Chinese, and more.  As a result, there are so many opportunities to fuse together flavours from different cultures and get creative with the menu items at Calabash.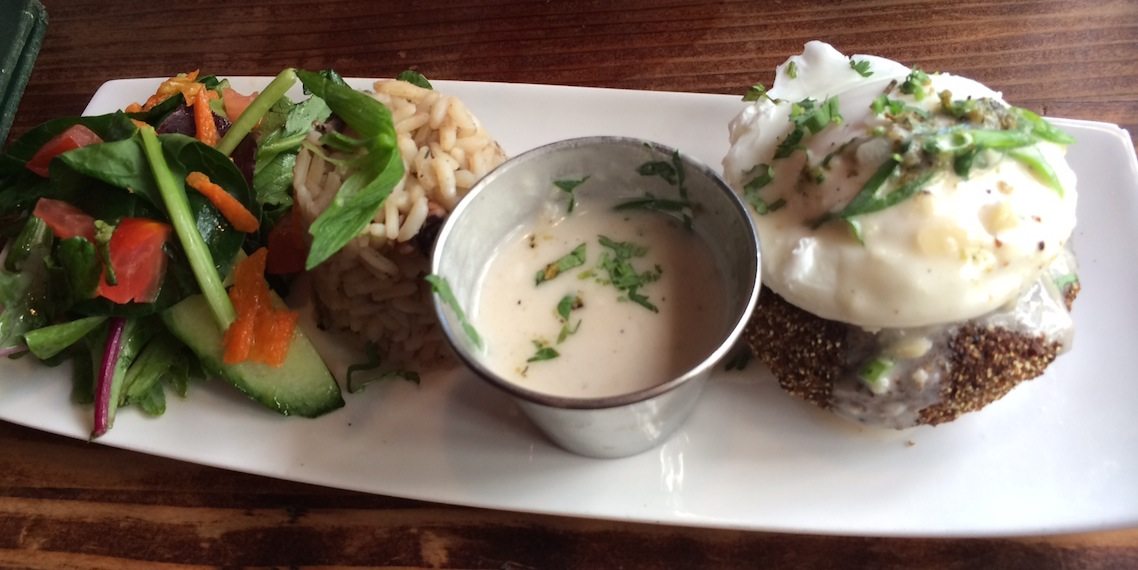 Of course, because the Caribbean is a region surrounded by water, you can imagine that fish and other types of seafood play a prominent role on their menu.  For example, a classic Caribbean breakfast is Escovitch Fish ($14), which is on the Calabash brunch menu and consists of pan-seared fish, tangy Escovitch sauce, fried plantain, fresh cucumber, rice and peas.
We opted for a different seafood pick on the brunch menu, and went with the Caribbean Crab Cakes ($16) instead.  In addition to free range eggs, topping two patties made of rock crab, salt fish and baby shrimp, the dish comes with a delicious coconut "rundown" hollandaise which I could not get enough of!
Whereas hollandaise is a buttery Western fixture for brunch, Chef Cullin has taken this unhealthy sauce and provided us a tropical, healthy alternative.  The coconut "hollandaise" is made of a reduction of coconut milk, garlic and ginger.  The milk is simmered until the oil is separated and removed; the remainder is a coconut custard sauce.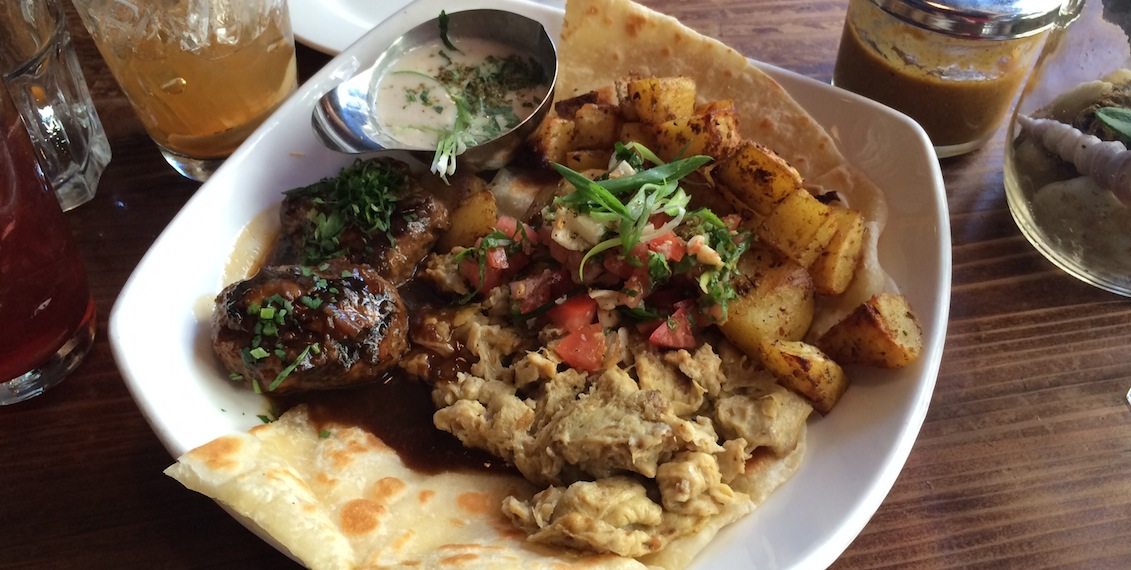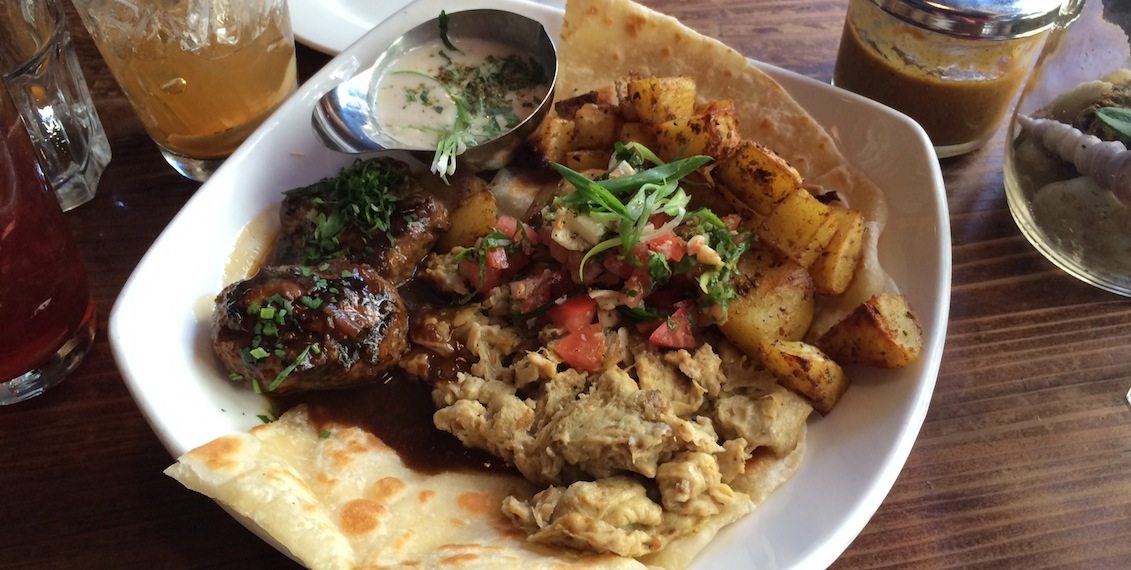 Next up, was the Rise & Shine Roti ($13) which is a brunch plate serviced on an open-faced roti, consisting of jerk spiced scrambled free-range eggs, roasted cumin potatoes, tomato & garlic choka and that same delicious coconut rundown hollandaise. This comes with your choice of jerk pork belly, a veggie patty or a house-made jerk turkey sausage.  Likely because of the Roti, this dish reminded me of Indian cuisine, fused with Caribbean jerk flavours.  I am usually not a fan of scrambled eggs, but these were so flavourful, they were so good.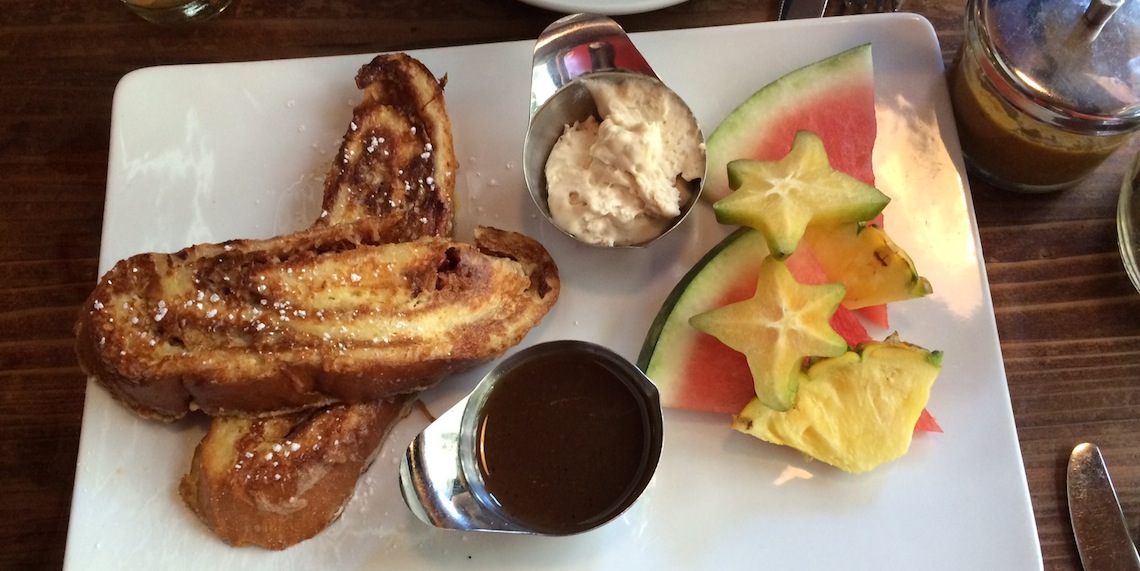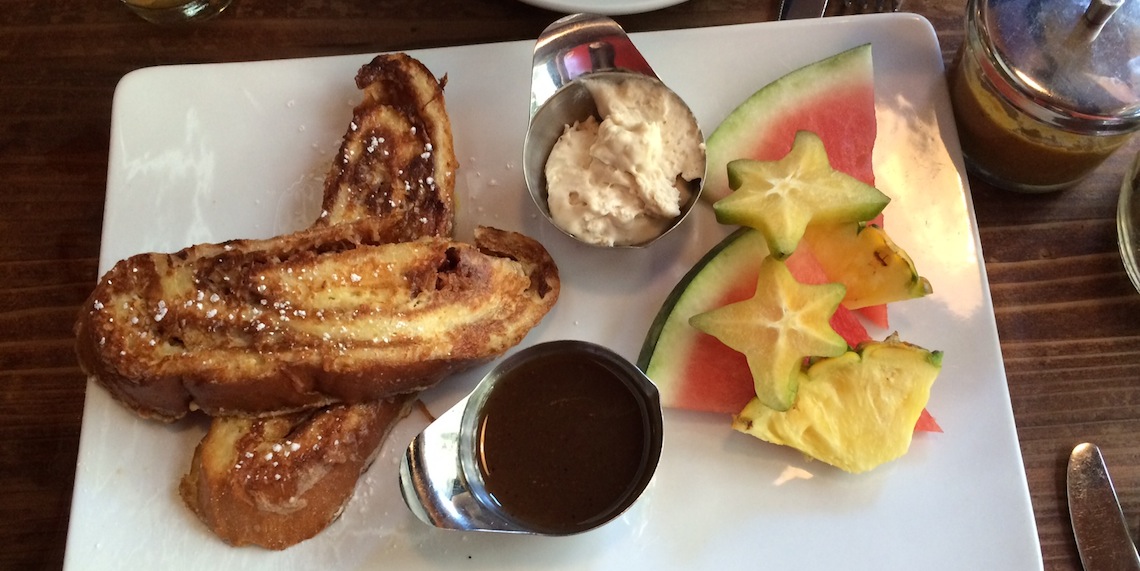 Lastly, our brunch wouldn't be completely without a sweet complement to the savoury with the Salara French Toast ($12).  Salara is a type of traditional Guyanese coconut bread, the coconut flavour was very noticeable.  I haven't seen startfruit in any of the brunch dishes featured in the Modern Mix Vancouver weekend brunch series, so again, this was a tropical twist on brunch.  So was the banana cream and the spiced mango maple syrup.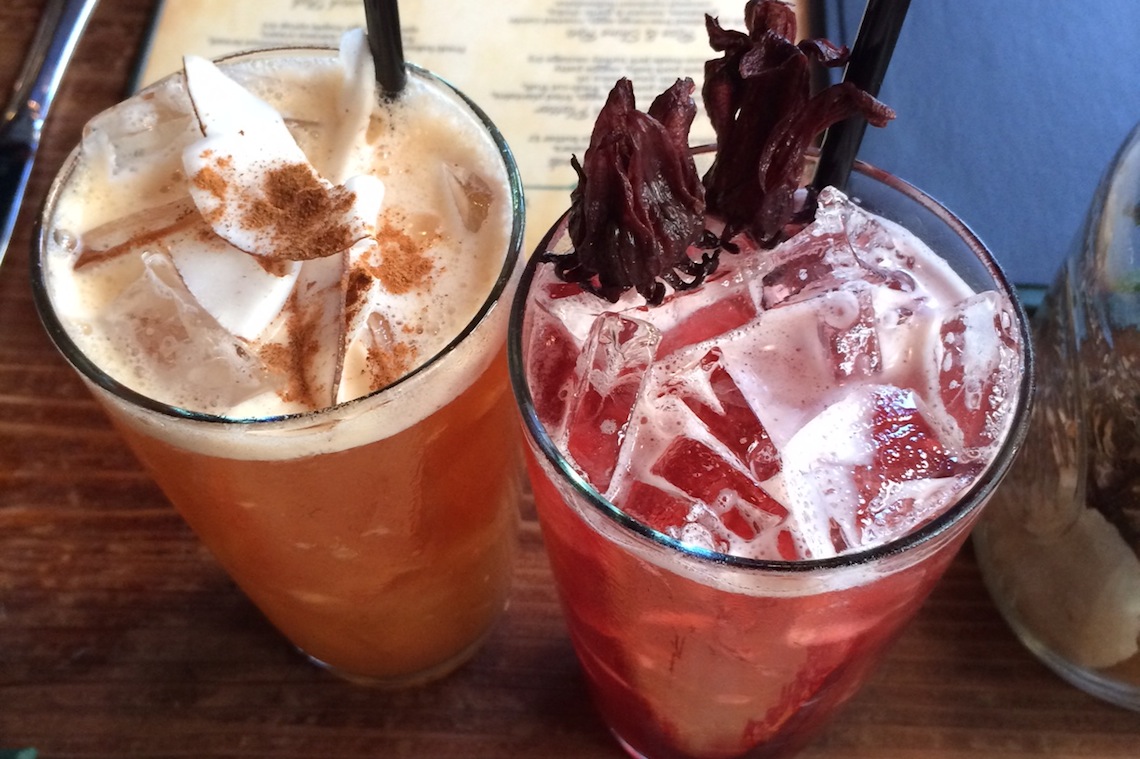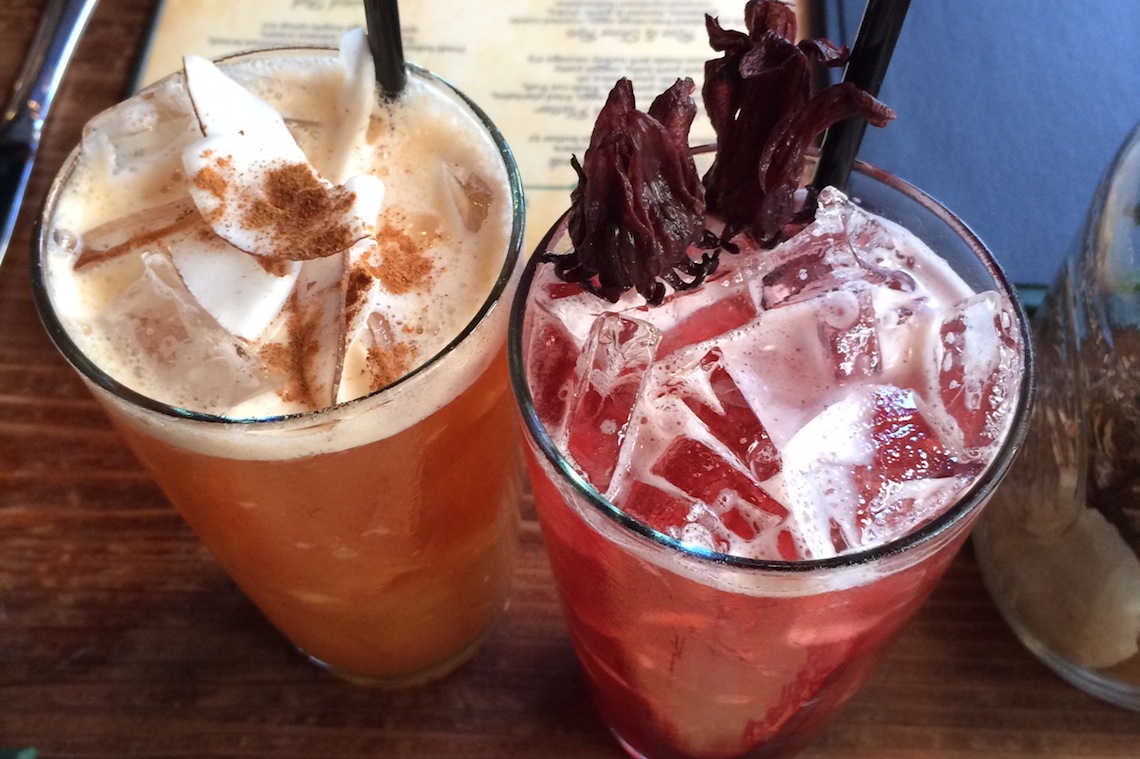 For drinks, Calabash has quite a creative beverage menu.  The Dark and Stormy ($10) is the national drink of Bermuda, and Calabash makes it with homemade ginger beer, Angostura bitters and house made ginger syrup.   Meanwhile, as a non-alcoholic option, the Sorrelade ($3.95) is a traditional Caribbean drink made with Hibiscus flowers brewed with ginger and citrus and soda.
The creativity of Calabash Caribbean Bistro really shines through in both their dishes and their drinks.  Tropical and Caribbean flavours are infused into every aspect of the brunch items.  If you're looking for something out of the ordinary for brunch, Calabash is the place for you!
Calabash Caribbean Bistro is the right brunch spot for you if:
You enjoy or want to try Caribbean food.
You like flavourful food, with a bit of a spicy kick.
You're ready for a hearty brunch.
You're looking for a creative tropical cocktail – especially ones made with rum.
You don't mind walking through a slightly sketchy part of Gastown to get there.
Don't forget to try the coconut hollandaise!