The juice cleanse craze continues in Vancouver.  We were a bit ambitious with our three-day juice cleanse last year, so wanted to give a one-day cleanse a try, which would give us the opportunity to rotate through all the flavours of the day, before committing to a longer program.
As a recap, a "cold-pressed juice cleanse" means the liquids of fruits and vegetables are juiced in a slow, heat-preventitive way so that the nutrients are maintained better than using a blender which causes heat and friction which may damage the nutritional integrity of the produce.
The Wildroots Organic Juice Cleanse was started by newly-wed couple Michelle and Scott Kennedy who are based out of Port Moody.  Michelle is a Holistic Health Coach, who was certified at the Institute for Integrative Nutrition in New York.
Unlike other cold-pressed juice cleanses, the Wildroots Organic Juice Cleanse is an interpretation of a body's "QiGong Cycle".  Different organs are targeted throughout different times of day to maximize the benefits of the juices.  From the heart to the liver, each juice is made up of a specific combination of ingredients, to be ingested at a specific time of day.
It was because of an unfortunate encounter of cancer in her family, that led Michelle to focus her time and energy on developing a program to help educate others on health, juice and nutrition.  With her prescription of green juices and smoothies to aid in her mother's fight against cancer, Michelle believes it is this new, healthy and nutritious lifestyle which assisted in her mother's recovery.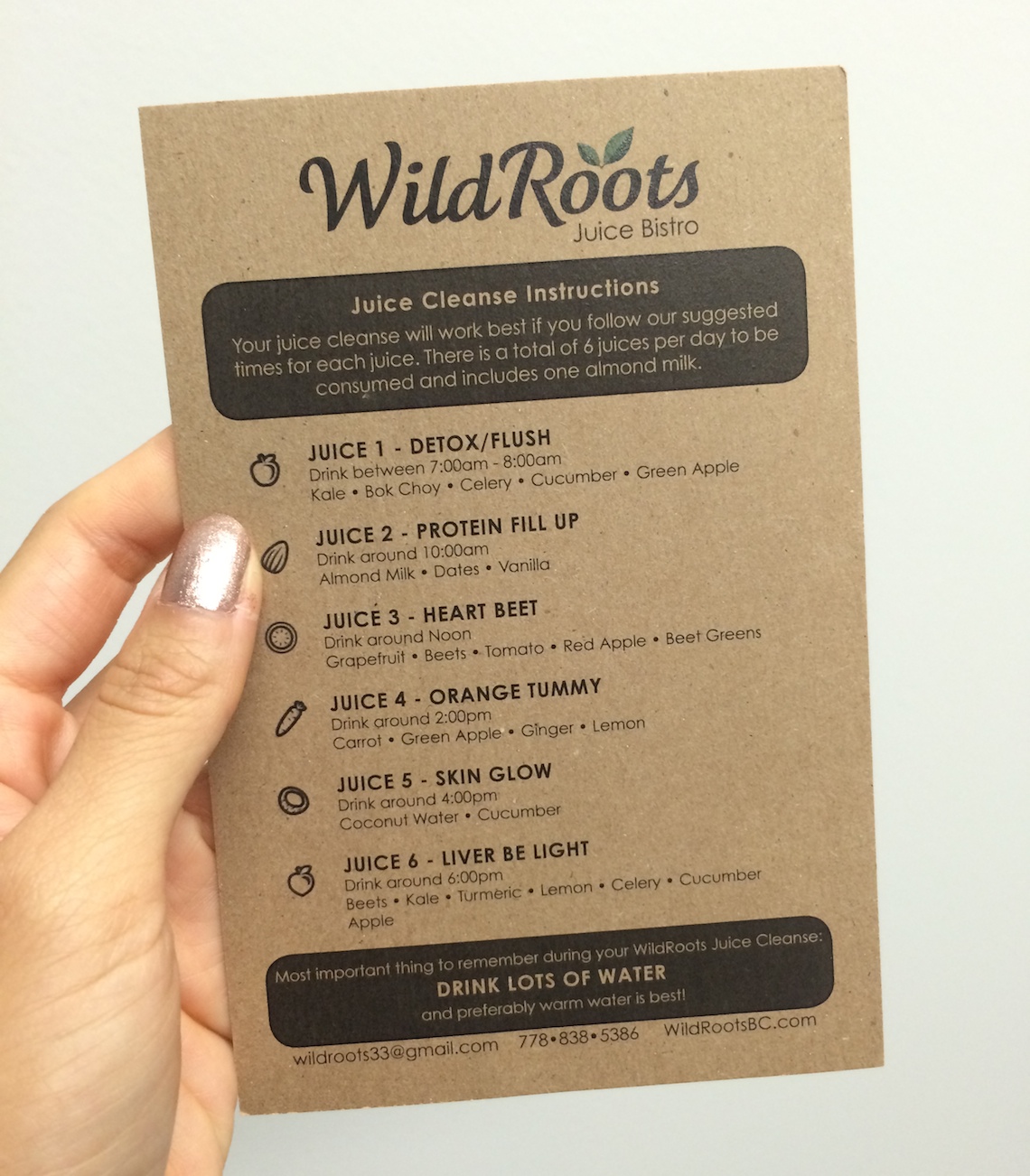 Here are the juices and the order we had them in the one-day juice cleanse:
Juice 1: Green Juice
I had my first juice at around 7:30am as soon as I woke up.  I am used to drinking green juices (for fun) anyway, so this is nothing new to me.  Almost all the ingredients in this first juice (cucumber, celery, green apple and kale) are typical raw ingredients in its whole or juiced form.  The only unusual ingredient is bok choy (also known as Chinese Broccoli), which is something that is not typically eaten raw.  Just a heads up, it gives the juice a bit of a bitter taste.
Juice 2:  Protein Fill Up
To make sure you have energy for the rest of the day and that you don't keel over from lack of food (not that that would happen in a single day), I spent my morning at work sipping on a combination almond milk, dates and vanilla.  This was one nice because it was slightly sweet but it took me 90 minutes to drink the entire bottle.
Juice 3: Heart Beet
Appropriately named Heart Beet, the third juice of the day aims to target your heart.  Tomato juice and beet juice is completely unappealing to me, so it took me the entire afternoon to go through it.  But if you like beets and tomatoes, you'll love the taste of this one!
Juice 3: Orange Tummy
Juice number four contains several ingredients to help settle your stomach.  The ingredients are carrot, green apple, ginger and lemon.  This one reminds me of a cold carrot and ginger soup and surprisingly, has been my favourite so far.
Juice 5: Skin Glow
This is the juice I was looking the most forward to having and the most conventional mix of ingredients.  There are only two ingredients: coconut water and cucumber.  Very hydrating.
Juice 6: Liver Be Light
Despite the sixth juice being a deep purple-red colour, the taste of beets was less prominent compared to the third juice.  The last juice is drank pretty early in the evening, around 6pm.
After a one-day juice cleanse, I didn't feel a whole lot different, but was glad to have a blast of nutrients in my week and support a local BC-based company.
Originally opened as a branded juice truck, Wildroots is now concentrating on their home and business delivery programs – bringing the juices to you, no matter where you live in the Lower Mainland.  In addition to the one-day and three-day cleanse packages, WildRoots also offers juice bundles.  For more information, visit wildrootsbc.com.