One of our Vancouver food carts is about to reach television-fame through a feature in the highly acclaimed Eat Street series on the Food Network. Produced by Vancouver-based Paperny Entertainment, Eat Street is already on its 5th Season. Each episode features popular food carts around North America, giving viewers a glimpse of food cart culture and the delicious eats that come with it.
Season 5 features a handful of Vancouver food trucks, including Mogu Japanese Street Eats, which is parked from Tuesday to Friday during the downtown Vancouver lunchtime rush on Howe and Dunsmuir.  Modern Mix had a chance to literally step inside the Mogu food cart in downtown Vancouver and meet the husband and wife team Yuji and Kumiko Aoki.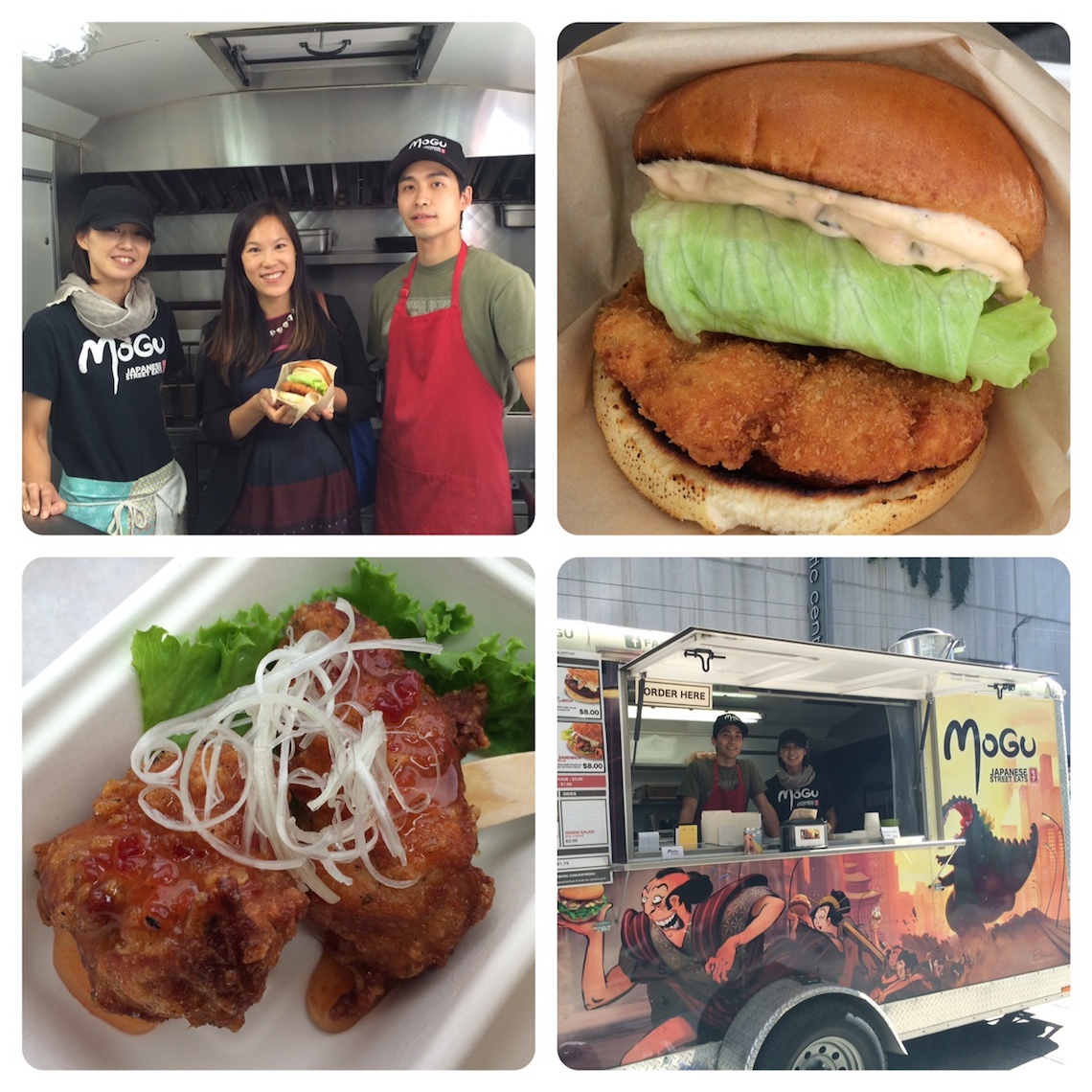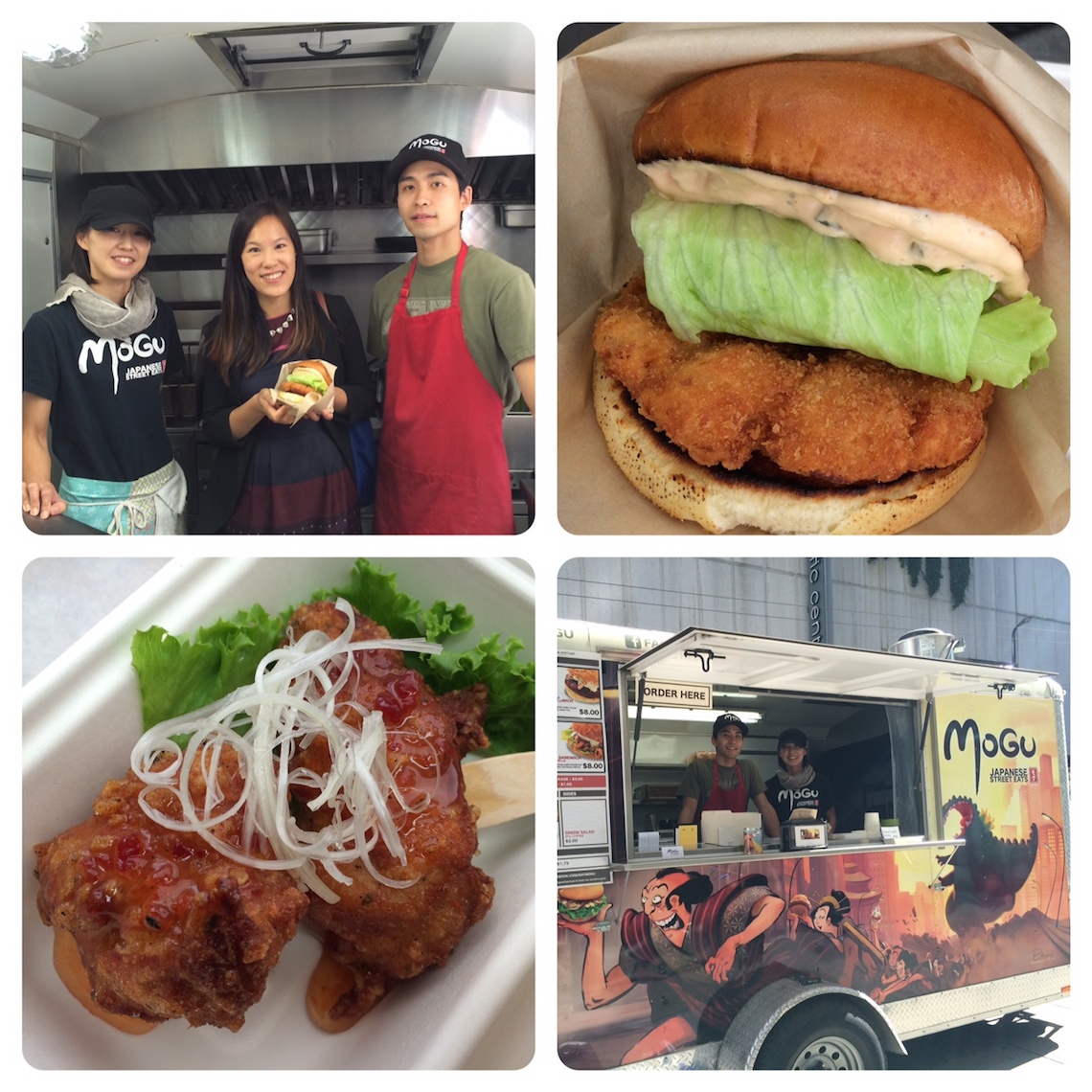 The truck itself is pretty much a stainless steel kitchen on wheels; we watched as the duo put together an Ebi Katsu in their small but efficient kitchen.
Placed between a grilled brioche bun, Ebi Katsu is a panko breaded deep fried prawn patty, topped with house made Japanese tartar sauce and lettuce.  Yuji pointed out that his prawn patty is made with whole prawns, so you get that satisfying "pop" when biting into it (like biting into a juicy sausage).  On the side we had two pieces of karaage chicken, dipped with sweet chilli sauce and topped with Japanese green onions.
Having worked in kitchens in Canada and Japan, Yuji's background has helped him create irresistible Japanese street eats that are quickly becoming a favourite among Vancouver foodies. Mijune from Follow Me Foodie, for example, listed Mogu as having "the best chicken karaage in Vancouver", while Sean's Adventures in Flavor Town calls this Japanese fast food truck, "good food fast".
Other sandwiches include Chicken Teriyaki, Pork Miso Katsu and the vegetarian Kabocha Korokke (sweet Japanese squash croquette).  Mogu Japanese Street Eats can be found from Tuesday to Friday from 11:30am to 2:30pm on the corner of Howe and Dunsmuir.  They will be featured on Season 5 of Eat St. on the Food Network on Saturday, September 13th at 4pm PST.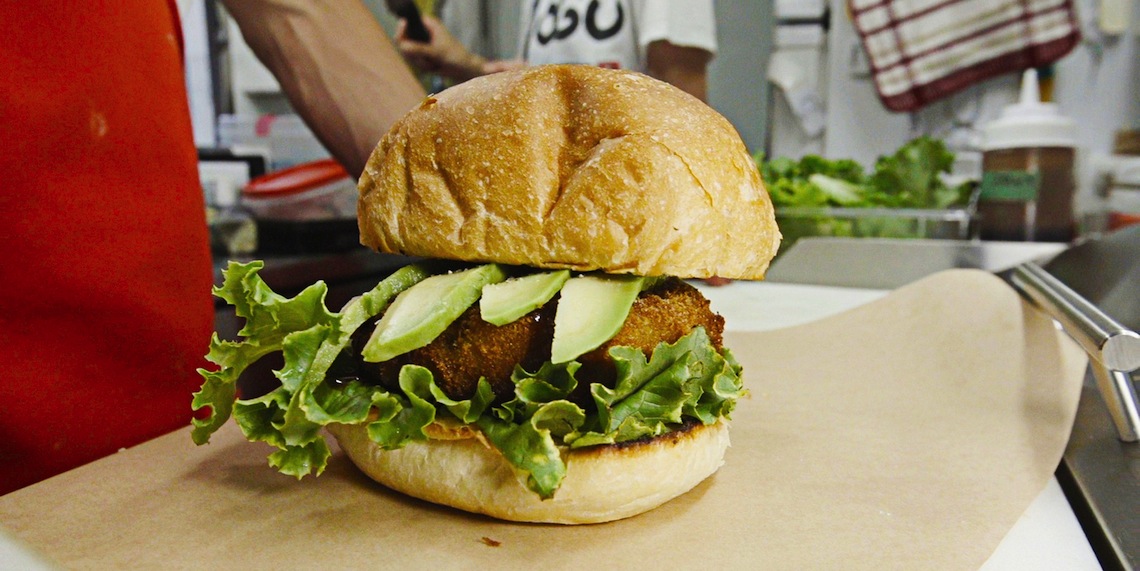 In the meantime, Mogu has shared with us their recipe for the Kabocha Korokke Sandwich which is featured on the Eat St Episode.
Mogu's Kabocha Korokke Recipe
Ingredients:
1 medium kabocha (winter) squash 1 gallon of water
2 tablespoons canola oil
2 tablespoons brown sugar
1 onion, diced
1 teaspoon salt
1/2 teaspoon black pepper
Fresh bread crumbs, a whole bag
4 eggs
1 cup of cold water
1 cup flour
canola oil for deep frying
9 to 12 hamburger buns
9 to 12 leaves of green lettuce
Tonkatsu sauce (you can buy it at any Japanese/asian grocery store)
1 avocado, sliced into strips
Directions:
Clean the squash and cut it in half. Remove the seeds and strings and then chop it into roughly 1 inch cubes.
Put 1 gallon of water into a container and set aside. Heat a large thick-bottomed pot, use high heat. Once it's hot, add the canola oil and the squash then sprinkle the brown sugar on top. Mix the squash so that all the pieces mix with the sugar and get caramelized and brown. Then pour in the water. Keep the stove temperature high. Once it has boiled, turn it down to medium heat and let it simmer for 8 to 12 minutes.
Dice up the whole onion. Heat a frying pan, pour in the other 1 tablespoon of canola oil. Saute the onions, and then put them in a big mixing bowl.
Once the kabocha is cooked (tender, slices with no resistance), drain it and return it to its pot. Use a masher to mash the squash, but it doesn't have to be perfectly smooth. Add all the mashed squash to the mixing bowl with the onions. Mix together, add the salt and pepper. Cool the mixture.
Put the fresh breadcrumbs in a flat container. Put the flour in a separate flat container. Crack all the eggs in a bowl and whisk it with the cold water.
Scoop the kabocha into roughly 1⁄2-cup balls. For each ball, roll it in the flour, then in the egg, then cover it with the bread crumbs. When the ball is in the breadcrumb container, press down on the ball to make a hamburger patty shape. Make sure the breadcrumbs cover the entire korokke (croquette). Put the breaded croquettes aside.
In a deep frying pan or in a deep-fryer, heat canola oil to 350 Fahrenheit. Toast the hamburger buns. Fry the breaded croquettes for 3 minutes each. Remove and shake lightly to get rid of excess oil.
To build the sandwich, place the lettuce on the bottom bun, then the croquette, then four slices of avocado and some tonkatsu sauce, add a tiny pinch of salt and pepper.