At the start of summer, I participated in a live Twitter Q&A with Maria Hatzistef, the UK-based founder of skincare brands with a cult-like following including Rodial and Nip + Fab. Several celebrities have been known to use, even swear by, Rodial products, including Cameron Diaz, Emma Stone and Jennifer Lopez.
It was in this Twitter chat where I first heard of "Dragon's Blood", a mythical-sounding natural ingredient which comes from the sap of a tree in the Amazon jungle.
@modernmixvan @blushstopshere it is an ingredient from the amazon, it is a sap from a tree, red in color and 100% natural #askmaria

— Maria Hatzistefanis (@MrsRodial) June 9, 2014
Intrigued by the mysterious name of the Dragon's Blood line, I have been incorporating the following products into my skincare routine and here are my thoughts.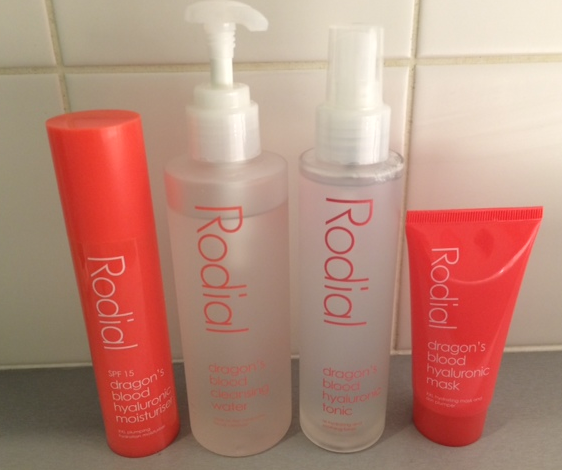 Dragon's Blood Hyaluronic Moisturiser

– With SPF 15, this is a great daytime moisturizer.  Like the rest of the Dragon's Blood collection, it is lightly scented with peach and rose.  The pump format of this moisturiser and texture of the lotion reminds me of the Clarins HydraQuench SPF 15 lotion, which is the product I was previously using.

Dragon's Blood Cleansing Water – I love the pump format of this makeup remover.  By using a cotton pad, it really does gently remove face makeup without making my skin feel dry and tight. The velvety-soft texture of my skin after using this cleanser made me feel like I had moisturized my skin.  There's no need to wash off the cleanser after using it, which adds to the convenience. After trying out the Dragon's Blood Cleansing water, I literally threw away the eye make-up remover I was using before, which made my eyes water every time I used it.
Dragon's Blood Hyaluronic Tonic – This is a spray tonic which helps tone the skin and set makeup.  It's nice for the summer weather because you can spritz yourself and cool your face down.
Dragon's Blood Hyaluronic Mask – Just treat this as an extremely hydrating overnight moisturizer.  My skin feels more plump after using this product, like a fruit which retains its juiciness under its skin.  This is from the Hyaluronic Acid which immediately plumps fine lines and tighten wrinkles while providing comfort to dehydrated skin.   In the product instructions, it says you can wash the "mask" off after 10 minutes, however, I found that there wast really anything to wash off after 10 minutes – my skin had absorbed everything.
Even when I washed my face this morning, I could feel the the Dragon's Blood "mask" had still retained the moisture in my skin, keeping it hydrated all night long.  In other reviews of the Dragon's Blood Hyaluronic Mask, it has been touted as a "quick fix" for celebrities on the red carpet.  Hopefully there are long-term skincare and hydration benefits too!
With a catchy name and visible results, there's no surprise that Rodial has gained international attention and is available in 35 countries worldwide. In Vancouver, Rodial products are available at Murale at Oakridge Centre, or online at rodial.co.uk.