MMV Weekend Brunch Series – The Blackbird Public House & Oyster Bar
Modern Mix Vancouver recently had the opportunity to experience weekend brunch at The Blackbird Public House & Oyster Bar (905 Dunsmuir Street). Located in the financial district of Downtown Vancouver, Blackbird is set apart from the other Donnelly Group venues because food is at the forefront of this restaurant.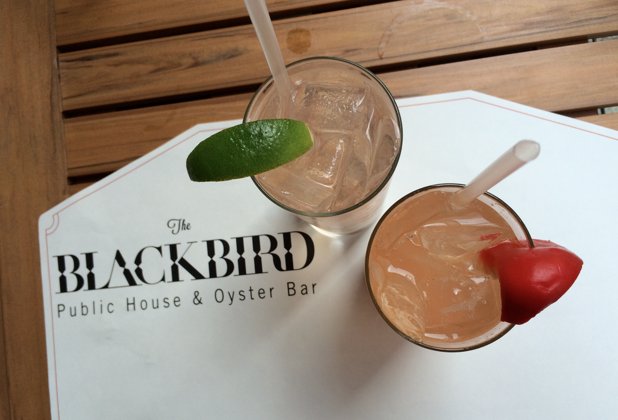 Chef de cuisine Alvin Pillay decided to revamp the menu at The Blackbird with dishes that celebrate fresh, local ingredients from suppliers such as Two Rivers Meat Co., A Bread Affair and Hannah Brook Farms, to name a few.  Sure there are billiards, shuffleboard and a scotch bar with 70 labels for the drinking and lounging crowd, but unlike so many other bars in the city, the dining experience at Blackbird is not just an afterthought.
An upscale experience is brought to the menu with dishes like the Yarrow Meadows Duck Breast (beetroot, burnt onion, swiss chard, aged balsamic, foie gras croquette, rouennaise) and Truffle Potato Agnolotti (Rossdown Farms chicken breast, wild mushrooms, fresh peas and bacon vinaigrette).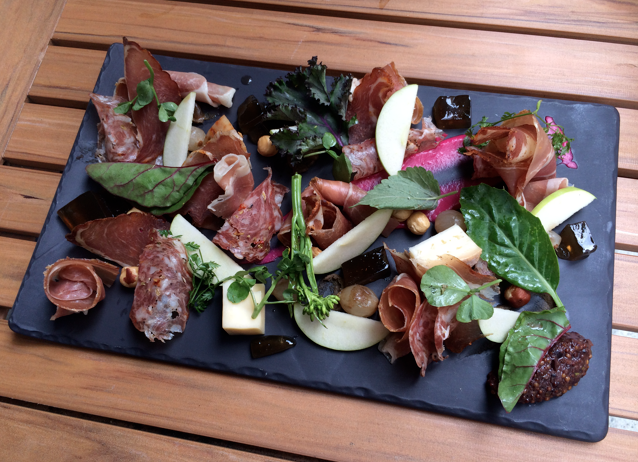 The Ploughman's Platter was served on a stone slate and had a delightful assortment of salami, prosciutto, cheese, mustard, jelly, apply, pickled onions, beet spread and greens.  This is a great starter to share at the table, and you get an amazing mix of textures and flavours such as the soft sweetness of the elderflower jelly, the saltiness of the meats and cheese, the firm tartness of the green apples, and the spiciness of the mustard.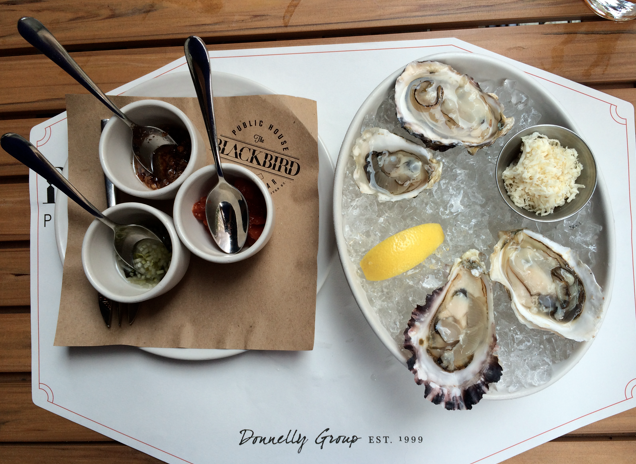 The platter is also served with a side of oysters and three house-made dipping sauces.   The Bacon & Sherry was served warm and tasted great on its own, the Wasabi Cocktail had a spicy kick and the Cucumber Nori was a refreshing accompaniment to the oysters.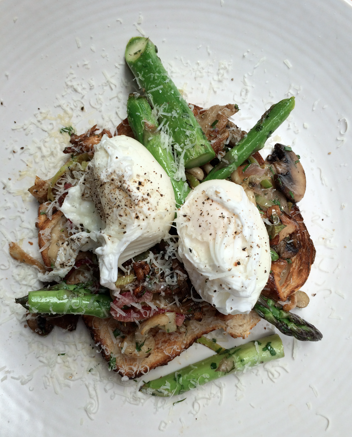 Brunch wouldn't be complete without egg dishes.  We went for the daily feature which on that day was mushrooms on toast, with two soft poached eggs and asparagus. The other egg options at The Blackbird are: the Omelette (with tarragon, chives, Italian parsley, white cheddar and hand cut fries), the Sunny Side Up (8oz AAA peppered beef filet with watercress salad) and the Soft Poached (corned beef hash with yukon gold potatoes).
Overall, we had a really enjoyable experience at The Blackbird and it was a refreshing change to be at a bar / public house which has a high commitment to quality and locally-sourced food.