Cirque du Soleil is back for another performance in Vancouver.  Read on for an insider's guide to Cirque du Soleil TOTEM and interesting and surprising facts about the show and its performers.
TOTEM traces the fascinating journey of the human species from its original amphibian state to its ultimate desire to fly. Each of the show's eleven acrobatic acts evokes a different aspect of the theme of evolution in a surprising artistic way.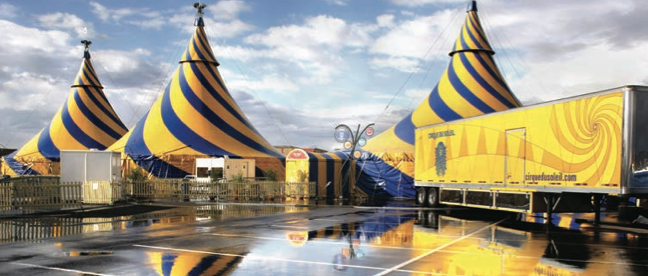 I had previously seen two Cirque shows (Quidam and the Michael Jackson themed one), but both were at Roger's Arena, which is not nearly as intimate as under the big top at Concord Pacific Place in False Creek.  So already, I had an impressive first impression of the show – the giant blue and yellow tents were eye-catching and gave the entire experience a circus-like magic.
Did You Know?: Conceived by a team of Canadian engineers, the canvas was produced by a French company who specializes in sails and big tops.  The Big Top stands 19 meters high, 51 meters in diameter and is supported by four masts, each 25 meters tall.  The canvas for the tent and its 11 tunnels weigh approximately 5227.3 kg,  seating more than 2,600 people and requires a team of approximately 85 people to raise it.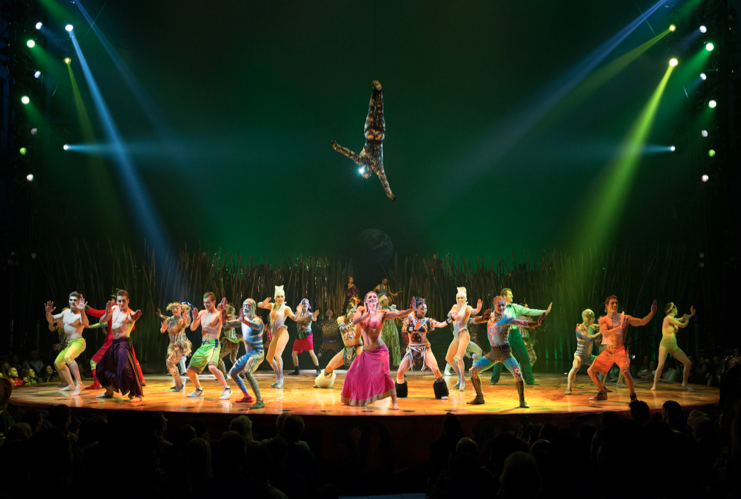 TOTEM consists of over 10 impressive acts, showcasing incredible global talent.  Those featured in the show typically come from a gymnastics background, and as they are brought on-board to Cirque du Soleil, they are provided training in acting and stage performance.
Did You Know?:  A total of 170 people travel with TOTEM: 115 employees and artists and 55 official accompanying members (spouses and family). The cast of TOTEM comprises 45 performing artists from 16 countries—Belarus, Canada, China, Czech Republic, Finland, France, Germany, Italy, Japan, Moldova, Mongolia, Russia, Spain, Ukraine, United Kingdom and United States. 
Here are the highlights from my favourite acts in TOTEM:

Fixed Trapeze Duo: Like two lovebirds, these two acrobats tease, play and sulk in an innocent game of seduction and eventually intertwine their bodies in a light-hearted vertical dance of fresh, unusual movements and lifts, which demonstrated their incredible yet graceful strength.
Did You Know?: The girl in this duo is from Montreal, which is the International Headquarters of Cirque du Soleil.  In fact, TOTEM had its world-premere in Montreal in 2010 and has been performed more than 1,300 times since.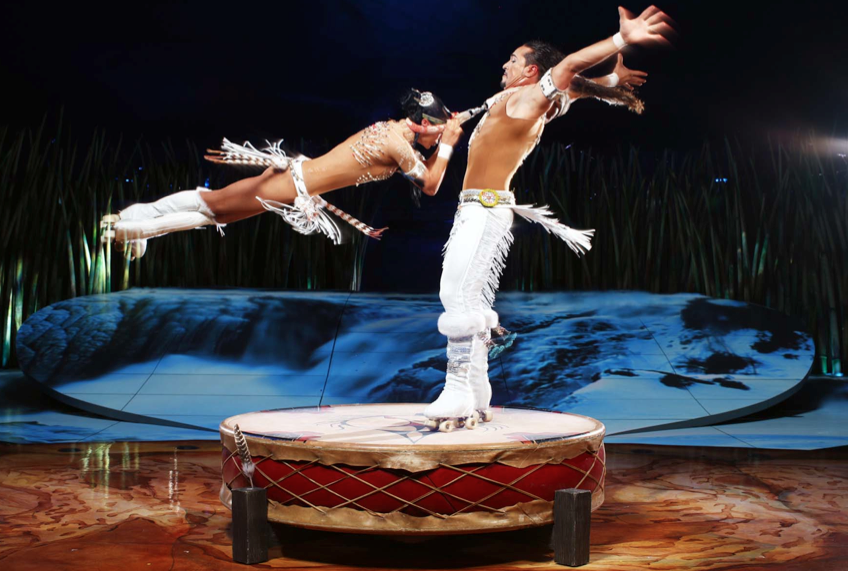 Roller Skates:  In a scene that evokes a wedding ceremony, a pair of roller skaters spins and whirls at heart- stopping speeds atop a tiny platform—just 1.8 metres in diameter—shaped like a drum.  The most impressive aspect of the act was when the female skater is strapped by her neck to the man, and whipped around in circles.
Did You Know?:  One of the themes of TOTEM is the cycle of the seasons, which underscores the importance of nature to the show. The two roller-skaters are dressed in white and silver to help create a winter tableau.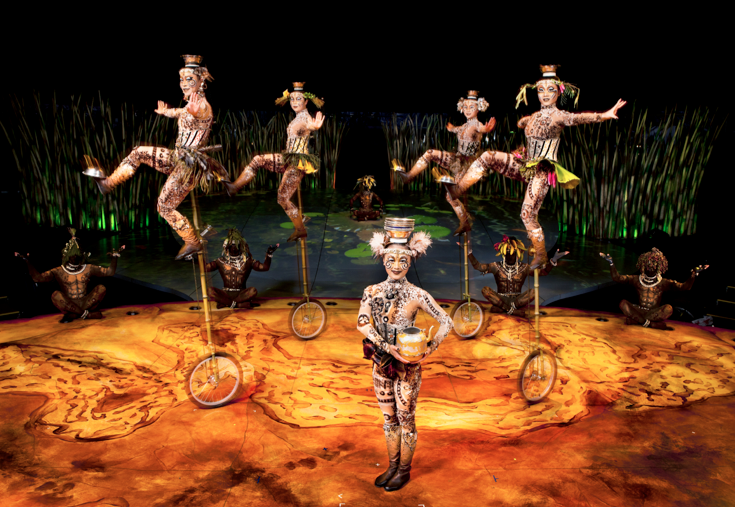 Unicycles & Bowls:  Five Chinese girls peddle forwards and backwards on unicycles and juggle metal bowls, tossing them gracefully with their feet on to another's head.  It was breathtakingly miraculous on a single wheel, several feet above the ground.  In this act, I noticed two mistakes with dropped bowls, but their ability to recover with grace and composure made them seem more human and further emphasized the amazing talent they each had.
Did You Know?: These girls are from China and have been training since childhood.  The unicycles are 7 ft tall but very light, which makes them easier to manoeuvre down the ramp at the beginning of the act.  To suggest a time of harvest and the abundance of fall, the unicyclists' costumes feature seed pods, flowers, trees and leaves.  The base costumes are printed in earth tones, with small details sewn onto them—including bolts and screws as well as feathers and insects.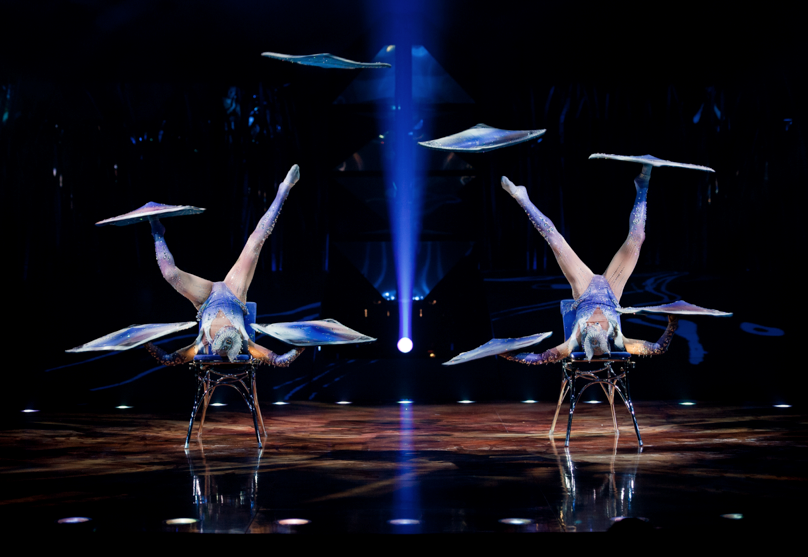 Foot Juggling: Two Crystal Ladies emerge from the fiery bowels of the earth to evoke the creation of the world and the beauty of minerals. The performers spin squares of glittering material on their hands and feet before coming together to create a dazzling display of coordinated highspeed motion.
Did You Know?: The costumes worn by the foot-juggling duo are based on Lycra body stockings. Each is adorned with 3,500 crystals and the 2 headdresses are each encrusted with a further 1,000. 
After the show, Modern Mix Vancouver and a select group of bloggers (including Rick Chung and Dennis and May Pang) had the incredible opportunity to go behind the scenes and meet some of the performers.  Backstage at TOTEM resembled a gym with its props and equipment.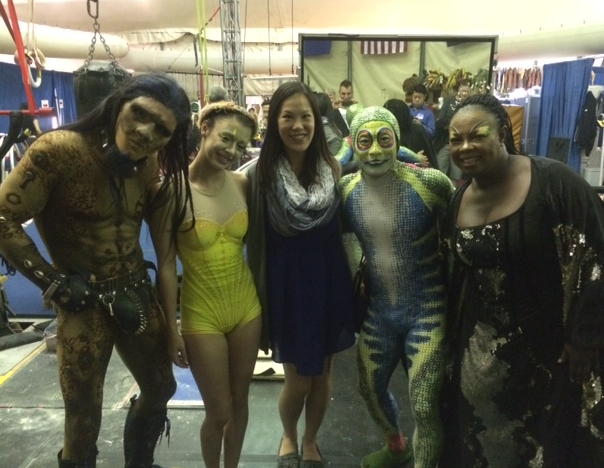 We had an up close look at the TOTEM costumes which are all handmade and customized to the individual performer's measurements.  This process of costume creation entailed research into real animals, plants and birds as well as traditional cultural and tribal designs to source fanciful and inventive concoctions. Despite this painstaking attention to detail, these costumes typically only have a 6 month lifespan.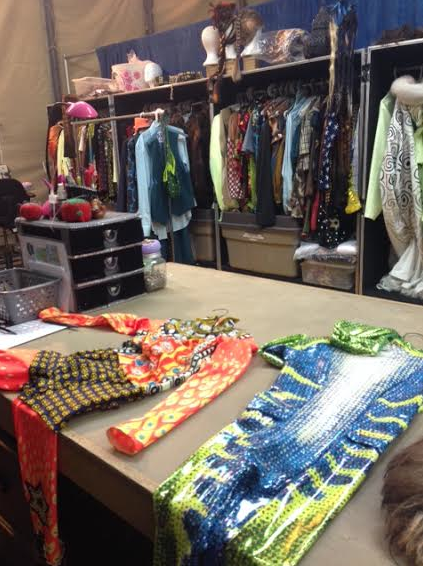 Overall, TOTEM was an incredible performance.  Its use of symmetry in its unbelieveable acts tests the limits of the human body and is well worth a visit under the big top this summer.
TOTEM will be performing six days (nine shows) a week until July 6, 2014 .  For show and ticket information, visit cirquedusoleil.com/totem.