The New Yellow Pages App is Designed to Make Your Shopping Experience Even Better (Sponsored Post)
I can't remember the last time I physically flipped through a big, heavy Yellow Pages Directory to find a phone number. And even if I did use it to find, say, a restaurant in Vancouver to have dinner at, how would I know if it is any good?
As online activities continue to become more prevalent in our daily lives, how do traditional brands stay relevant and adapt to its users?
The new Yellow Pages App recently launched, and is designed to make your local shopping and lifestyle experiences even better…all in the palm of your hand. The new app takes the trusted familiarity and reliability of Yellow Pages, and takes it to the next level x 10.
In addition to providing business details that include hours of operations, the new YP App offers local search using the GPS on your phone, offering reverse phone number look-up, deals displayed by businesses, user-submitted reviews, and more.
Here are 3 features available in the new YP App:
User-Generated Reviews
Being a Vancouver lifestyle blogger, I love sharing my thoughts on local businesses and also reading the opinions of others. The YP App allows you to do both, it even pulls in reviews from other trusted sources like Trip Advisor. As you can see in the screenshot below, my review for The Acorn restaurant (one of my favourites in Vancouver, by the way) is currently being processed.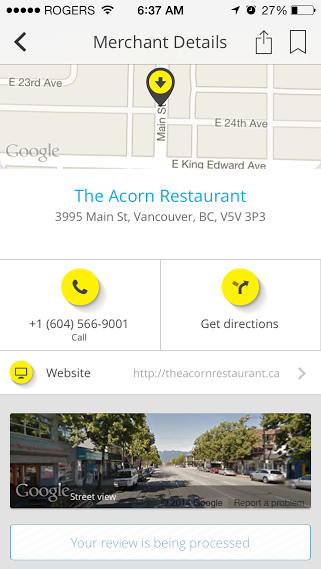 Deals
If you come across a local business which is currently offering a deal, the YP App will indicate that in the search listing. For example, Pink Lime Salon & Spa in Yaletown is offering a $39 hair cut/style/treatment deal. Bonus: if you want to share the deal, you can also text or email it to a friend.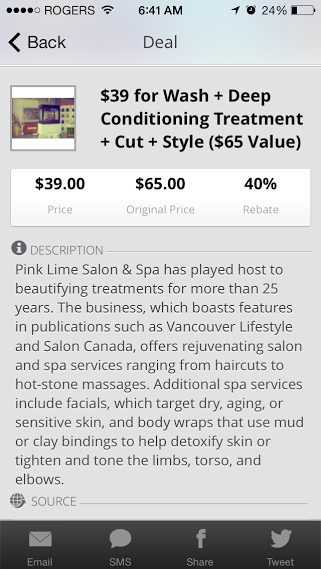 Gas Prices
This was the most unexpected feature for me in the YP App: a GPS-enabled feature which shows you on a map, the cheapest place to get gas. So when my boyfriend is driving around looking for cheaper gas options (ironically, wasting gas), I can be in the passenger seat directing him to the best pump to fuel up at.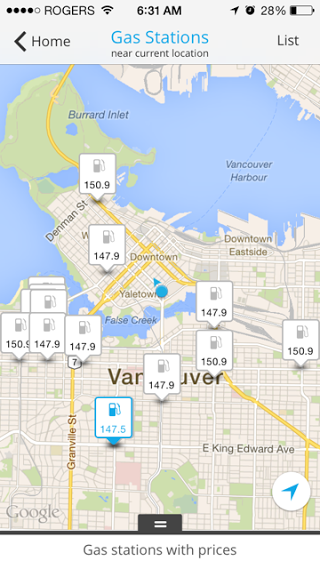 Overall, many of the features on the Yellow Pages App are intuitive and easy to use. Although the features highlighted in the examples above can be accessed through different apps, it's nice to have everything in one place.