This Mother's Day, take a day trip to North Vancouver and begin your day with brunch at The District Brasserie in Lower Lonsdale.  Opened by two North Vancouver residents (one of them is originally from the Netherlands), The District is a casual neighbourhood social house with a European influence.
We were told that Mother's Day is The District's busiest day of the year for brunch.  In order to ensure the best experience for moms on this special day, the restaurant is offering a paired down menu, featuring only the restaurant's top picks. Modern Mix Vancouver had the opportunity to preview this menu, here's what we had: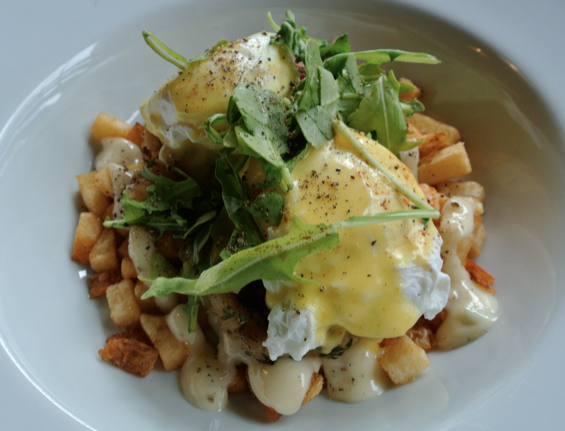 Crab Cake Bowl – What's a Mother's Day brunch preview without bringing Mom along?  My mom ordered the Crab Cake Bowl.  The crab cakes were soft and flavourful on the inside, and crispy on the outside.  It was nice to have a handful of fresh arugula on top, to balance out the meal.  The two poached eggs with hollandaise sauce gave this dish a brunch twist.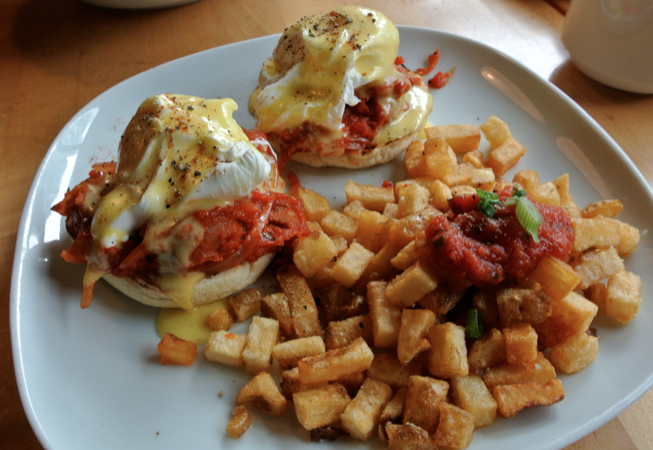 Brunch Bendict – The District is offering five eggs benedict options for Mother's Day brunch.  I ordered the Brunch Benedict, which is made with tomato relish, chorizo and red onion.  Other options included the Classic (ham), Veggie (sundried tomatoes, mushrooms and avocado), Smoked Salmon and Bacon & Blue Cheese.  The potatoes on the side are blanched before being baked, so you get that perfect soft inside / crispy outside combination for hashbrowns.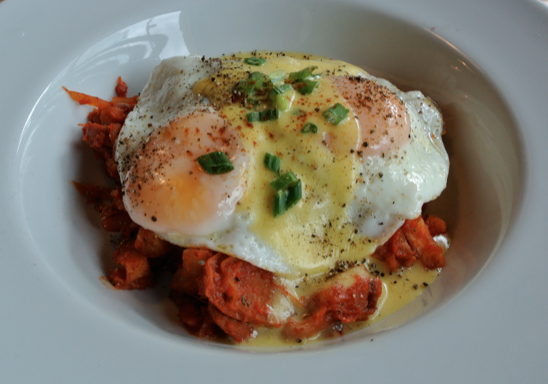 The Brunch Bowl – This is pretty much the Brunch Benedict in a saucy bowl form.  The tomato flavour was really apparent in this dish, and the combination of that with chorizo and red onion reminded me of a pasta dish.  This hearty menu option is really great value for $12.
Other brunch options at The District includes Buttermilk Waffles and the T.U.B.S, a breakfast sandwich made with hot capicolla, cumin gouda, arugula and sundried tomato.
To experience brunch at The District Brasserie for yourself, make your reservations for Mother's Day or any other weekend of the year through OpenTable or by calling 778 338 4938.
Hungry for more? The partners of The District Brasserie also have two other restaurants located in the same North Vancouver neighbourhood. Check out El Matador for Spanish tapas and Little District for shared plates.