Faubourg Paris sets itself apart from cookie-cutter contemporaries with handcrafted, authentic Parisian delicacies created using artisanal techniques passed down through generations of expert pâtissiers. Faubourg's decadent High Tea is a culinary adventure fit for the most deserving of mothers, filled with gourmet treats such as delectable macarons, delicate fruit soufflés and savoury canapés.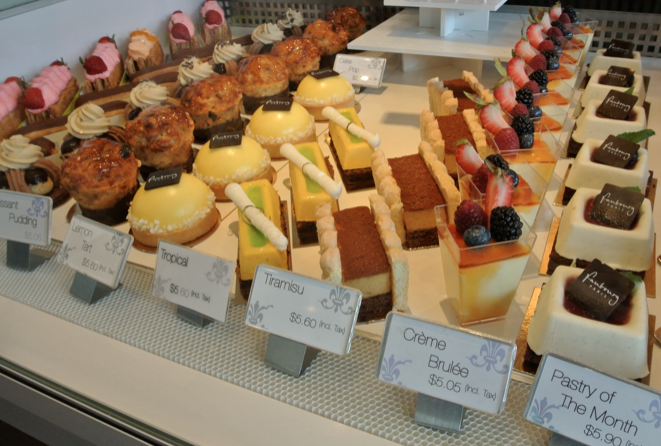 This past weekend, Modern Mix Vancouver had the opportunity to experience High Tea at Faubourg's Kerrisdale location.  Opened in 2010 by Franck and Linda Point, the front of the Kerrisdale location features a glass case full of ready-to-order cakes, desserts and savoury sandwiches.  Meanwhile, the back is reserved for a high tea experience, which offers miniature versions of the pastries up front, served on a two-tier platter.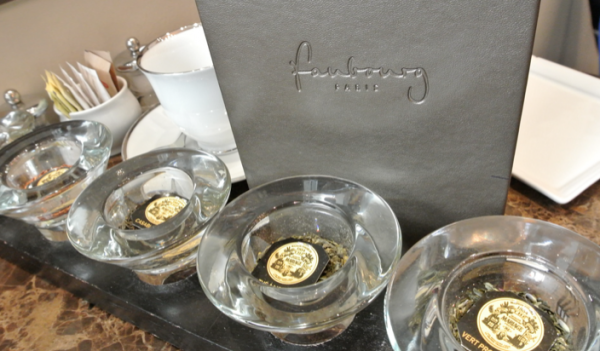 High tea always seems like such a girly experience and with Mother's Day just around the corner, my mom was the perfect guest to experience this with me.  We participated in the "Pink" Afternoon Tea, which consists of 8 small selections per person: 4 items from the savoury menu, and 4 from the sweet.  Between the two of us, we were pretty much able to try everything on the menu.  In addition to your selections, each person is also provided with the scone of the day and an individual mini portion of soufflé.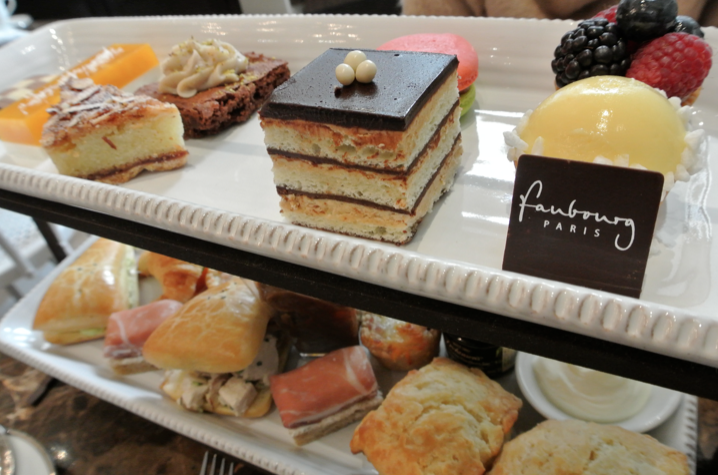 Savoury Selection
Vegetarian Sandwich (some sort of cumin spread on bread)
Smoked salmon croissant
Canapé (goat cheese wrapped in prosciutto)
Mini Quiche
Verrine (Beef Bourguignon)
Chicken Sandwich
Sweet Selection
Tartlette au citron
Opera
Macaron
Tartlette aux Fruit
Chocolate dipped Vanilla Sable
Coconut Panna Cotta with Mango Gelee
Caramelized Almond Frangipane Slice
Earl Grey Torte with Pistachio Cream
Our final sweet treat consisted of a raspberry mini soufflé, which happens to be one of my mom's favourite desserts.  She took one spoonful of the spongey dessert and said this was exactly what a soufflé should be like – light and fluffy the entire way through.  The foam-like texture sweetly melts in your mouth.  If fact, if you don't eat your soufflé within 10 minutes or so, it'll start sinking down.  (If Faubourg serves soufflé a la carte, I'm pretty sure she'll be coming back for just that.)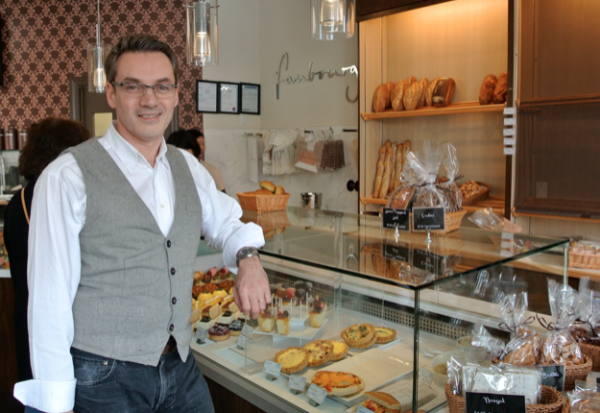 At the end of the High Tea experience, we had the opportunity to meet Franck Point, one-half of the husband-wife duo behind the three locations of Faubourg. Gregarious and authentically French, Franck has two decades of international experience in the hospitality industry in Europe and Asia.  With annual summer trips to Vancouver for their children to visit their grandparents and partake in summer camp, Franck and Linda eventually brought their family to settle down permanently in Vancouver.
Although Franck has hired a culinary team at Faubourg, there isn't a task in the kitchen that he himself cannot do.  Is it this combination of practical kitchen skills and business sense which has helped shape Faubourg's success.  And, of course, opening locations in neighbourhoods which would appreciate the offerings of an authentic French pâtisserie.
After launching its flagship Kerrisdale Village store in 2010, a commissary (production) kitchen was added in Riverside and a retail location in Downtown Vancouver on Hornby Street in 2013. This past February, the brand's third boulangerie pâtisserie opened in the new outdoor expansion at West Vancouver's Park Royal Shopping Centre.
Treat your mom to afternoon tea this Mother's Day at Fauboug.  This high tea experience is available at the Kerrisdale and Park Royal locations.