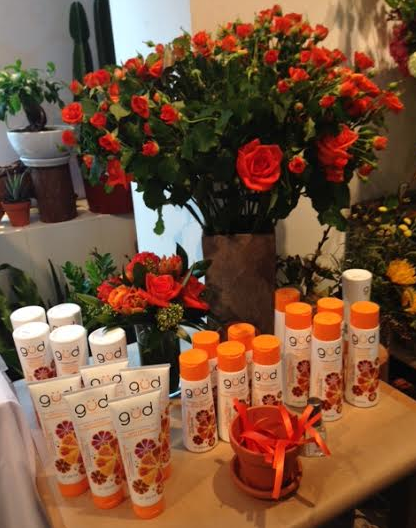 Güd is a fabulous, fun and fragrant new line of natural hair and bodycare from the makers of Burt's Bees.  The weekend of Friday April 11 – 13, Vancouverites are invited to stop by the Güd pop-up store in Gastown and experience the scrumptious Güd fragrances, while helping raise money for Free the Children.
Think of Güd as the cheeky, younger sister (or maybe even niece or daughter) of Burt's Bees.  Sharing the same values of Burt's Bees in providing natural skincare products with no parabens, no phthalates, petrochemicals and never tested on animals, Güd believes that "life shouldn't be a compromise between having fun and being good".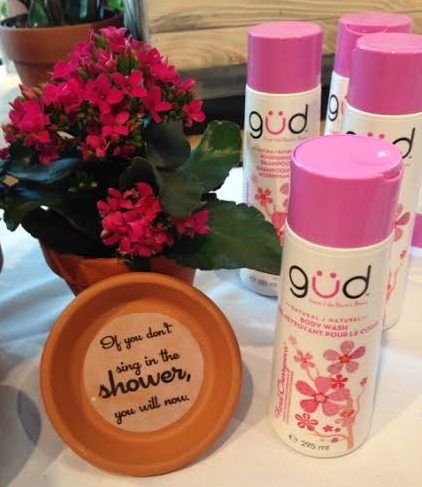 While Burt's Bees packaging is traditional, conservative and a tad rustic, Güd takes a playful approach to skincare.  Their packaging is young, vibrant and colourful, and their scents are irresistible with exotic combinations of fragrances which include blood orange, acai berry and cherry blossom.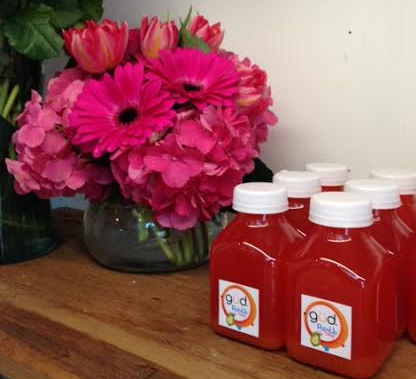 Modern Mix Vancouver had a sneakpeek of the Güd Pop Up store before it opened to the public.  For one weekend only, Gud has taken over the store space of Greenstems, an award winning florist on Abbott Street in Gastown. Prizes will be given away on an hourly basis, freebies, and fresh squeezed juice (from The Juice Truck) will be served throughout the weekend.
Nestled between bouquets of flowers, are three featured scents of the Güd product line on display:
Pearanormal Activity – The crowd favourite, a fresh, fruity, tropical scent consisting of pear and acai berry.  The scent is quite long lasting – I put on the body lotion and could still catch a whiff of it two hours later.
Orange Petalooza – Consists of a top note of sweet blood orange, pomelo and green tea.  In general, I like the scent of blood orange because it's not as citrus-y as regular orange, but has a slightly sweeter scent to it.  According to Güd, "it's not unusual to bust out a cartwheel when you smell it".
Floral Cherrynova – Just in time for the cherry blossoms blooming in Vancouver, this blossom and almond milk combination is wonderful for anyone who loves the scent of florals.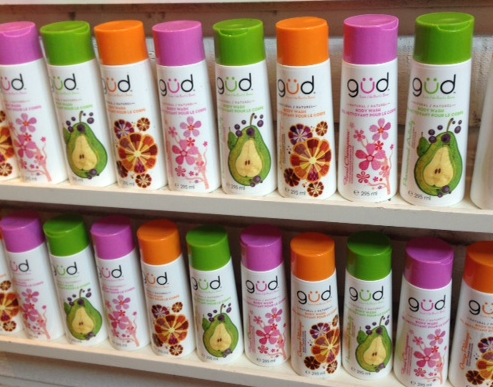 Current product line includes shampoo and conditioner, body wash and body lotion.  For this weekend only, any mix-and-match combination of Güd products at their pop-up store is 2/$12.  The proceeds of all sales will go directly to benefit Free the Children.
The Güd pop-up store is open on April 11 & 12 from 11am to 7pm, and on Sunday April 13 from 12pm to 5pm.