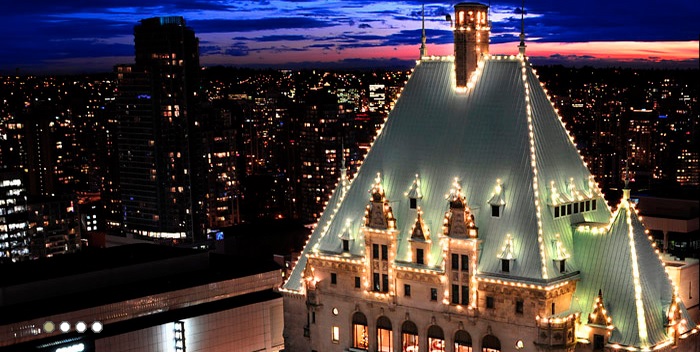 The Roof, on the 15th floor of Fairmont Hotel Vancouver, is now open. Or perhaps, we should say, re-opened! This restaurant first debuted in 1939 when the hotel first opened, and the venue became a national icon known for its dinner and dancing. It also served as an unconventional studio for CBC Radio who aired a weekly show from under the green copper roof for many years.
As a nod to its 75th anniversary, the re-introduction of The Roof will welcome a new generation to the venue.
Executive Chef Cameron Ballendine has returned to Vancouver from his tasty globe trotting travels that took him to kitchens in China, Egypt, United Arab Emirates and France.  But as home is where the heart (and stomach) is, he will now be overseeing the culinary operation at Fairmont Hotel Vancouver and is putting a contemporary twist on the cuisine  at The Roof.
With a panoramic view of snow-capped mountains, the Point Grey peninsula and Strait of Georgia, this beautiful view can be enjoyed over breakfast, lunch, afternoon tea and dinner.
Starters include classics like oysters, French onion soup, and Boston bibb wedge salad along with new contemporary offerings like tempura morels.  The classic choice of the signature prime rib and Yorkshire pudding is a hotel favourite, a variety of certified Angus steaks can also be ordered.  Other menu items include pork, lamb chops, free range chicken and BC seafood.  Desserts range from sweet to savoury with lemon tart, chocolate cake, creme brulee or artisanal cheeses.
Live entertainment will be featured from Thursday to Saturday.  For more information, visit: fairmont.com/hotel-vancouver.
Stay tuned on Modern Mix Vancouver, we are looking forward to checking out The Roof and sharing our experience.