Opened in summer of 2009, The Dirty Apron Cooking School has maintained its core offering as a place for "amateur cooks, the curious and professionals alike to learn, explore, and unleash their inner chef". As an extremely belated Christmas present, one of my good friends treated me to a night at The Dirty Apron.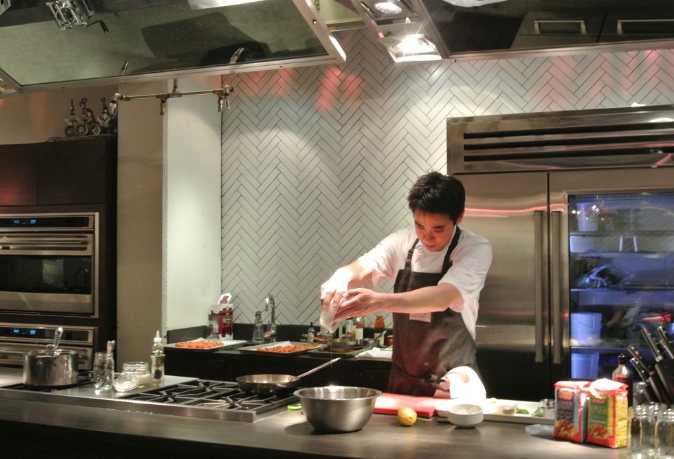 I chose the "Viva la Vegetarian: The Art of Vegetarian Cooking" class because I thought it would be the most practical and versatile class, and I have an interest in exploring contemporary vegetarian options.  Even on Modern Mix Vancouver, I have written about several vegetarian dining options including: The Acorn (my favourite), The Parker and Graze (vegan brunch).


The 4-hour class begins at the long, communal dining table where all students are offered a basket of bread to share, with dip, and a glass of wine.  After everyone arrives, we are moved into the kitchen and are seated around the main table, where Chef Takashi Mizukami gives us an introduction to the class.  Then begins his appetizer demonstration of the Caramelized Onion, Goat Cheese and Walnut Tart with Arugula Pesto.
Already within 10 minutes of his cooking demonstration, I was already learning a practical array of skills that I could take home and apply to my own cooking.  For example: how to make pesto from scratch (it's super easy – just blend a bunch of ingredients together), how to caramelize onions (make sure they are cut evenly), and how to roast tomatoes (it takes two hours in the oven on low heat).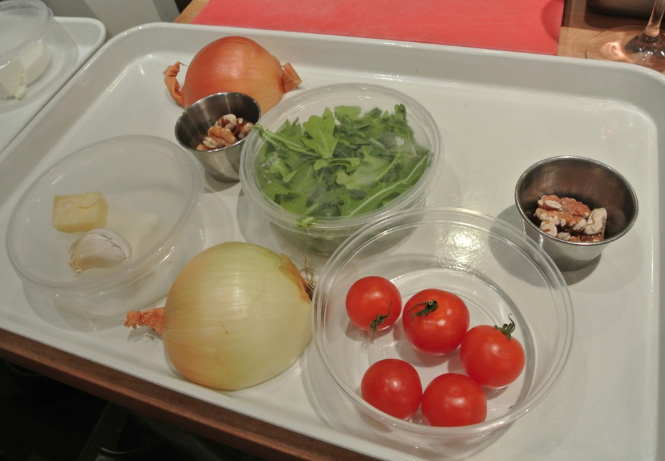 After the demonstration, it was our turn to try.  For the most part, you are responsible for creating your own meal – it's not group cooking.  You are provided with your own set of tools and ingredients.  Whatever I put on that pastry puff, can be seasoned to my own taste.  Do I want more or less cheese?  How do I want the texture of my pesto?  I liked how I could slightly customize the dish to my own preferences.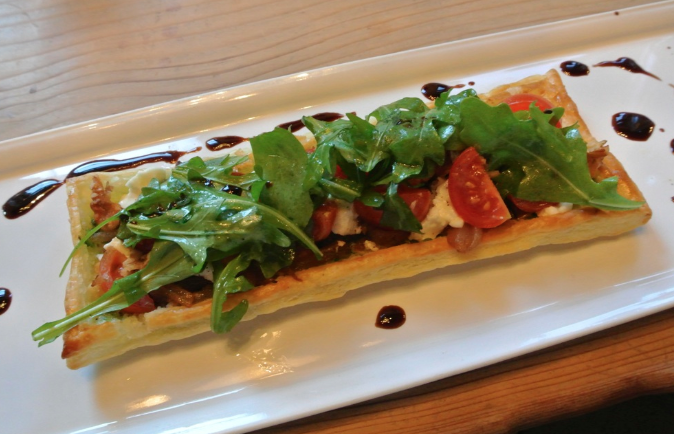 After plating our tarts (and drizzling with balsamic vinaigrette), we brought our dishes back to the communal table and ate our delicious creation, accompanied by a glass of wine.  My tart was super flavourful and fresh.  The goat cheese was slightly melted, the arugula was seasoned, the pastry puff was light and flakey.  I couldn't believe I made this myself!
We didn't have much time to rest after the appetizer, we went right back to the kitchen so we could learn how to make our main course and dessert.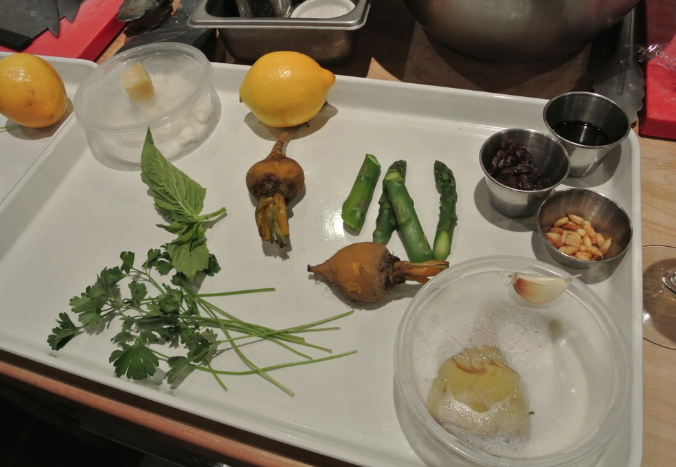 Following the same teaching format, first we watched the cooking demonstration, then went back to our stations to make it ourselves.  We started off with dessert first.  Chocolate, butter, and a bit of flour were the main ingredients of our Lava Cake dessert.  We melted the ingredients in a double broiler, poured into a ramekin labeled with our names, and then moved on to making our main course.
Our main course was a Artichoke, Yellow Beet, Ricotta & Pine Nut Tortellini with Pan Roasted Sultanas (aka. raisins).  A couple of the ingredients (the beets, artichoke and asparagus) were already pre-cooked for us.  All we had to do was chop and toss the ingredients in a pan, and cook with balsamic vinaigrette.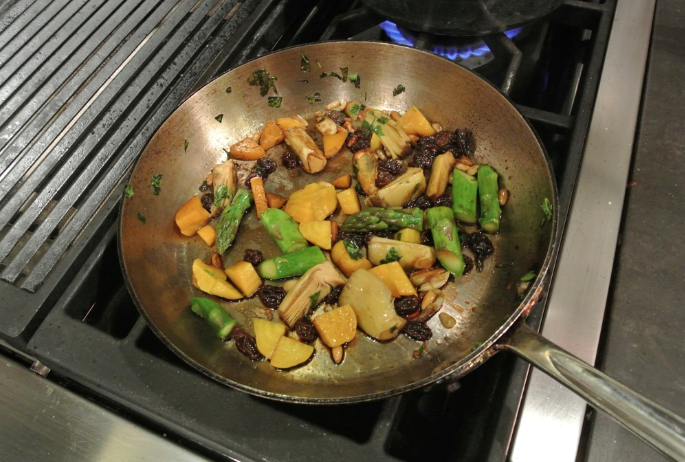 The harder part was making the pasta from scratch. The ingredients which make up pasta are simple: flour and egg. But it is the kneading of the dough, and getting it to the right consistency which is a challenge.  Unfortunately I don't have any photos of the pasta making because my hands were sticky and flour-y from the dough!  Long story short, after you let your dough set for a while, you roll it through a small pasta machine which flattens the dough until you have a 2 ft long flat sheet of dough. You then cut out circles (like making cookies) for the tortellini shell.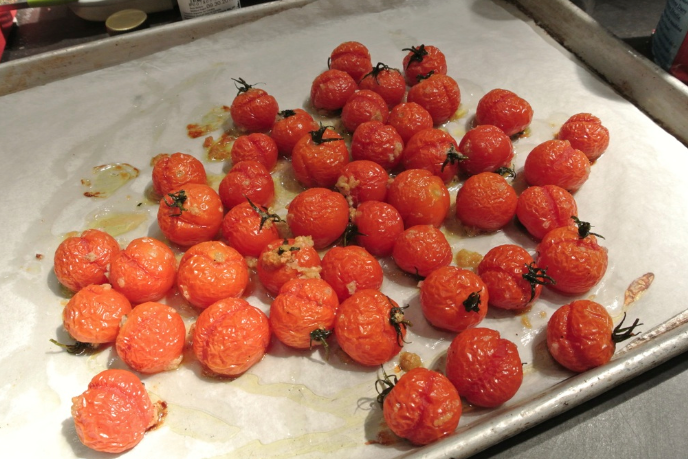 The pasta filling was a delicious ricotta cheese with lemon zest and basil. You scoop the filling into your dough circles, fold together like dumplings, and drop into salted boiling water for 3 – 4 minutes.  You then mix the cooked tortellini (which held its shape and stayed in-tact) into the veggie balsamic "sauce" and fry for a couple more minutes until your pasta is coated with the mixture.
When plating your pasta, you can add in a couple of roasted cherry tomatoes for colour and additional flavour.  I loved the tartness of the balsamic vinaigrette paired with the sweetness of the roasted tomatoes and the creaminess of the ricotta cheese filling.   The roasted tomatoes literally bursted in my mouth with flavour.  With the leftover dough, we turned it into fettuccine to bring home.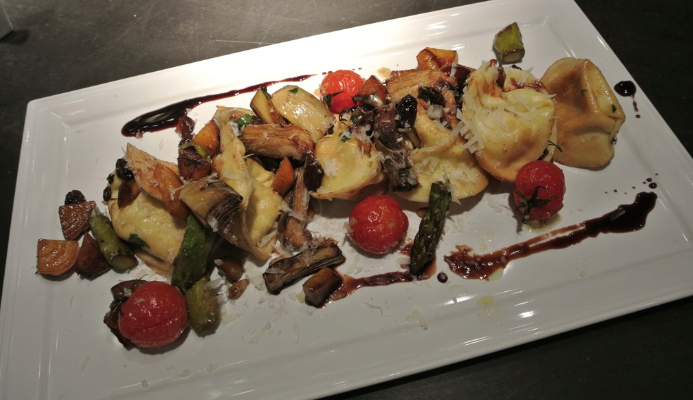 While we were eating our main course back in the dining room, our dessert was being baked.  Hot out of the oven, we placed a scoop of vanilla ice cream on dessert, and sifted some icing sugar on top.  Voila! The decadent lava cake dessert is done.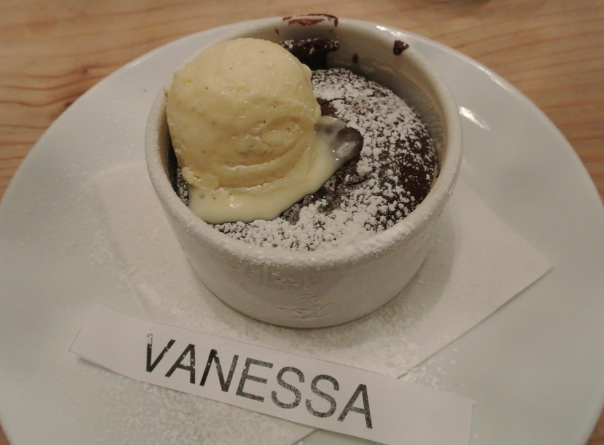 Overall, I thought this cooking class was quite practical and I learned skills that I could use again.  I also learned to use ingredients that I haven't used before in cooking (ie. ricotta cheese, raisins, beets, etc.)  The dishes we made were versatile enough to recreate.  I was exhausted after the class (cooking takes a lot of work!) but thought it was a lovely way to spend a Monday evening.
To read more about Dirty Apron on Modern Mix, check out the corporate team-building event I participated in at a Holiday Party.