What racing around a track is to a sports car nut, is what off-roading on logging roads and trails is to a truck enthusiast. And luckily for British Columbians – with Mother Nature as a backyard – there are no shortages of muddy routes with interesting histories and fun names like the Whipsaw Trail or the Quesnel Canyon Crawl. Distances and terrain difficulty can vary from a relatively easy jaunt to a journey spanning hundreds of kilometres that is full of twists, dips and steep hills. See below for some of our favourites.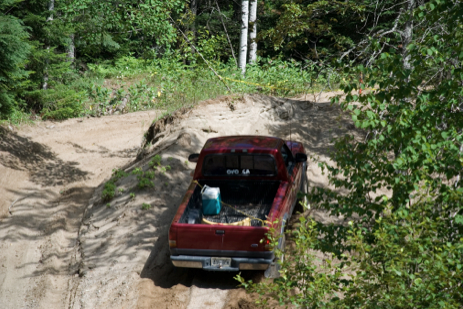 Whipsaw Trail
Located near Allenby, a former copper-mining company town in the Similkameen Country of the Southern Interior, the difficult Whipsaw Trail covers a distance of about 110 kilometres with 3,853 feet of elevation changes. In 2007, it was selected as one of BFGoodrich Tires' Outstanding Trails, a program created to recognize off-road truck and SUV enthusiast communities.
Alexander Mackenzie Heritage Trail
Also known as the Nuxalk-Carrier Grease Trail, this 381.3-km path features a minimum elevation of 1,492 feet and a maximum of 4,017. Starting in downtown Quesnel and heading west to Gatcho Lake, it's ranked as difficult and perhaps rightly so — this trail was the same one once used by Alexander Mackenize himself during his transcontinental crossing of North America. The coastal First Nation people also utilized it to trade eulachon (fish) grease, obsidian, hides, salmon and other goods – hence the dual name.
Quesnel Canyon Crawl
Deep in historical gold-mining territory, the Crawl is 57.1 km long with moderate difficulty. Found off of Highway 26 (Barkerville Highway) about 17 km outside of Quesnel, there are plenty of deep puddles and cool sights to see along the way like an abandoned big red machine called a trommel – anchored to a rotting wood dock it was once used to separate rock from gold. Flatter than some of the other trails, there is 1,234 feet of elevation changes along this route.
Barriere to Harp Mountain Loop
The sleepy town of Barriere, B.C., with an approximate population of 2,000 people, is the start and end point for the 193.4 km loop that takes you to the summit of Harp Mountain in nearby Kamloops and back. A forest service road most of the time, it is recommended that your truck or SUV is equipped with large, aggressive mud tires and a lift kit for the latter part of the trip that can prove difficult. A winch is recommended as well. Expect drastic variations in height from 1,194 feet to 6,411 feet along the way.
Before hitting the trails in your truck or SUV, do some online research and maybe even join a forum for like-minded individuals like 4×4 BC. Often there are plenty of people offering invaluable tips, sharing pictures and you might even find a group to tag along with.  If you are looking for a truck to take on these amazing trails, check out GMC's Sierra.
Photo Source: Flickr
Guest post by: Benjamin Yong,  a freelance writer and journalist based in B.C. Canada. He writes and shoots photos for a number of local and national publications, often focusing on cars and the automotive industry, news, arts and culture and interesting people.