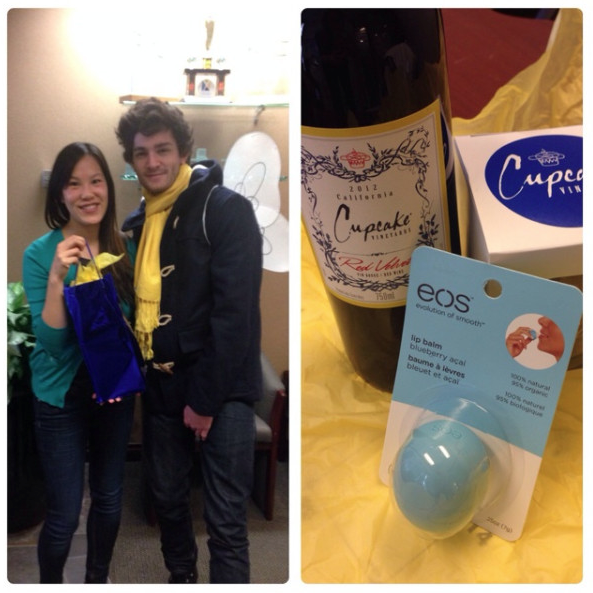 As a pre-Valentine's Day treat, I received a visit from the #DeliciousCupid, who flew with his wings to my office straight from the Cupcake Wines Vineyards.  Here's what was delivered to me – keep reading about how you can easily enter for a chance to win a Valentine's Day visit from the #DeliciousCupid too!
Cupcake "Red Velvet" Wine – "Complex and utterly delicious, like a blackberry chocolate cupcake with a mocha coulis, our Red Velvet blend is versatile enough to enjoy with sweet and spicy Hoisin steak, a barbecue bacon cheeseburger or even dark chocolate fondue." I'll be saving this bottle for actual Valentine's Day.
Cupcake Wine Glass – I've always been a fan of the modern look of stemless wine glasses, even though your risk the heat from your hand warming up your wine.  Now I have a Cupcake Wines stemless wineglass, to drink my red wine from.
EOS Lip Balm – Who would have thought a staple beauty item like lip balm could be reinvented into another shape?!  The spherical shape of this Blueberry Acai balm allows full coverage of the lips, including the hard-to-reach corners with the traditional tube-shaped lip balm.  It's also 100% natural and 95% organic.  This is my second EOS lip balm – I also received one in a different scent for Christmas and featured it in my Christmas Gift Highlights blog post.
If you want to win a Vancouver visit from Cupcake Vineyard's #DeliciousCupid on Valentine's Day, here's some delicious news for you.  Go to the Cupcake Wines Facebook Page and leave them a comment with your friend's name before noon on Wednesday February 12 and they'll be in touch.  I suppose you could comment with your own name, but Valentine's Day is about celebrating friendships and relationships, and what's a better way than to treat a friend with delicious treats?
Good luck and Happy Valentine's Day!