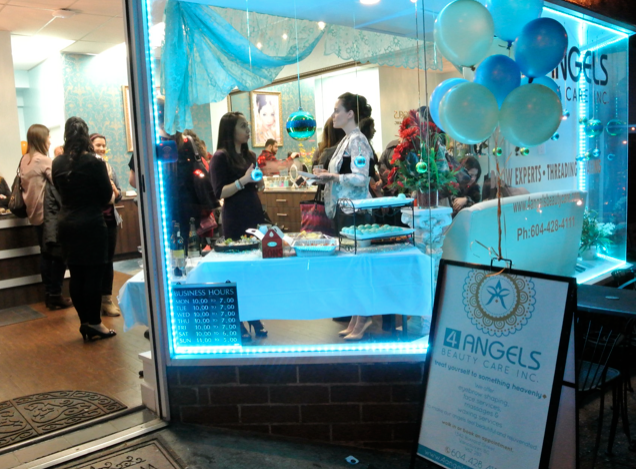 Approaching its one-year anniversary, 4 Angels Beauty Care was opened in 2013 by a pair of beauty veterans who have a combined total of 35 years of experience in the beauty industry.  Both Navkiran "Kiran" Sokhi and Kulwinder Malhi were formerly of Bombay Brow Bar but eventually took flight to pursue their own dreams of becoming business owners.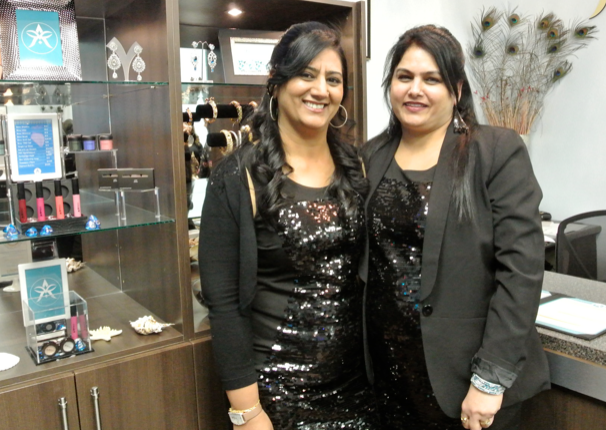 In addition to eyebrow threading, 4 Angels specializes in waxing, facials and relaxation massages.  I highly recommend trying out their Indian Head Massage which was absolutely a heavenly experience (more about that later).  They also offer two traditional South Asian beauty services by appointment: henna and sari wrapping.
Henna is a dye made out of crushed leaves and used to draw intricate patterns on the skin.  Traditionally, Henna is used to adorn the skin on celebratory occasions such as weddings, but these days, it is a popular as a form of body art, especially since the dye only lasts temporarily for a few days on the skin.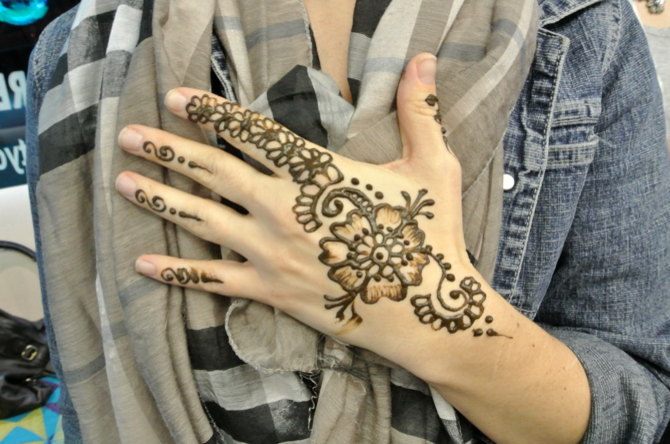 Although I didn't try the henna services at 4 Angels myself, I witnessed the drawing of intricate floral patterns on the hands, arms, and palms of others.
Here were some of the services I personally experienced at 4 Angels:
Brow Threading ($22) – This is a three-part service: brow consultation, brow massage (with rosewater or aloe vera gel) and brow makeup. 
Piece of Heaven ($10) – If there's any other unwanted hair on your face, they'll take it off for you.
Illu-Mini Facial ($30) – Utilizing France Laure skincare products, this facial consists of both a peel and mask leaving my skin ultra-moisturized and ready to face the winter cold.  Even after spending 20 minutes walking home from my appointment in the cold, my face still feels moisturized and protected from the elements.
Indian Head Massage ($35) – This was a heavenly experience and one I would return to 4 Angels for as I couldn't find many other places in the city who offer something similar.  There are lots of benefits to relaxing with a head massage including improved blood circulation to the brain, promoting hair growth and stress relief.  Only downside is that your scalp gets quite greasy from the oil used in the massage, so plan to wash your hair after leaving the salon.
All of the above services took place in a public setting, in the chairs at the salon.  Having had my brows threaded in a similar environment before, I was use to this sort of public beauty service.  When you're in a salon for women, all coming in for the same services, there's no need for modesty or privacy.  Just close your eyes and get taken care of.  However, it can be uncomfortable because the lights are all on, and every time another customer arrives in the salon or the phone rings it can be disturbing.
When you're done your service, 4 Angels has a small retail section for lip gloss, brow sets and bangles available for purchase.  For more information, visit 4angelsbeautycare.com.