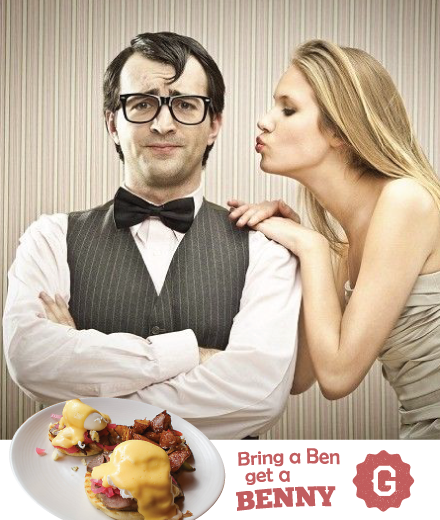 If your name is Ben, this is your lucky month!  To celebrate the brunch menu at Grain Tasting Bar (655 Burrard Street at the Hyatt Regency Hotel) featuring five kinds of Eggs Benedicts, Grain Tasting Bar is serving complimentary eggs benedict to all the Ben's of Vancouver with their 'Bring a Ben, Get a Benny' promotion.
Starting at 11AM on Saturday February 1 until 4PM on Sunday March 2, join Grain Tasting Bar for brunch with a friend named Ben (Benjamin's, Benedict's, Benji's, Benoit's and other Ben variations welcome) and receive a complimentary eggs benedict.  Below is Grain's Eggs Benny menu, served with breakfast potatoes:
Grilled chicken – barnston island spinach • avocado • diced tomato
Smoked tomato bruschetta – g.b.e. farms tomatoes • aged balsamic vinegar
Oyama – pamplona chorizo • red wine prosciutto • arugula
Dungeness crab – tomato • lemon • fresh herbs
Prime rib – blue cheese • pickled onions • horseradish
Details:
A minimum of one paying customer per table and a maximum of one Ben (or free benny) per table.
Only available during weekend brunch hours. No substitutions.
Cannot be combined with any other specials or offers.
Grain Tasting Bar's menu was created by Chef Thomas Heinrich, who is also the executive chef of the Hyatt Regency Vancouver. The menu is focused on highlighting fresh and local ingredients.