Within the past two years, several new restaurants and bars have opened up on Union Street in Vancouver's Chinatown.  One of them is The Parker, known for contemporary vegetarian dishes, presented in a beautiful and creative way.  For Dine Out Vancouver 2014, The Parker offers a $28 3-course menu, meant to be shared tapas-style.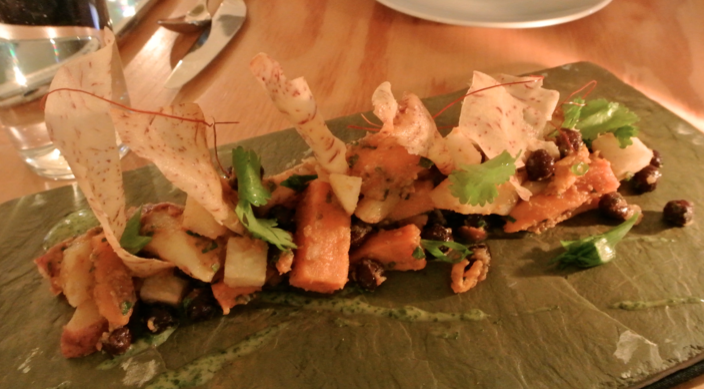 For an appetizer, we began with the Chaat, which consisted of cubed roasted yam, red potato and black chickpeas, garnished with thin threads of chili, pomegranate molasses and mint chutney.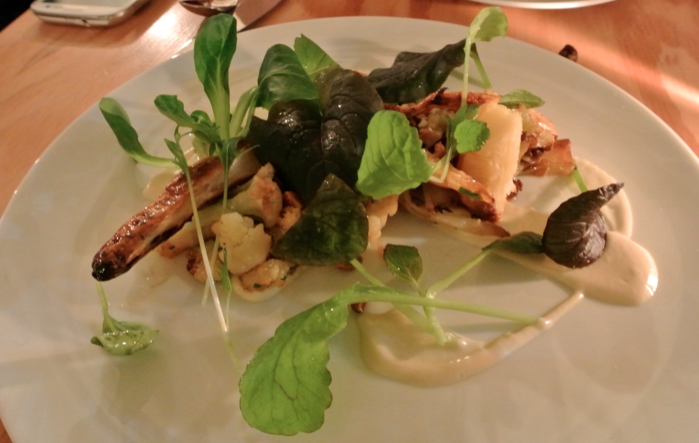 The other appetizer dish we ordered was Cauliflower with Roasted Parsnips, Mizuna, Pea Shoots, Vadouvan Granola and Confit Garlic-Cashew Creme.  The creamy garlic sauce was almost like a dressing or a dip for the parsnip and cauliflower and was so tasty that my friend wanted to learn how to make it herself.  The granola gave a crunch to the dish.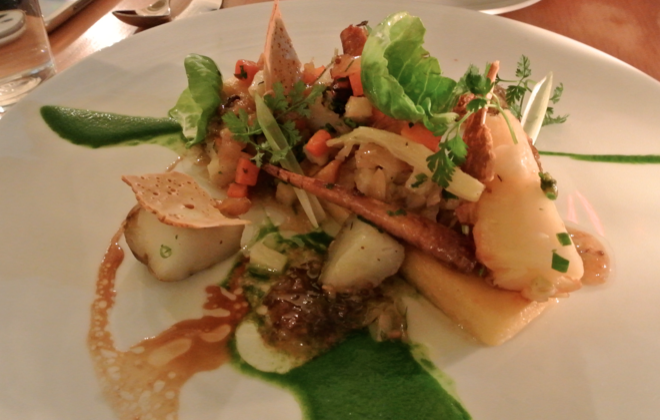 Next item which came out was the Panisse, which is a fried chickpea flour patty.  Simliar to the appetizers we had, this dish also used several roasted root vegetables like parsnip and also contained pistachio and raisins.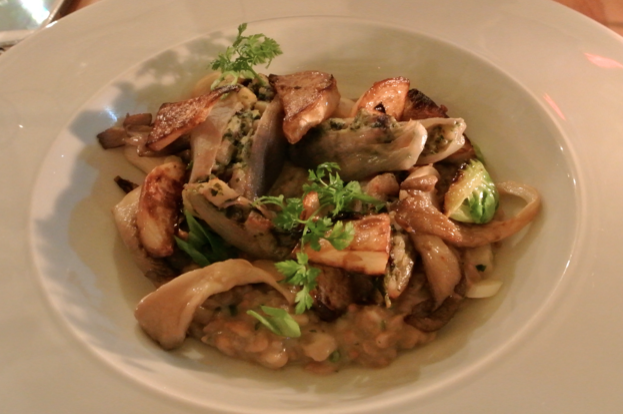 The Sunflower Risotto was our heartiest dish.  Sunflower seed, made in the style of risotto so you get a creamy texture combined with a nutty texture.  Lots of mushroom topped this dish, as well as cauliflower and stuffed onion.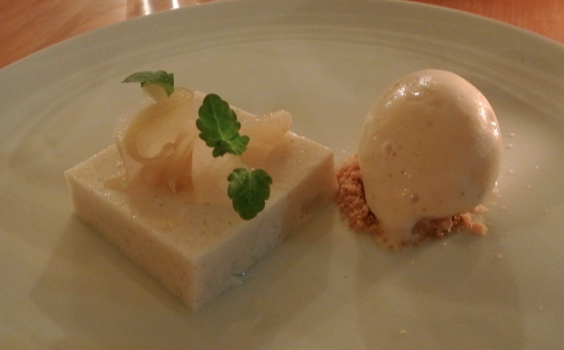 For dessert, we each ordered the Almond Panna Cotta.  The sorbet was very creamy, and I enjoyed the bits of crushed almonds (reminded me of a cheesecake crust) accompanying the sorbet.  The panna cotta was quite gritty and had the consistency of a hard jello.
The downside to dine out at The Parker are the portion sizes.  Despite sharing six dishes between the two of us, we were still hungry after the meal and had to cross the street to Pizzeria Farina to top up our dinner.
It's not because this is a meat-free restaurant which is why we weren't filled up.  I've been to both The Acorn (at least 5 times) and Heirloom, which also offer contemporary Vegatarian dishes, and left feeling extremely full and satisfied.  The portion sizes at The Parker, despite its beautiful presentation, were tiny.   Overall, The Parker would be a good place to check out for something different, but don't come with a huge appetite because the portion sizes will leave you hungry for more.