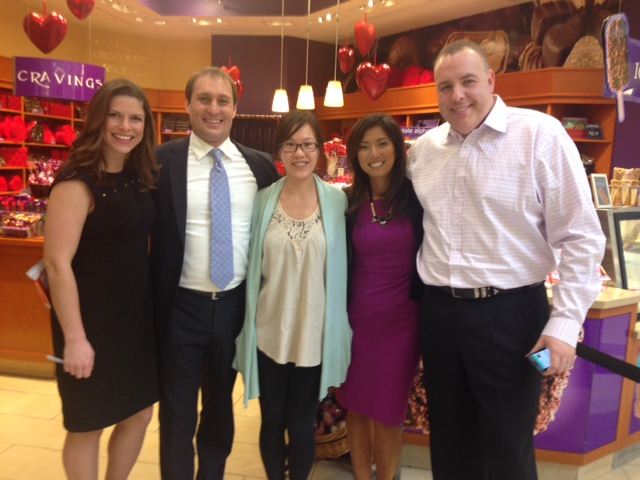 For the third year in a row, Purdys Chocolatier and the Morning News Team from Global BC, have created a special chocolate bar in support of The Variety Club.  Being at the right place at the right time, I was able to snap a photo with Sophie Lui, Mark Madryga, Steve Darling and Kaitlyn Herbs, who were visiting the Purdy's location at Metropolis at Metrotown to help promote and sell the limited edition Helping Hearts chocolate bar!
A cluster of fans gathered at Purdy's in the morning to get their chocolate bars signed by the enthusiastic TV personalities.  One generous woman purchased 50 chocolate bars to distribute to the care home she worked at!
Family-owned and operated since 1963, Purdy's chocolates are still made in its famous Vancouver factory kitchen using only the finest ingredients from around the world. Purdys Chocolatier is Western Canada's largest and Canada's second largest retailer of specialty chocolate.  The Helping Hearts Chocolate Salted Butter Toffee Bar is a mouth watering, crunchy combination of sweet and salty flavours, which smothers rich, butter toffee pieces and a sprinkling of salt crystals against the classic cocoa backdrop.
Sales of these delicious chocolate bars will provide help and hope to children who have special needs throughout British Columbia with $2 from every sale going to Variety – The Children's Charity.
The Helping Hearts chocolate bar is available for sale until February 15.
In the meantime, check out the annual Variety Show of Hearts Telethon, airing on Global BC this weekend on January 25 & 26.