Are you headed to one of the Glowball Collection restaurants for Dine Out Vancouver this year?  All 7 Glowbal restaurants are participating in Dine Out Vancouver 2014, here are two that Modern Mix Vancouver had the opportunity to check out.
Black + Blue Steakhouse (1032 Alberni Street) offers a $38 3-Course Menu for Dine Out Vancouver.  We started off with the Josper Grilled Vegetable Napoleon, made with goats cheese, bell peppers, zucchini and mushrooms.  It was layered in a way which reminded of me of vegetarian lasagne but without the pasta.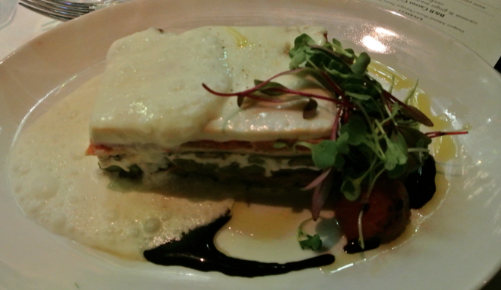 If you are in the mood for something hot and hearty, you could opt for the Loaded Baked Potato Soup instead, which comes with double smoked bacon, chive crema and cheddar, with a crispy cheese stick on top.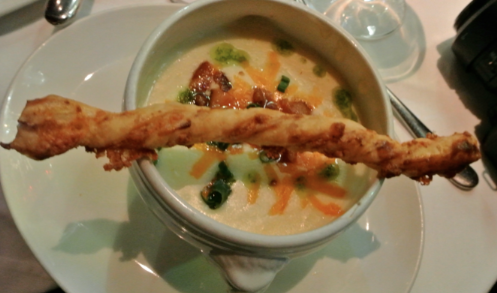 For the main course, the dish that stood out to me was the Whole Roasted Trout, served with a lobster bisque, seasonal veggies, lemon marscapone and a potato croquette.  Although I personally don't eat fish, I could appreciate the creativity and presentation behind this dish.  The way the whole trout was split in two, with the tender flesh spilling out (like a jacket potato) and topped with greens, made this a unique dish.
The other main courses you can order on the Black + Blue Dine Out Vancouver menu are a good choice for meat lovers: the Slow Cooked Guinness Braised Short Rib (which was juicy, tender and flavourful, and came apart with a poke of your fork) or the 6 Pepper Crusted Beef Tenderloin.
The second Glowbal Collection destination on Alberni Street was Coast, which also offers a $38 3-Course Menu.
Because I don't eat fish, I had the Winter Chopped Salad as my main course.  The texture and the way the ingredients were cut reminded me of a coleslaw with julienne apples, dates, pomegranates, candied pecans and a chili-lime vinaigrette.   The dates and candied pecans gave a sweeter taste to the salad, which contrasted the tartness of the pomegranate seeds and lime vinaigrette.  Although I enjoyed the salad, a vegetarian salad doesn't best reflect the culinary seafood offerings of Coast.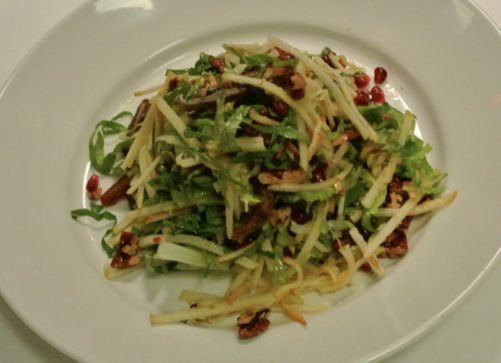 For those of you who don't have the dietary restriction I do, you can order the Spanish Mussels & Frites as your appetizer option.  As Coast is known for their fresh seafood options, if you like mussels, I suggest you order this over the salad.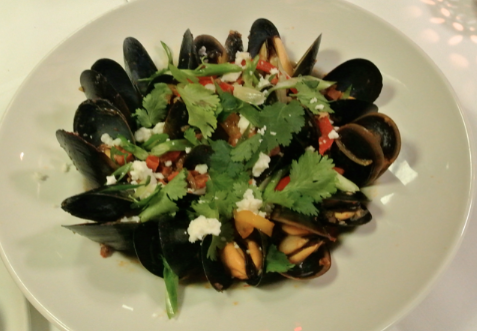 For the main course at Coast, you can order the Salmon Two Ways which comes with both an olive crusted salmon with a pea-basil puree, and also a roasted salmon with a truffled cauliflower puree and wild mushrooms.  For a cold, Japanese-style dish, the other fish option is the Sushi Tile which includes an albacore tataki roll and soba noodle salad.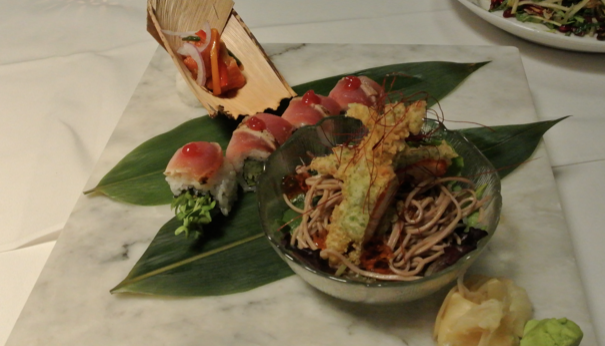 Lastly, for dessert, we sampled an assortment of sweet treats from various Glowbal Collection restaurants.  The Sugar Coated Taiyaki (the fish-shaped pastries) are from Coast, while the Carrot Cake from Black + Blue is served with a coconut and ginger macaroon, cream cheese and candied carrot.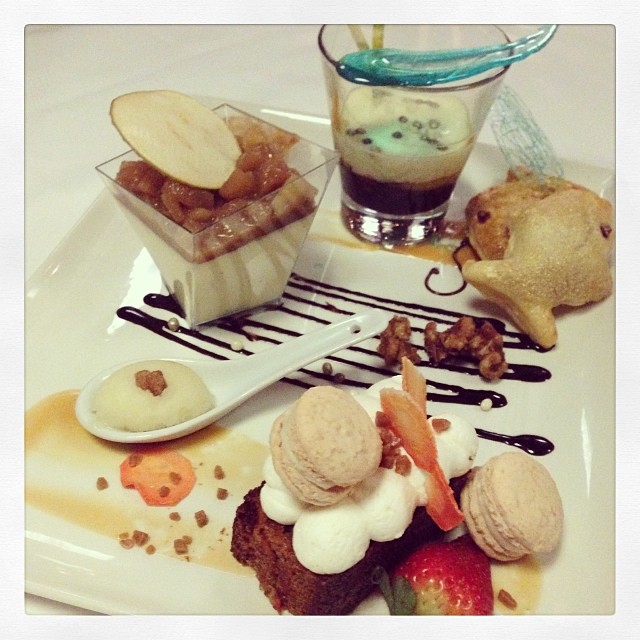 Dine Out Vancouver runs until February 2 this year.  For more information, visit dineoutvancouver.com.