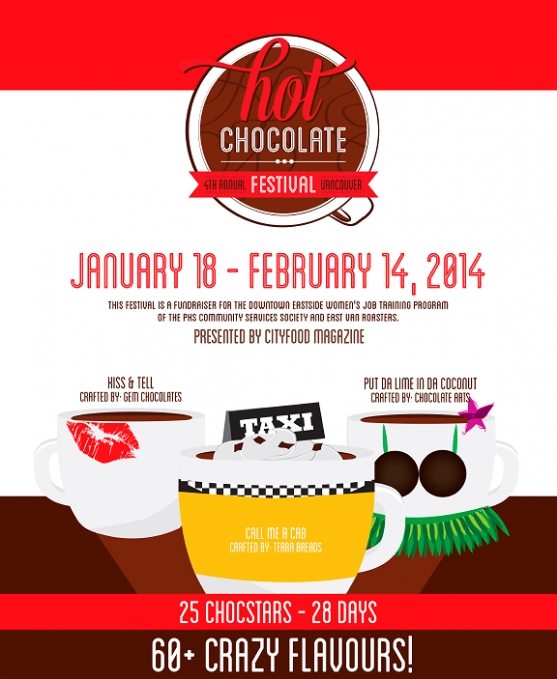 Here's some news to warm up your day.  The 4th Annual Vancouver Hot Chocolate Festival is back again this year! Beginning on January 18 and running until Valentine's Day, cafes around the city will be serving up special hot chocolate inspired drinks. I've clicked through the list of 20 venues who'll be participating in the Hot Chocolate Festival this year, and listed below a couple of creative drinks I'd love to try over the next few weeks.  I am actually amazed at how creative these local foodies can get with a drink as simple as hot chocolate!
Beaucoup Bakery – "Like Feathers & Snow" – white chocolate with warm spices served with a cardamon cookie.
Bella Gelateria + To Die For Banana Bread – "London Foggy" – gBAR flavoured with vanilla and Earl Grey tea.  Bella Gelateriea drinks are  flavoured by a 'gBAR' – frozen gelato served on a stick. The gBAR is dunked into the hot chocolate with the stick pointing up and out and all you have to do is stir it in!
Leonidas Chocolates – "Tiger Milk" – White Belgian chocolate with cardimom, nutmeg and saffron.  Served with customer's choice of liege waffle, cheesecake, chocolate, or a scoop of Italian ice cream.  I've had this one before – it kind of reminds me of a sweetened chai tea, but way creamier.
The Last Crumb Bakery & Cafe – "Winter Citrus" – hot chocolate flavoured with orange blossom served with a citrus marshmallow.
For some other creative hot chocolate concotions that someone else more adventurous than me may want to try, the "Granville Island Grocery List" (at Soirette Macarons & Tea) is made with beet and saffron or the "Black Widow" (from UVA Wine Bar and Bittered Sling) is hot chocolate inspired and made with tequila infused with cacao beans and coffee.
Not all of these creations will be available throughout the entire Vancouver Hot Chocolate Festival, so it's best to click here to find out the exact dates each drink is served.