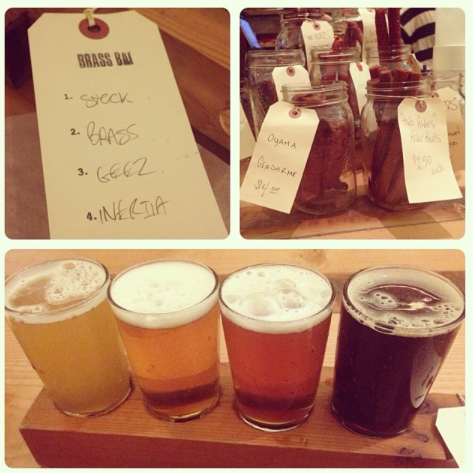 This weekend, my boyfriend and I made a spontaneous stop at Brassneck Brewery on Main Street.  To be honest, we didn't really know what it was, only that this place was somewhere we had driven past on several occasions, had something to do with beer and that there was a parking spot right outside.
Is my boyfriend a huge craft beer fan? YES!  Am I?  Well, I don't drink much beer at all, but true to essence of Modern Mix Vancouver I appreciate a local concept establishment with a good story to tell.  We were pleased to discover Brassneck is one-third brewery, one-third tasting room, and one-third beer-to-go.
For about $10, you can get a flight of four mini beers in the Brassneck Tasting Room.  The staff at Brassneck are extremely informative – if you tell them what flavours and styles of beer you like, they can make a recommendation on what you may want to try.  If you already know what you like, you can purchase a growler (a heavy 2L jug that can be filled with fresh beer at various breweries around Vancouver) and bring fresh beer home.  Our server says the to-go option is extremely popular when hosting a dinner party – for $20, you can easily provide beer for 8 – 10 guests (depending on how much they drink!).  When I drink beer, I usually go as light and fruity as possible.  If you're like me, you may enjoy the "Passive Aggressive" which has fruity tropical notes.
Brassneck currently serves beer only – no food, except for sticks of pepperoni from Oyama Sausage Co., which pair nicely with beer.  For $2.50 – $4, you can buy a stick of pepperoni of varying spiciness. We were told that there is usually a Food Cart Truck outside so people can grab a bite and bring it in with them.
For more information, visit brassneck.ca.