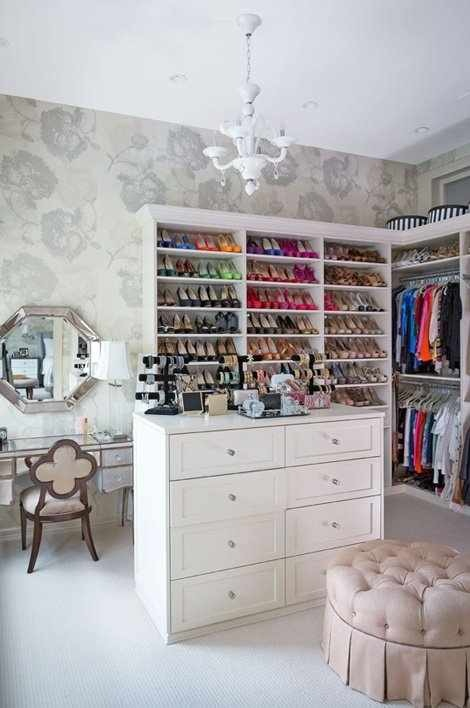 I live in a condo in downtown Vancouver, so for me, saving space and keeping organized is crucial in a small space.  Here are my 10 tips to help you organize your wardrobe that will last you through 2014 and beyond:
1. Donate Your Clothing – First things first – clear out space in your closet by getting rid of items you haven't worn in the past year.  If you didn't wear it in 2013, you're probably not going to wear it in 2014 either.  My boyfriend and I bother consigned items to Front & Co. on Main Street, which pays 40% of the selling price.  Alternatively, you can donate your clothing to a local charity like the Burnaby Hospice Society and Thrift Store.
2. Put Away Off-Season Clothing – Unless you're going on a tropical vacation, you won't be needing your pretty summer dresses or shorts for the winter.  I hide my off-season clothing under my bed in storage containers.
3. Organize by Item – Organize your closet by type of item – pants in one area, shirts in another.  That way, you can quickly grab the item you need, without rummaging.
4. Organize by Colour – If you also organize your wardrobe by colour, you can quickly grab the item you need.  This will also tidy up your closet and make it visually appealing.
5. Organize by Height – Store your daily items (like your favourite jeans and hoodie combo) in plain sight, less-used items below, and your least-used items up high.
6. Use Storage Containers for Accessories – Target has affordable plastic storage containers you can use for scarves, gloves, hats, purses and other accessories.  The lid on the container will also keep your items from getting dusty.
7. Use an Over-the-Door Hanger – Make use of the space behind doors with an over-the-door hanger.  For example, you can hang your pajamas on the door.  I went to Homesense and got a good deal on an Umbra over-the-door hanger – it was half price!
8. Use Plastic Baggies to Store Jewellery – For bracelets, necklaces and other jewellery, use plastic baggies to keep your items from getting tangled.
9. Roll It Up – For items like t-shirts or towels, consider rolling them up instead of folding.  It saves space, stacks easily, and you'll prevent the wrinkles you'd normally get from folding your clothes.
10. Scent Your Wardrobe – According to L'Occitane, small cotton pouches filled with dried flowers are a traditional French method to scent drawers, cupboards and closets. Place a Lavendar Scented Sachet from L'Occitane to leave a subtle fresh scent in your wardrobe while deodorizing fabric.