Protecting Your Skin from Cold Weather with Racinne's Ultimate Hydra Perfection
In preparation for colder winter weather and to protect my skin from drying out, I started to use the Ultimate Hydra Perfection line by Racinne.  Although the brand is fairly new to Canada (and currently available only in BC), Racinne is a global company whose mandate is to "Celebrate Your Skin".  What's a better way to start celebrating your skin, than by protecting it?  Utilizing innovative Callus Cultivation Technology, this series uses grape callus extract to create a powerful antioxidant formula that protects the skin against the abuse of the elements.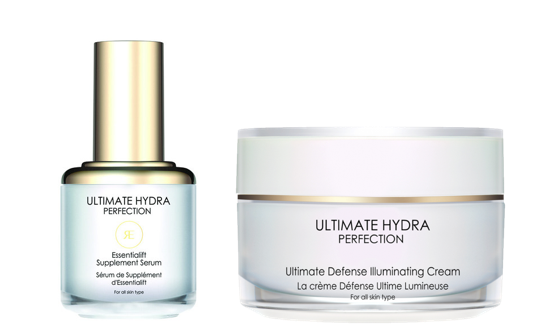 As we age, the cells on our skin start losing elasticity, resulting in fine lines which eventually turn into wrinkles.  Plant callus extracts help fight the visible signs of aging as they claim to possess the ability to heal the skin.  In plants, Callus cells are those which cover a plant's wounds and help plants recover from tissue damage.  In the beauty industry, the extracts of callus can be used in a similar way to repair damages skin and help the skin retain its elasticity.  Racinne utilizes revolutionary "Callus Cultivation Technology," a powerful formula exclusively developed by Racinne based on rare plant callus cells. By utilizing these highly active agents for strong antioxidant activity, Racinne's products promote the skin's elasticity, effectively strengthening the ability of skin cells to retain moisture while preventing signs of aging.
Here are the two Racinne products in my current winter skincare routine:
Essentialift Supplement Serum ($44) – This serum combines grape callus extract with gingko leaves and other natural antioxidant ingredients to replenish the skin's moisture barrier. This powerful serum tones skin by moisturizing it and helps reduce the signs of aging. This serum also promotes elasticity, softening the skin and leaving it with an improved texture and a radiant glow.
Ultimate Defense Illuminating Cream ($40) – This powerful activating gel combines organic peach and grape callus extracts with hydrating components, creating a powerful activating gel that replenishes and protects the skin's moisture barrier. Natural peach extracts give the skin more vitality and provides a natural barrier that protects the skin from environmental impurities leaving it feeling light, refreshed and glowing luminously.
Despite this being a hydration skincare line, my skin didn't feel greasy or oily after using the products.  It was very lightweight with a slight floral scent (which quickly dissapears as the cream gets absorbed).  Racinne is available at Alive Health Centre (with locations at Metropolis at Metrotown, Oakridge Centre, Park Royal and Richmond Centre) or online at Racinne.ca.