Walking up to the entrance of The Farmer's Apprentice for Saturday brunch reminds me of visiting someone's home – the porch with two picnic tables and flowers on the table gives the restaurant's first impression a welcoming and homey feel.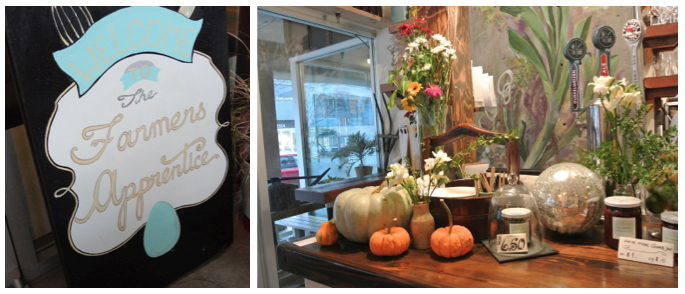 Upon entering the cozy restaurant, you step into a rustic, farm-like environment: wooden counters, old window frames decorating the wall, flowers in glass vases, little pumpkins on the counter and jars of homemade quince jam for sale.  An old record player is playing music in the background.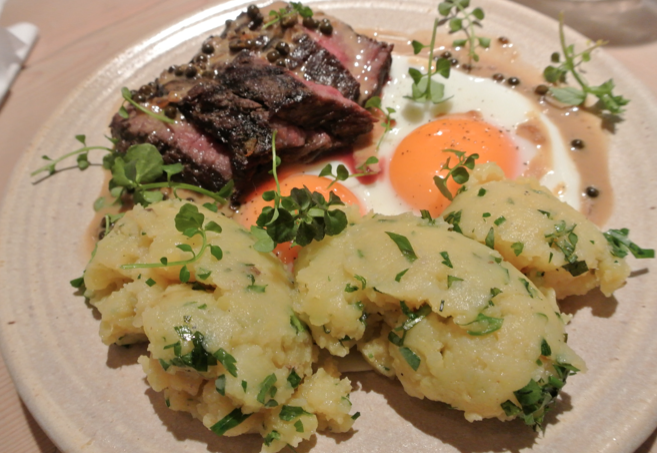 For $13.50, I ordered steak with eggs. Steak was topped with a flavourful gravy with peppercorn.  On the side were German mashed potatoes with a fresh variation of watercress.  Although the portion was quite small, it fresh and delicious.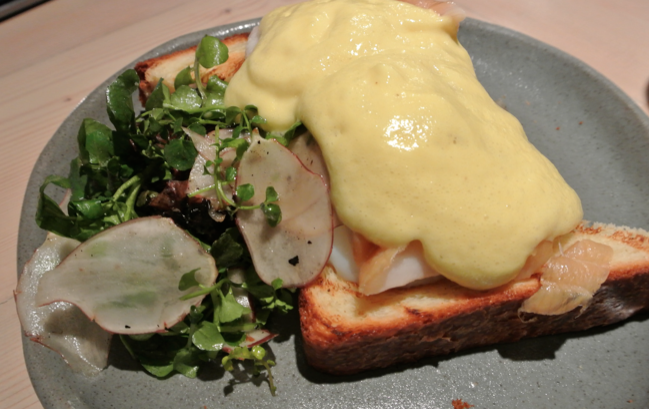 My friend ordered Sablefish Benedict, generously topped with hollandaise on toast.  Sablefish is not a common ingredient found on brunch menus, so no doubt this was something out of the ordinary.
The eggs in both of our dishes had a rich and warm orange yolk.  The friend I was having brunch with pointed out how perfectly poached his eggs were. Turns out, his poached eggs were soft boiled in a sous vide meaning they are vacuum sealed and boiled until the temperature is at exactly 65 degrees.
Farmers Apprentice is currently only open for brunch on Saturdays.  They are known to change their menu quite often, so the items we ordered for brunch may not be available when you visit the restaurant.   For more information, visit farmersapprentice.ca.