After spending most of the summer wearing nude lips (which looks great with a summer tan and bronzer), fall and winter is the best time to darken the lips with a beautiful plum shade in contrast to paler winter skin.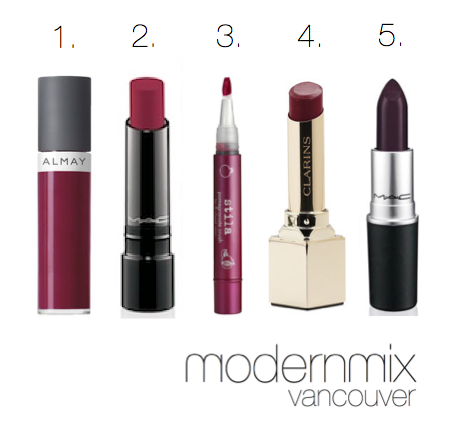 Here are my Top 5 beauty picks for beautiful plum lips this fall/winter season:
Almay Color and Care Liquid Lip Balm  "Just Plum Good" ($9) – A highly moisturizing lip balm, this Almay product won't leave your lips cracked and dry.  The colour is fairly long-lasting too.  When the glossy sheen of this lip balm fades after a few hours of wear, I find my lips still stained with a touch of plum. Available at London Drugs.
MAC Cosmetics Sheen Supreme Lipstick in "Candy Apple" ($20) – MAC's Sheen Supreme lipstick line combines the colour impact of a lipstick with the shine of their iconic lipglass.  Candy Apple is described as a "warm plum" but the shade leans towards a dark magenta. (Come to think of it, Candy Apple is quite a misleading name for this shade). Available at MAC Cosmetics.
Stila Crush Cheek & Lip Stain "Pomegranate Crush" ($32) – The formula for Stila's Cheek & Lip Stain is quite sheer, which allows you to tint and layer the colour to your personal preference.  You can use this versatile product for both your lips and your cheeks. Available at Murale.
Clarins Rouge Prodige Lipstick "Mystic Plum" ($27) – Love the gold case this Clarins lipstick comes in, gives it a touch of elegance.  Available at Murale.
MAC Cosmetics Lipstick "Sweet Succulence" ($18)  – This deep plum shade is the most daring of my picks, but I included it as contrast to the other products.  The colour looks almost black in the case; however, to my surprise, the texture is more sheer than expected.  As a result, you get a pretty plum colour, which may have a more reddish-tone depending on the natural shade of your lips. Available at MAC Cosmetics.