It seems like coconut has recently become a hot and widespread ingredient in the heath and wellness sphere.
In the Spring, we wrote about DAVIDsTEA's seasonal tea box which included Coconut Oolong.  At MMV's 5 Year Party, we included samples of The Simply Bar in our goodie bags, which had a Coconut Lemon flavour.   In the summer, we gave away a month's supply of coconut water to a lucky reader.  So what's next?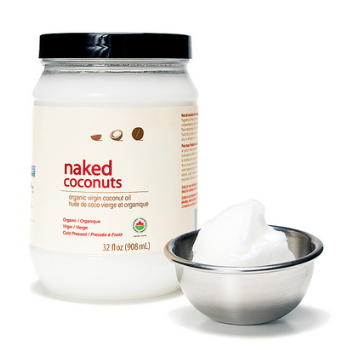 I recently discovered a Vancouver-based company which specializes in organic, non-GMO and gluten-free coconut products.  Naked Coconuts was founded just over a year ago by Paul Gill and Soheila Yalpani, both UBC Commerce graduates (my Alma Mater – wahoo!).
Naked Coconuts products are ethically supplied from farmers in the Philippines, who are trained on caring for organic land and practise sustainable farming.  In such a short period of time, they have already wiggled themselves into reputable heath and wellness grocery chains like Whole Foods and IGA.  Currently, their products are: a coconut oil, a gluten-free soy sauce, and a coconut nectar.  With only three items in their product line, Naked Coconuts likes to keep things simple.
Besides cooking with the product, here are some alternative uses for coconut oil for beauty remedies:
As a yummy replacement for chapstick – Sometimes I get freaked out if I accidentally lick my lips and ingest lipstick.  There's no worry with that when I use coconut oil!  Other than for cooking, this is probably what I use coconut oil the most for.  I like putting a dab on my lips before I go to bed at night (like right now, as I'm typing this).
As an eye makeup remover – I tested this by removing eyeliner on the back of my hand with coconut oil and it worked REALLY well. The eyeliner pretty much melted away as I gently rubbed with coconut oil on a cotton pad.
As a conditioning hair mask – massage into dry hair (concentrating on the ends) and leave in for an hour.  Wash out for smooth and luxurious hair.  If you have an oily scalp, don't put the oil on your roots.
As a natural exfoliant – Mix with coarse salt or sugar to remove dead skin cells (such as on your heels or elbows).  Can also be used in the shower as a scrub.
As a massage oil – I love how coconut oil just melts with body heat.
For more information about the benefits of coconut products, visit nakedcoconuts.com.
MMV Giveaway: Modern Mix Vancouver is giving a trio of Naked Coconuts products (worth $36). To enter, please "LIKE" the Modern Mix Vancouver Facebook Page at facebook.com/modernmixvancouver and ALSO leave a comment below about what you'd like to try making (recipe? remedy?) with your coconut oil. A random winner will be chosen from the comments below. Giveaway ends Sunday November 17 (10pm PST).
For an additional entry: Follow @ModernMixVan on Twitter and tweet "Win from @ModernMixVan a trio of #coconut products from @NakedCoconuts! Details here: http://bit.ly/1iTiCs6| RT to enter!"