NEW BEAUTY PRODUCT: Bourjois Erasable Liner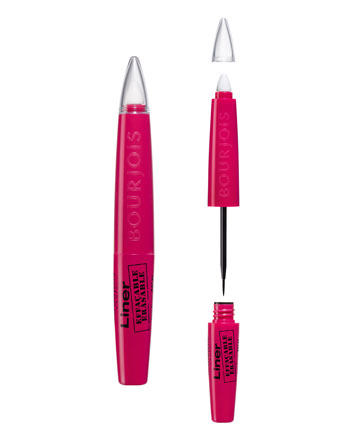 What do you usually do when your eyeliner smudges?  Do you take it off and start over?  Or do you use a q-tip and try to correct your line as gracefully as possible?  When applying liquid eyeliner, most women hate the hassle of having to redo their eyeliner because the product smudged.
Bourjois provides us with a simple solution to this issue with their new Erasable Liner product.  This double-ended product has an intense black liquid eyeliner on one end, and a rubber eraser tip on the other end.  Precise and ultra-supple, this eraser tip corrects little mistakes and gentle erases unwanted lines without flaking.
This is way better than using a q-tip because of the precision of the tip, and also because little tuffs of cotton q-tip won't get stuck on your eye.  Now you can finally perfect your cats-eye look! The Bourjois Erasable Liner is available exclusively at Shoppers Drug Mart for $22.00.