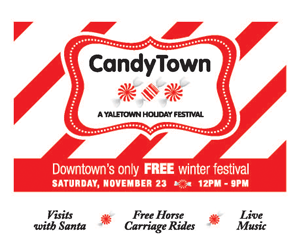 Candytown, the free Outdoor Christmas Festival in Yaletown is back for its second year on Saturday November 23 from 12pm to 9pm on Mainland Street.  Holiday shoppers are invited to start their seasonal gift buying in Yaletown with local merchants as well as a specialty market carrying unique gifts and holiday treats which will take over the street.   This outdoor Christmas festival is free, open to the public and sure to get people into the Christmas spirit.
Last year, an estimated 15,000 people came out to Candytown to kick off the holidays and the Yaletown Business Improvement Association is expecting an even bigger turnout this year.
Here are some featured activities you can look forward to this year:
"All I Want for Christmas" Gift Market
Free Horse Carriage Rides
Street Performers
Live Music
Ice Carving Demonstration
Visits with Santa
Candy Making
CandyTown Cocktail Tour
When I chatted with the Executive Director of the Yaletown Business Association last week, her advice is to dress warmly so you can enjoy all the outdoor activities to their full extent.  Be sure to look out for the Fine Finds booth on Mainland Street.  I will personally be there from 12pm – 5pm displaying my newest jewels from Modern Mix Boutique!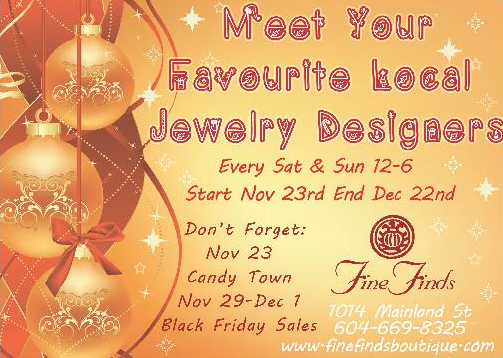 Hope to see you at Candytown!