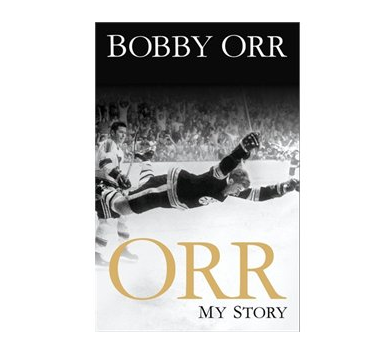 If there's one thing guys in Vancouver all have in common, it's a love of hockey.  Grab one of your guy friends and meet one of the greatest sports figures of all time as Canadian hockey legend Bobby Orr will be at an autograph session for his new memoir, Orr: My Story.  Bobby Orr (who is now 65 years old) will be at Chapters on Robson on Wednesday October 30 from 6pm onwards.
He's only signing the book (no other sports memorabilia) so make sure you either buy a copy beforehand or the evening of.   This would also make a great Christmas gift for your boyfriend / dad / husband / uncle / boss!
Event Guidelines:
Line-up will be available on a first-come, first-served basis.
Individuals must have a purchased copy of Orr: My Story to be in line. Proof of purchase required from any Indigo, Chapters, WBB, Indigospirit or Coles location.
Bobby Orr will autograph a maximum of THREE copies of Orr: My Story per person.
NO personalization, autographs only.
NO memorabilia or additional items will be permitted for the signing including sports equipment, posters, clothing, other books, DVDs, CDs or any other item. Signing Orr: My Story only.
Candid photos only, no posed photography.