Yet another brand bringing iconic Disney characters into the world of beauty, Anna Sui's holiday collection "One Night Only" is inspired by Minni Mouse and packaged perfectly for gift-giving. The Anna Sui Minnie Mouse Makeup Kit ($59),  contains an eye shadow compact trio and a lipstick in a collectable tin box.  The artwork on the tin features the darling Minni Mouse, but "sui-fied" with the floral tendrils so recognizable in Anna Sui packaging.
There are two kits available, in "Rock Song" or "Romantic Serenade":
Rock Song – Best for "cool eyes and impactful lips" the Rock Song Eye Shadow consists of pearl white, ice silver and diamond blue shades.  The eyeshadow compact is in the shape of a bow.  Meanwhile, the lipstick is a highly pigmented deep and vivid red.  When I saw the colour, the first word which came to mind was "burlesque".  The actual lipstick is carved into the shape of Minni Mouse's head and (almost) too cute to use.
Romantic Serenade – Best for "soft eyes and seductive lips", the Romantic Serenade Eye Shadow pallet consists of light pink, shiny brown and sparking khaki.  This pallet is a better choice for you if you prefer neutral eye makeup.  The lipstick is a Fuchsia Pink, which is definitely girly rather than sexy, but is still highly pigmented and vivid.
In Vancouver, these two limited edition Makeup Kits are available exclusively at The Bay in downtown Vancouver for $59 and will be available beginning November 2013.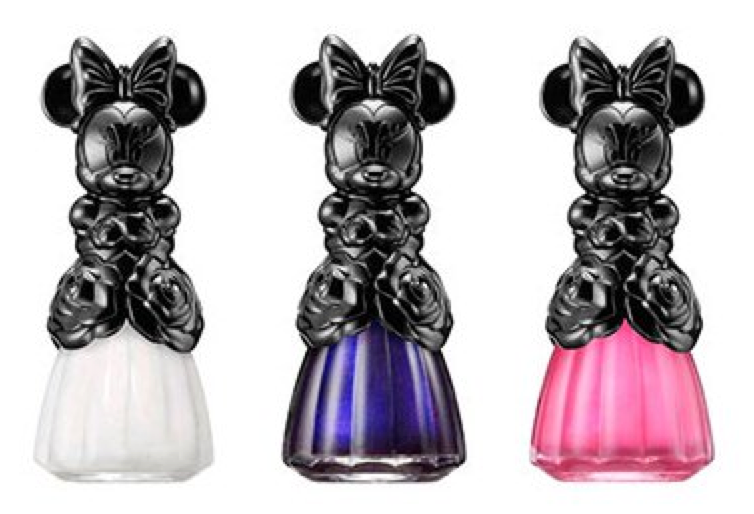 For single piece products from the One Night Only collection, these Minni Mouse Nailpolishes ($15) are absolutely adorable.  The bottle caps are black with an intricate carving of Minni Mouse, while the "skirt" of the bottle gives you a peek at the colour.  You definitely won't want to hide these nailpolishes behind a bathroom cabinet, they would look lovely on a vanity.
The Anna Sui Minni Mouse Nailpolish retails for $15 at select Shopper's Drug Mart, Murale and Hudson's Bay Downtown Vancouver and will be available beginning November 2013.