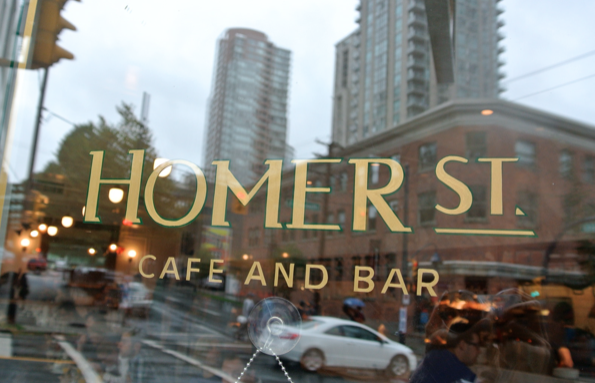 This rainy weekend, Modern Mix Vancouver was invited to a brunch preview at Homer St. Cafe & Bar (898 Homer Street).  Inspired by a 1930's French Bistro, this contemporary corner restaurant on the edge of Yaletown has a "new-vintage" feel to it.  The open concept "Chef's Bar" allows you to see what's cooking (or roasting) in the kitchen, while oversized windows brighten up the restaurant, even on a rainy day, with an open and airy feel.
Newly opened in July, and also awarded "Best New Restaurant" by the recent Georgia Straight awards, Homer St. Cafe & Bar's newest menu offering is for Sunday brunch.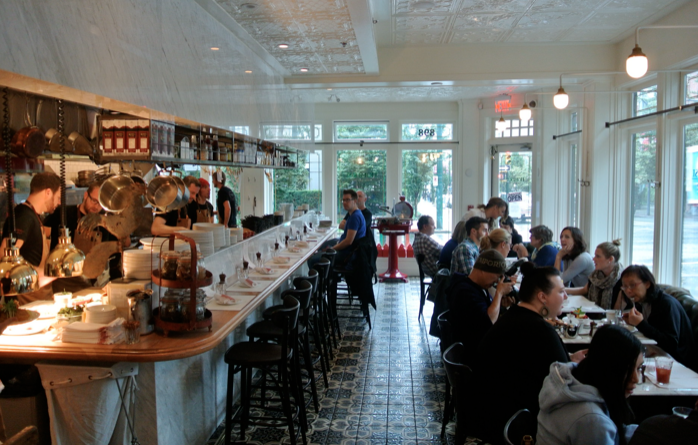 I had the Gruyere Cheese and Kale Omelette ($12) which comes with a side of rye or sourdough bread. Not only was there kale in the omelette but also crispy kale chips sprinkled on top. Eggs are free-range.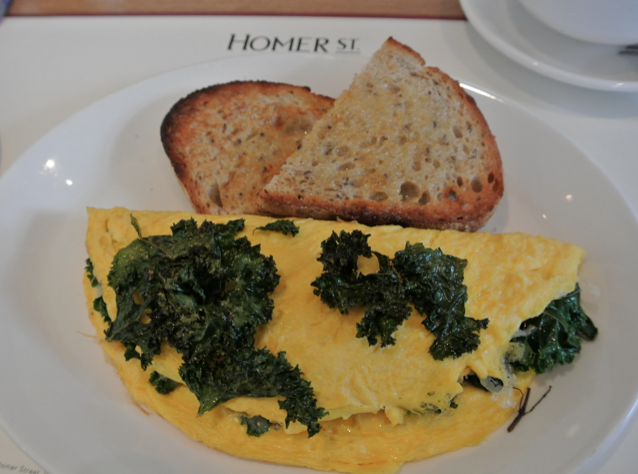 My boyfriend had the Fried Oyster with Mustard Aioli and Pickled Cucumber ($12).  The Vancouver Sun reporter who was sitting next to us described it best: moist and juicy on the inside, crispy on the outside.  Too often, he says, oysters are overcooked. But Homer St. does it right.  The bed of fresh veggies balance out the heaviness of the deep-fried oyster.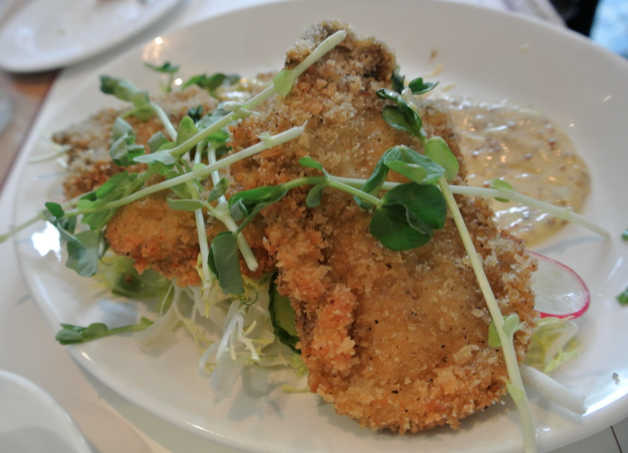 Brunch cocktails are unique. My boyfriend ordered the Port of Mumbai ($11) made with IPA, Bombay Sapphire, Aperol, Grapefruit and Lavender Honey. This is a must-try if you would like to experience the up and coming "beer cocktail" trend for yourself.  I ordered a Mimosa ($10) with fresh squeezed grapefruit juice.  Nothing special but a nice classic drink option to go with Sunday morning brunch.
Homer St. Cafe & Bar is a lovely neighbourhood gem, rich in local history.  I'll leave you with a few cool tidbits I learned this morning:
This 898 Homer Street location also once housed a steam cleaner, an ice delivery shop, and a coffee shop in 1952 named Smithe Coffee Bar.

The interior design of Homer St. Cafe & Bar is by Craig Stanghetta, who has designed several other local restaurants including Bao Bei, L'Abattoir and Meat & Bread in Gastown.

The refurbished rotisserie in the kitchen is from France in the 1930's.
For party dining at Homer St. Cafe & Bar, you can check out their "cockpit", named for its 10+ paintings of cocks and hens commissioned for the restaurant.
Homer St. Cafe & Bar is opened for Sunday brunch from 10:30am to 3:00pm. For more information, check out homerstreetcafebar.com.