Ford Canada recently lent me their 2013 Ford Focus for the weekend to explore Vancouver and beyond.  As someone who lives in downtown and relies on two legs and a bus pass to get places, I decided to take advantage of the wheels and explore beyond the downtown core.   Here's a recap of my jam-packed #FocusOnMyTown weekend with Ford Canada!
FRIDAY
My Friday night started off with dinner at what I would describe as a "contemporary vegetarian" restaurant – The Acorn on Main Street.  As a small and popular bistro which doesn't take reservations, I've heard it's common to expect to wait 30 minutes for a table.  Because I was conveniently driving to The Acorn instead of bussing, I was able to arrive early and put my name down for a table for 2; by the time my boyfriend arrived, we were ready to be seated.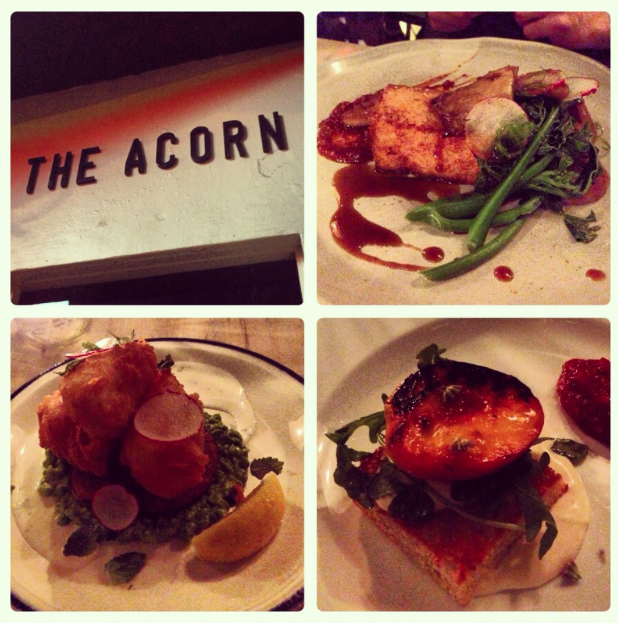 I ordered an absolutely delicious seasonal appetizer – roasted nectarine on toast and creamy cheese.  For my main course, I had beer battered (aka deep fried) Halloumi cheese (which had the texture of mozzarella) on a zucchini pancake and mashed peas.
My boyfriend ordered an Asian-inspired dish – king oyster mushrooms and gai-lan with a sticky rice cake.  The sticky rice cake was in the shape of a small brick but fried in a way so there is a delicious crispy crust on the outside.  For vegetarian dishes, these were both fairly substantial meals.
SATURDAY
The next morning, I had brunch plans with a friend who also lives in Yaletown.  I told her I had the Ford Focus for the weekend and to suggest a spot outside of the downtown core for lunch.  We decided on The District Social in North Vancouver.  After a heavy brunch of crab cakes, eggs benny, and hash browns (neither of us could finish our meal) we drove a few blocks down to Lonsdale Quay and checked out the local Farmer's Market.
The Quay totally reminds me of a smaller version of Granville Island. Thankfully, there is a reverse camera on the 2013 Ford Focus because the parking lot by the Farmers Market had extremely tight spots.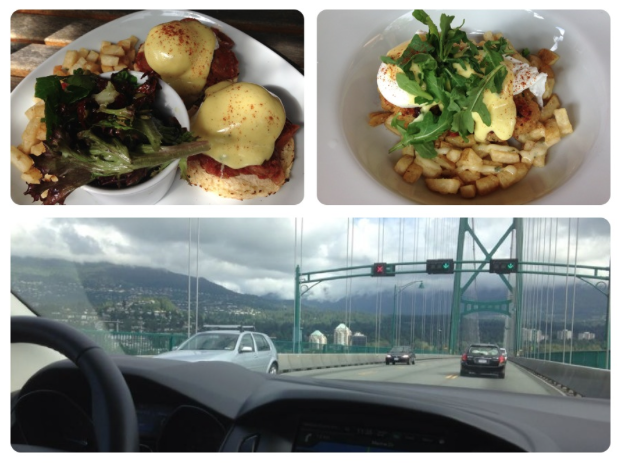 After dropping off my friend back in Downtown, I picked up another and we headed to Langley to Krause Berry Farrms.  I have never driven out to Langley before, but I used the GPS system on the Ford Focus to find my way.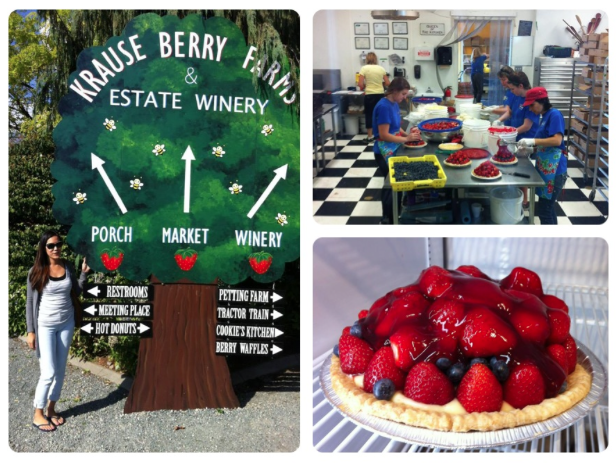 It was totally worth the one hour drive out to Langley because we both loved Krause Berry Farm!! It was so much more than the Berry U-Pick I was expecting. Unfortunately, we missed the the time for the Blackberry UPick we were aiming to do that day, so I did the Flower UPick instead.
For $11, you can cut and take home all the flowers you can fit into the vase they provide you with.  They estimated that it'd be about 12 flower stems, but with some strategic placements of my flowers, I was able to fit way more than that.  In fact, when I went home, I split my beautiful flower bouquet into two vases.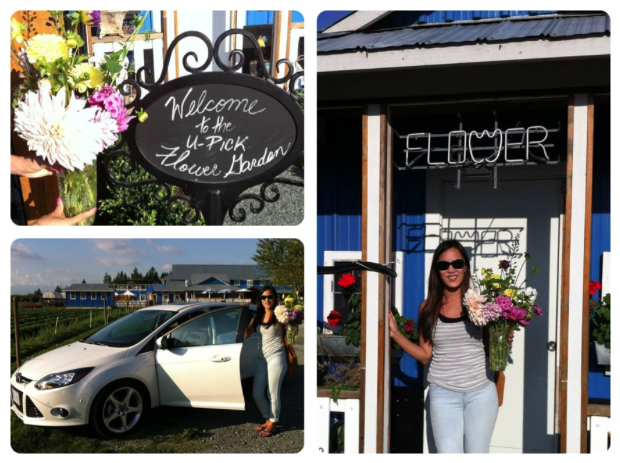 There's also a cute market place where you can buy anything and everything related to berries.  This included freshmade berry pie (there was a window you could look through to see the staff members making the pies in the kitchen), berry pancake mix, berry jams, berry syrup, berry-filled frozen perogies and more.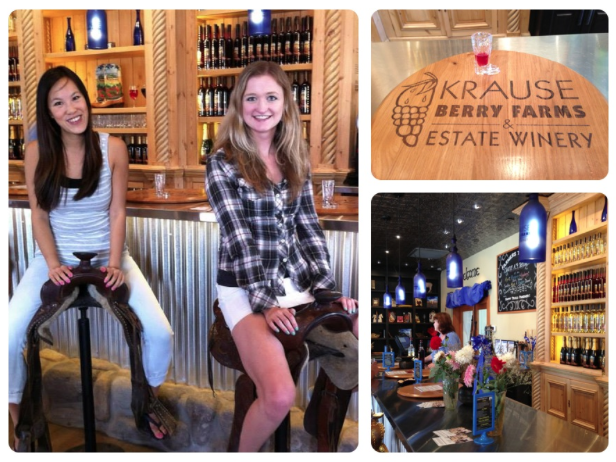 Lastly, we did a a fruit wine tasting.  Instead of bar stools, there are horse saddles for seats, and you drink your wine sample out of boot-shaped shotglass. The winery only opened in May, and the Krause brand of wine is currently only available at their farm – no other retailers or restaurants currently serve their blueberry, blackberry or raspberry table wines and dessert wines.  For $4, you can sample 5 different wines.
For dinner, I met up with my boyfriend and we went to Absinthe Bistro on Commercial Drive, which is a cute little 22-seat French bistro.  It's named Absinthe, because their drink specialties are all made with Absinthe.  We didn't order any cocktails this time – no drinking and driving!  To add to the Commercial Drive ambience, there was a trio of street musicians playing across the street and even at 10pm they had an audience of 30+ people watching and applauding.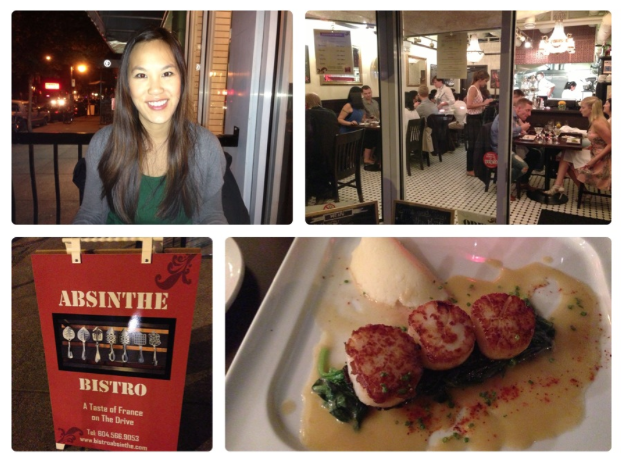 SUNDAY
On Sunday, I decided to bring my dog, Teddy Bear, along with me on my #FocusOnMyTown adventures.  We spent some time at the pet-friendly Kitsilano Farmer's Market.  Several of the vendors don't take credit card, so you can buy something called Farmer's Cash to use as currency.
I bought a bunch of small snacks including apple crisps (from Summerland) and a blueberry banana almond milk smoothie at a foodcart.  I think it's important to support local, so it's nice to know that most items for sale are from independent farmers or artisans in BC.
We also came across the "Geek Sweets" cupcake stand, which also had a box of homemake Pup-Cakes (cupcakes for dogs) for sale.  Of course Teddy wanted to try so he eagerly gobbled up a piece.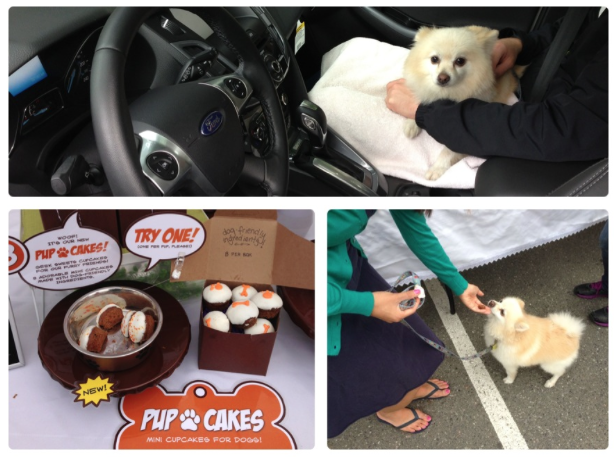 Next stop was to Steveston where my boyfriend and I and Teddy met up with another friend who also had a dog (a gorgeous Siberian husky named Siku).  Steveston can get really busy on the weekend. If you're looking for parking, No. 1 Road & Moncton is a good place to start.
We then walked to the Pier and had Fish & Chips from the takeout window of Shady Island and sat at the self-seating tables outside.  It's great that you can keep your dogs with you because you are sitting outside on the boardwalk.  After lunch, we took a walk around the nearby Garry Point Park with our dogs.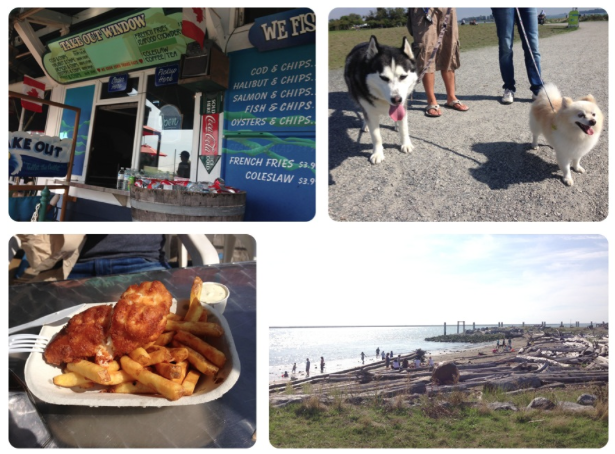 That evening, my family and I had a boat trip planned to Bowen Island.  I was able to drive the Ford Focus right to the docks by Vanier Park (under the Burrard Street bridge).  As usual, we went for dinner at Tuscany, which is a rustic Italian restaurant and best known for their wood oven pizza.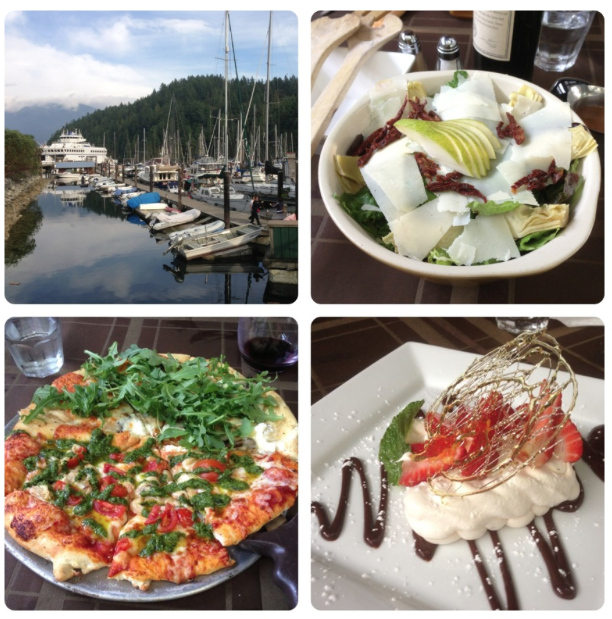 On the way back to Vancouver, the view from the water was so picturesque and a beautiful view to end the weekend with.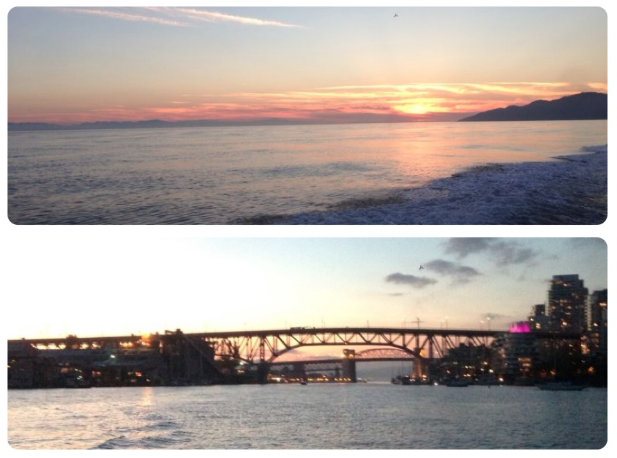 Thank you Ford Canada for allowing me to #FocusOnMyTown and enjoy a Modern Mix weekend.  Click here to learn more about the 2013 Ford Focus.