One of the things I love about Vancouver is how there is outdoor public artwork scattered throughout different neighbourhoods in the Lower Mainland. It gives our city character (and some great photo opportunities).  Here are some of my favourites.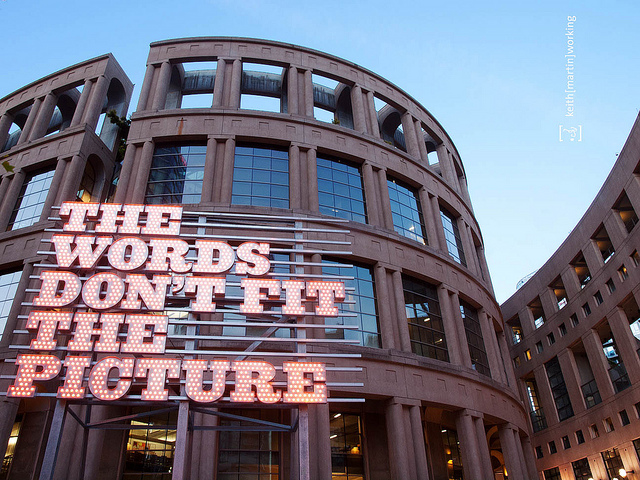 The Words Don't Fit the Picture – It's hard to miss this three-dimensional sign with 1280 LED light bulbs spelling out the text: THE WORDS DON'T FIT THE PICTURE.  Appropriately placed in the Vancouver Central Library courtyard, this piece of art by Ron Terada alludes to the "use of words and language as boundless and imaginative".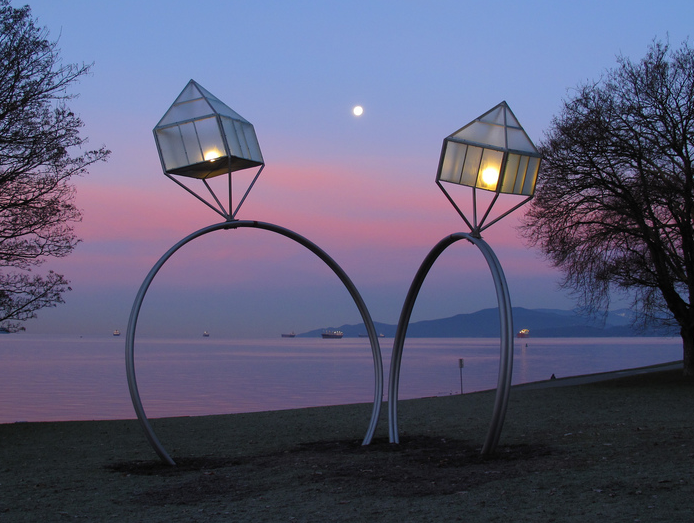 Engagement – This painted aluminum, steel and glass sculpture is situated at English Bay. For anyone in a romantic mood, these rings by US artist Dennis Oppenheim are "reflective of romantic unions and celebrating commitment and tradition."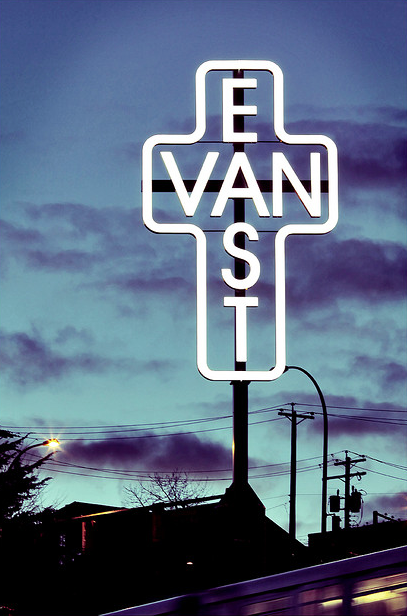 East Van Cross – An artistic homage to Vancouver's "East Van"  neighbourhood, this 20 meter high cross lights up at night and is hard to miss at Clark and E. 6th Avenue.
LightShed – Located along the seawall by Coal Harbour, this sculpture by Liz Magor is based on the old boat sheds that used to line the shoreline. The artist cast a half-scale model in aluminum and coated it with luminescent paint and perched it on top of metal pillars. At night a soft glow emanates from inside.
Jubilee Fountain – The "Jubilee Fountain" at Lost Lagoon in Stanley Park is an artist designed monument.  This iconic fountain by Lennox Mackenzie was installed in 1936 to celebrate Vancouver's 50th birthday – the Golden Jubilee.
If you are an art lover, consider searching up captivating paintings for sale from Saatchi Online to find your next piece. This art discovery platform allows emerging artists to showcase and sell their work and gives art lovers insider access to new talent from around the world.