Bambudda in Gastown (99 Powell Street)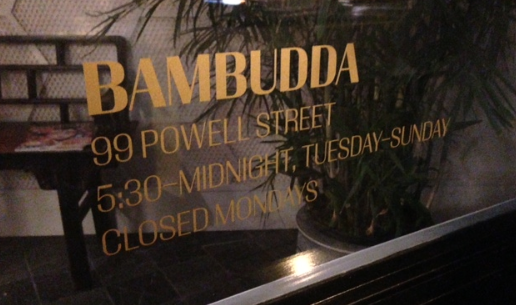 A new modern dim sum eatery called Bambudda opened quietly last month in Gastown.  Situated in the former Canvas Lounge, Bambudda is a modestly-sized stylish Chinese restaurant seating approximately 55 to 60 people.  The restaurant has a small private party room and a 20-seat sidewalk patio, perfect for its summer opening.  The menu features plenty of Cantonese-inspired dim sum dishes such as wood ear, tea eggs, and bison, and a refined cocktail list from ex-Maenam barman, Buck Friend.  The name Bambudda is a blend of bamboo and buddha, two of owner Ray Loy's favourite things.
Bambudda strays from traditional dim sum restaurants by taking on a contemporary approach to create the family-style sharing experience in a stylish and fashionable setting with music, a darker ambience, and quality service.  Bambudda combines the East and the West – putting a spin on traditional Chinese cuisine to find a balance suited for the North American palette – to bring something different to the city.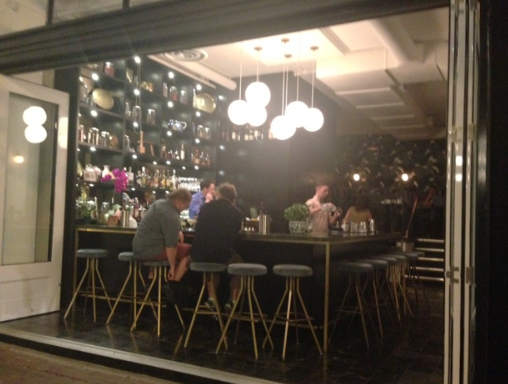 One of the more unique and popular cocktail creations is the Tsui Hang cocktail, served in a teapot and infused with rye, plums, goji berries and a slew of other medicinal herbs.  Brewed for two days before it is served, the cocktail is served in a cold teapot with a Chinese teacup.  As Tsui Hang is appropriately described on the menu:  "who doesn't like cold tea anytime of the day!"
Bambudda's menu is innovative and interesting and dishes are inspired by Hong Kong and Southern Asian cuisine meant to be shared in a family/friends style.  Items on the menu are modern interpretations of authentic Chinese food such as taro puffs with chicken and scallions in a ginger orange sauce, and scallops in an egg white meringue with roe and corn.  Bambudda's signature food item is the crispy pork belly, prepared in a Hong Kong barbecue style with maple-flavoured hoisin (oyster) dipping sauce.  And one of its more unique desserts is the osmanthus cake, a light cake dessert soaked in savarin liqueur-flavoured syrup with floral scents and tinges of apricot, served in a white chocolate cream.
Bambudda is located at 99 Powell Street and is open Tuesday to Sunday from 5:30pm to 12:00am.