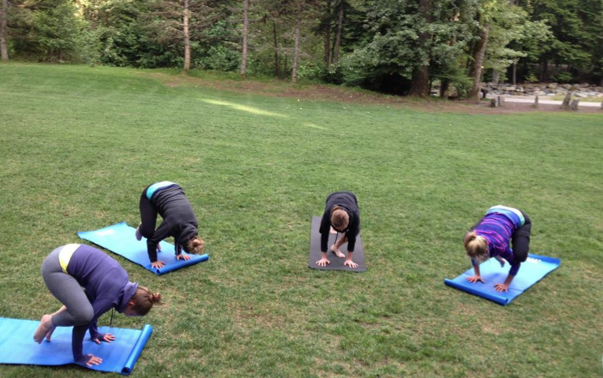 As you can imagine, Whistler is one of the best places in the world to get your fix of outdoor activities. With its incredible mountains, valleys, lakes, trails and forests, there is no shortage of ways to play outside at Whistler, no matter what time of year it is.
This summer, one of the 2013 Oakley Ambassadors, Magee Walker of Whistler, B.C., has participated in stand-up paddleboarding, frolf (frisbee golf), zip lining and downhill mountain biking.
Given her open-minded attitude towards new activities and her demonstrated leadership in the sports and fitness community in Whistler, Magee has been an active hostess for "Oakley Active" events in Whistler.
Oakley Canada has a program called O Active which promotes like-minded women to get together and do something active. In July, Magee held an O Active session in Whistler: a warm evening of yin yoga in the park. As Whistler is best known for extreme activities which can take a toll on the body, Magee explains that it's nice to step back and "give yourself a little TLC" with slower paced yoga. "The setting was perfect with the Fitzsimmons Creek flowing by and the mountains towering in the background," says Magee.
As an Oakley Ambassador, hosting these sessions demonstrates Magee's leadership in the Whistler community and she is grateful for the support she's had from women in the area. What's next? Magee hopes to host a future O Active session in Vancouver.
To find out more about O Active events in your city, "like" the Oakley Active Facebook page at: Facebook.com/OakleyActive