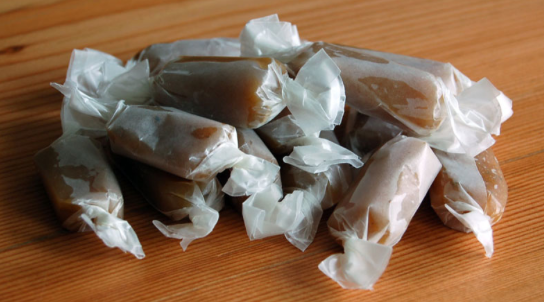 Handmade by Helen Chang, this Vancouver-based confectionary brand specializes in fresh, small-batch caramels made without artificial flavourings or preservatives.  A web designer in the daytime, Helen treats 1 Up Caramels as her creative outlet and loves experimenting with different flavour and texture combinations.  She's constantly jotting down her ideas for new flavours.  Each batch of 1 Up Caramels is stirred, poured, cut and wrapped by hand. Here are some of their wacky flavour combinations that'll be a treat to try:
Apple Cinnamon – Fresh squeezed apple juice, Saigon cinnamon and Maldon Sea Salt.
Beer Pretzel – Howe Sound Brewery Nut Brown Ale and salted pretzels.
Coconut – Coconut milk and grated coconut.
Lemon Iced Tea – Black tea leaves, lemon juice and lemon zest.
Orange Almond – Fresh squeezed orange juice, toasted almonds and Maldon Sea Salt.
Pear Cardamom – Fresh squeezed pear juice, cardamom and Maldon Sea Salt.
Beginning on Saturday August 10, 1 Up Caramels will be popping up every weekend with their handmade caramels for the rest of August at Barefoot Contessa (3715 Main Street).  They will be for sale for $8/bag and are so good they'll give you a "1Up" in life *insert Super Mario sound here*.