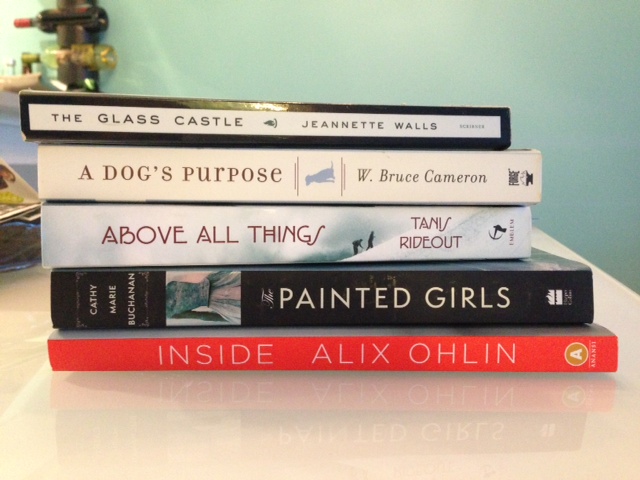 Are you a bookworm?  These are some books I recently read, all of which are available at your nearest Chapters location. These stories will take you through the rest of summer and well into the fall!
The Glass Castle by Jeannette Walls
A humourous and heartwarming tale of a dysfunctional family and how, regardless of what life throws at them, their love is unconditional (even if it's ill-placed at times).
A Dog's Purpose by W. Bruce Cameron
A dog searches for purpose as he is reincarnated into different lives.  A must-read for any animal lover, especially dog owners.
Above All Things by Tanis Rideout
Cool down in the summer heat with this chilly book about George Mallory's attempt to be the first man to scale Mount Everest.  A debut novel by Tanis Rideout, this tale of imaginative fiction is combined with real, historical accounts.  The story is told from three perspectives: experienced climber George Mallory, his wife left at home, and novice climbing team member Sandy Irvine.
The Painted Girls by Cathy Marie Buchanan
Taking place in 19th century Paris, The Painted Girls follows the lives of two sisters living in poverty. Their one hope to escape poverty and make an honest living is to train for the famous Paris Ballet.   What are the morals they are willing to bend and the sacrifices they are willing to make in order to feed their family and prevent being evicted onto the streets?
Inside by Alix Ohlin
Selected as an Oprah's Book Club Summer Reading Pick, Inside spins together the lives of four characters from past to present.  The unique characters you'll meet in this book include the devoted therapist, the ex-husband, the troubled teenage patient and the suicidal but charismatic stranger.
This post was originally publish on the Metropolis at Metrotown blog.