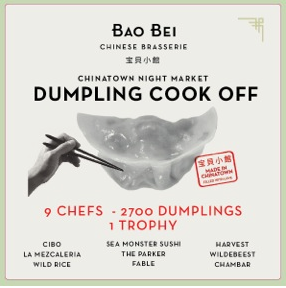 On Friday August 16 from 7pm to 9pm, head to Chinatown in Vancouver and watch as some of Vancouver's top chefs go head to head and battle for the title of best dumpling. Each contestant (Chambar, La Mezcalaria, Wild Rice, Wildebeest, Fable, Cibo, Sea Monster Sushi, Harvest and The Parker) will make 300 dumplings for a cook off total of 2,700 dumplings! Eat your way around the participating chef's unique dumpling creations with a Dumpling Passport. Available for $12, this entitles you to a tasting from each of the contestants.
Tickets (aka your Dumpling Passport) are available for purchase here: http://chinatown-dumplings.eventbrite.ca.  All proceeds go towards funding the Vancouver Chinatown Night Market.
Call yourself a die-hard dumpling fan? Prove it! Sign up to be a contestant to eat as many dumplings as possible in 2 minutes. There is one category each for men and women and the Chinatown Night Market is taking 5 contestants for each.  Winners from each category will be awarded $100 gift certificate to Bao Bei and the glory of being the first ever Chinatown Night Market Dumpling Eating Champion.
To enter tweet @chinatownyvr and tell them why they should pick you as a contestant. Entries close at 12:00am Tuesday August 6th. Selected contestants will be announced Friday, August 9th.