Vancouver Designer Spotlight: Kara Yoo Jewelry & Stud Earrings Giveaway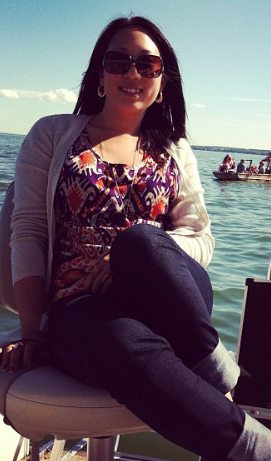 Kara Yoo is a local Vancouver jewelry designer who plays with metals, wire and geometrics shapes and lines to create a simple, versatile yet unique look to her entire collection.
In high school, she was introduced to jewellery making by her sister and began recreating pieces she saw in magazines and online.  Kara then went to UBC and studied marketing and entrepreneurship and decided she wanted to pursue a jewellery business.
Soon after, Kara knew she had to learn more technical skills to create the pieces she envisioned so she enrolled into the 2-year Jewellery Art & Design program at VCC to learn how to metalsmith.
One of the first pieces Kara designed for her jewelry line are the Hex Stacking Rings ($20), which continues to be one of her most popular styles.  These are thin hexagonal-shaped ring band, designed to be worn "stacked" with other rings on the same finger to create a unique look.
Another popular style are Kara's stud earrings (such as the Triangle Studs and Tear Drop Studs) which are made of a single length of sterling silver or 10K gold wire, bent like a paperclip into a geometric shape.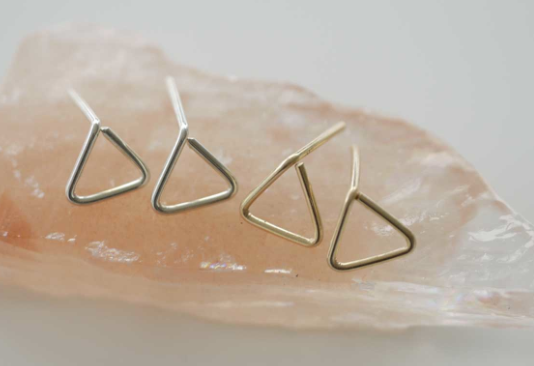 As Kara describes: "My jewelry is quite simple, but I try to incorporate strong lines. I like to create pieces that have a lot of angles and symmetry, playing with geometric shapes and different sizes. I also like the idea of jewellery that's very versatile and can be worn all the time, day or night. I don't like too many frills, so simple shapes that can be worn alone or together suit my aesthetic. Most of the jewellery I wear from my collection are things I wear every day."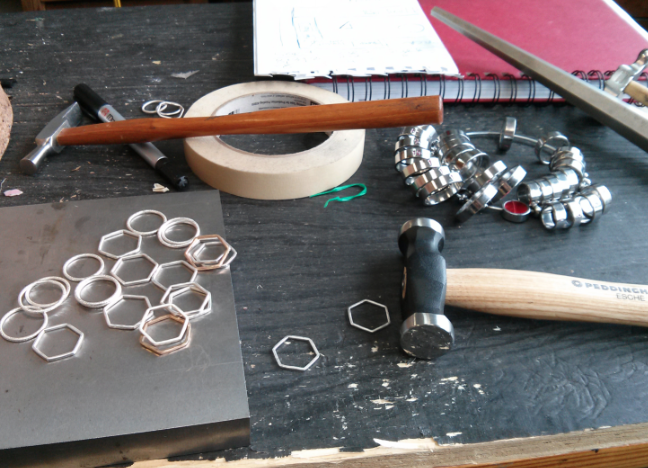 What's next for Kara Yoo Jewelry?  Kara hopes to introduce some non-metallic materials and pops of colour into her designs. She has been experimenting with designing a few pieces that involve coloured thread wrapped around metal.  Currently, she's not quite sure how it'll all work out; but that's the beauty of working for yourself and being a full-time jewelry designer – you have the freedom to experiment with new styles and pieces.
You can find Kara Yoo Jewellery pieces at The Board of Trade Co, Much & Little, One of a Few and her latest stockist, Vincent Park.
MMV Giveaway: Modern Mix Vancouver is giving away a pair of 10K Gold Triangle Studs and a pair of Sterling Silver Tear Drop Studs from Kara Yoo Jewellery.  To enter, please "LIKE" the Kara Yoo Jewelery Facebook Page by clicking here and ALSO leave a comment below about why it's important to shop local. A random winner will be chosen from the comments below. Giveaway ends Sunday August 4th (11:59pm PST). Open to Canada only.
For an additional entry: Follow @KaraYooJewelry and @ModernMixVan on Twitter and tweet "Win from @ModernMixVan two pairs of @KaraYooJewelry studs! Click here for details: http://bit.ly/16X8Q1T| RT to enter!"